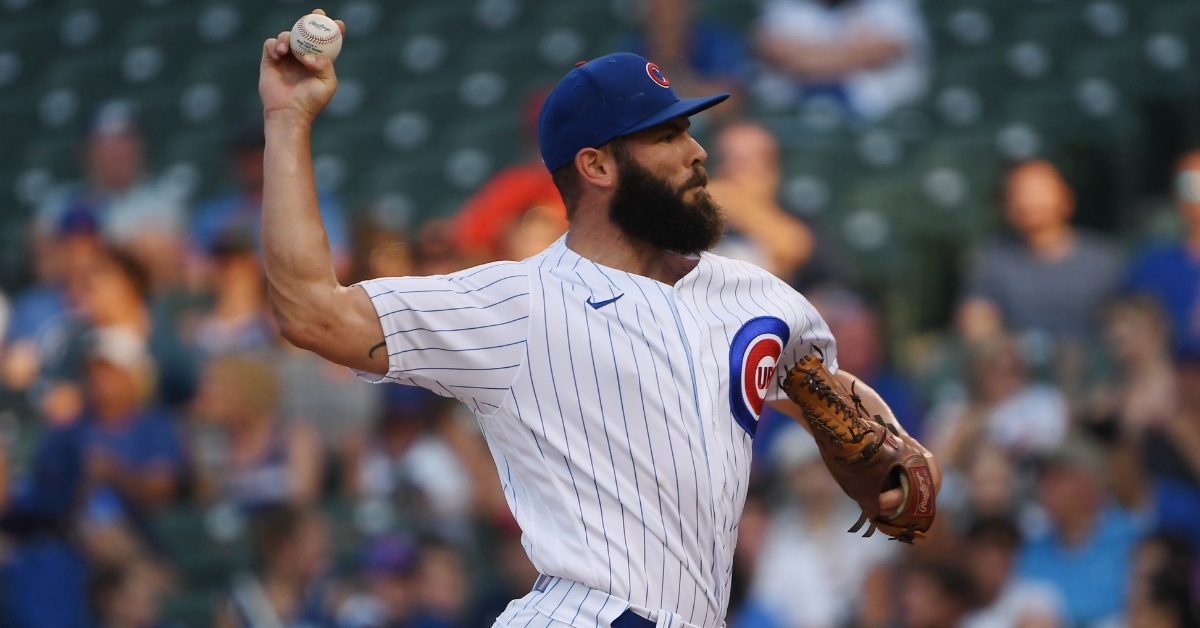 | | |
| --- | --- |
| Takeaways from Cubs' 11th straight loss | |
---
| | | |
| --- | --- | --- |
| Wednesday, July 7, 2021, 8:49 AM | | |
It was nice to see the Cubs finally score some runs last night as they put up 10 against the Phillies. That was more runs than they had scored in their previous four games combined, so the offense found their mojo last night. The problem was, Jake Arrieta delivered another horrendous start on the mound as he was charged with seven earned runs in just 1 2/3 innings, putting the Cubs in an early hole too big to climb out of.
At one point, the Cubs found themselves down 15-4 as nothing was going right for them. They did manage to finish the game on a little bit of a high note, pushing across six runs in the final three innings to make the game a bit closer, falling 15-10 and losing their 11th straight game.
Four batters into the game, and the Cubs had an uphill battle to climb as Andrew McCutchen belted his third career grand slam to make things 4-0. McCutchen was one of three Phillies with four RBIs on the night, making it very hard to beat a team. If four runs in the first were not enough, why not add three more as Jean Segura singled with a Joc Pederson error pushing across another run ahead of the Rhys Hoskins single to make things 7-0.
Following that run, the Cubs turned to their bullpen, but one man, Trevor Williams, was asked to give the Cubs some length. The Cubs began to climb back into things in the bottom of the third as Pederson ripped an RBI double to right before a Kris Bryant single made things 7-2. Add in the Javy Baez sacrifice fly, and the Cubs were within 7-3. With Williams now on the mound, Harper and Hoskins pushed across two runs in the fourth to extend the lead to 9-3. Harper was one of three players with four RBIs to go with five hits, while Hoskins also added four RBIs.
Baez continued his outstanding series with a long homer in the bottom of the sixth, but it was all Philadelphia after that. After a Hoskins homer off
Williams started the seventh, Segura added a two-run single later as the Phillies built a 12-4 lead. With Dan Winkler on the bump, Harper capped off his great game with a long homer to right, making things 15-4.
The Cubs continued to battle and wouldn't go away quietly, with Pederson picking up an RBI single in the bottom half of the inning followed by a Baez homer as he too had four RBIs to go with two homers. Chicago picked up three more runs later in the game, with Ian Happ getting a double, Jake Marisnick picking up a sacrifice fly, and Robinson Chirinos going deep in the ninth to make a 15-4 game look closer in the end 15-10.
With Williams back, what does that mean for Jake
There was a flurry of roster moves before last night's game, but the most significant move was Williams returning to the team for the first time since May 26. With Kohl Stewart dealing with elbow soreness, Williams was added to the roster and immediately sent to the pen, where he is expected to stay until after the all-star break.
Following another terrible start by Arrieta, Williams was called on to give the Cubs length, which is precisely what he did. Even though he conceded six runs in 3 2/3 innings, Williams was only charged with three earned runs and didn't look that bad on the mound. He walked one and struck out three while surpassing 70 pitches in his first appearance in over a month.
I do expect Williams back in the rotation immediately following the all-star break, but don't be shocked if he makes a start against the Cardinals this weekend. This puts the future of Arrieta with the Cubs in jeopardy, as they can't afford to have him perform like this any longer. While I don't expect the Cubs to release him, I think it would be wise to move him to the pen for a bit, as they did with Tyler Chatwood.
Maybe that is what he needs to rediscover his form and figure out what is going on. His stuff is still there, but mechanically he hasn't been right for a while. When you are off mechanically, these are the results you get consistently.
BREAKING NEWS: #Cubs make several roster moves https://t.co/v8U2dE68A4

— CubsHQ.com (@ChicagoCubsHQ) July 6, 2021
The top of the Phillies lineup
Ever since Dexter Fowler left following the 2016 season, the Cubs have searched for a leadoff hitter. They have had some success with Pederson this season, but he has shown it in short spurts and doesn't provide the high on-base percentage you would like.
The Phillies, on the other hand, have a great leadoff man and top of the order as they gave the Cubs fits. Not only did Segura collect four hits to go with two RBIs last night, but Harper added five hits and four RBIs from the three-hole, with JT Realmuto reaching base three times without a walk.
Going a bit further down the lineup, the Phillies top five hitters combined to go 10-20 with 10 of the team's 15 RBIs. That is impressive on every level, and it makes it tough to beat a team when that much traffic is constantly on base at the top of the lineup. While the Cubs had a great offensive showing last night, they would kill to have that kind of production from the top of their order as Bryant was the only regular above 260 last night.
67 games and counting
During this long losing streak, the Cubs have had trouble scoring runs, but one thing they have done is hit homers. That continued last night with the Cubs blasting three of them, but all three combined to bring in four runs as two were solo shots and one was a two-run shot.
Javier Baez - Chicago Cubs (21)
pic.twitter.com/k49apb1mqy

— MLB HR Videos (@MLBHRVideos) July 7, 2021
That makes 67 consecutive games in which the Cubs have not hit a homer of the three-run or grand slam variety which is the longest streak in franchise history. That is never a good sign when you rely on the home run ball as much as the Cubs do and has been a massive reason for their failures offensively.
I understand that you can't predict when a homer will come, but when you see a stat like this, two things come to mind. First, the team is striking out way too much, and they are not putting enough guys on base to warrant a three-run shot. Second, when they have the players on base, they fail to get the big hit which could change the game.
That is something that has hindered this offense for years, and it has gotten to the point where it is unfixable. This team is so broken right now that even a 10-run offensive outburst isn't enough. The All-star break can't come soon enough for this team, but they may have done too much damage to this point as a division title has slipped away.

Tags: Cubs Baseball
,
Jake Arrieta
,
Joc Pederson
,
Trevor Williams
,
Kris Bryant
,
Javy Baez
,
Ian Happ
,
Jake Marisnick
,
Kohl Stewart
,
Tyler Chatwood
,
Dexter Fowler