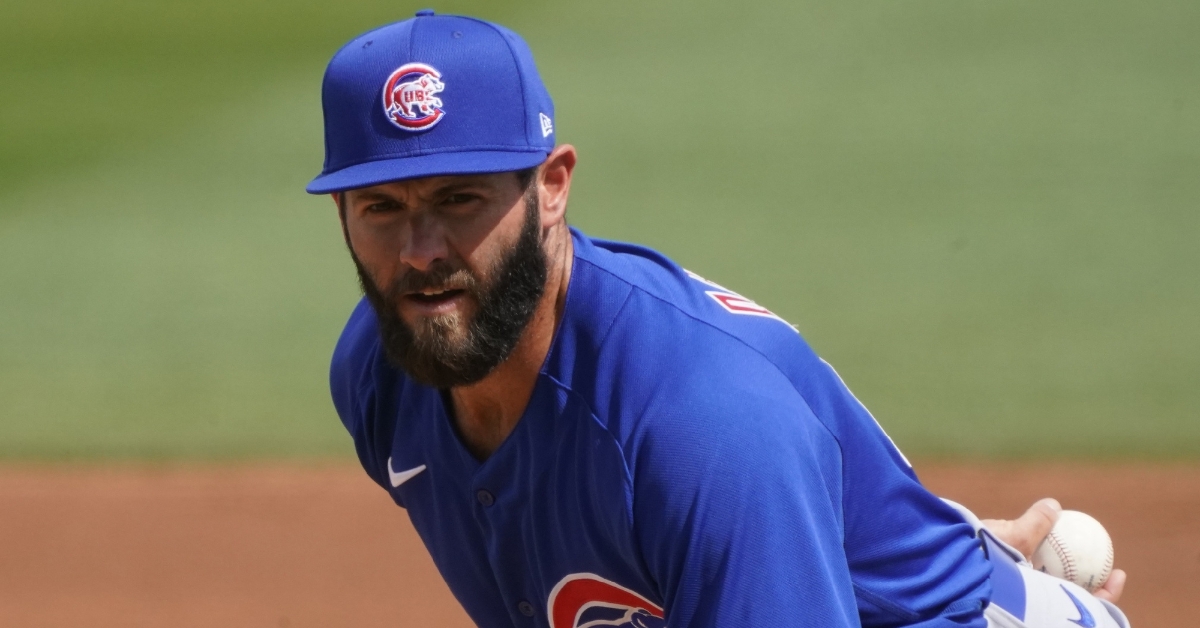 | | |
| --- | --- |
| Takeaways from Cubs 2021 starting rotation | |
---
As opening day rapidly approaches, decisions about the starting rotation were answered by David Ross and company.
The one, and most obvious answer, that Ross has given is that Kyle Hendricks will be given the ball on opening day — the second consecutive opening day outing for the 31-year old. Hendricks has a career ERA of 3.12 and has never finished the season with an ERA above 4.00. The righty has an ERA title under his belt and has some of the best command in the MLB.
"I feel like Kyle, his resume, his leadership, his poise — all that goes into being the opening-day starter, just the extra kind of pomp and circumstance that goes with opening day and especially in this coming year as well," Ross said to reporters in Arizona.
After Hendricks is where familiar face Jake Arietta falls in the rotation, the 2015 Cy Young award winner is in his second stint with the Cubs and has shown flashes of his former self, striking out 10 in 15 innings thus far this Spring. While the right-hander is coming off of a few injury-riddled seasons in Philadelphia, his comfort with Chicago has been key — and the Cubs know they can count on him to eat innings.
Zach Davis would be slotted in behind them. Davies came over to Chicago in the Padres trade that saw Yu Darvish and Victor Caratini head to San Diego — and Davies, as well as four sub-21-year old prospects, become Cubs.
Davies pitches to a similar style as Hendricks, which relies on control without lighting up the radar gun. In five seasons with the Brewers and one with the Padres, Davies has been a model of consistency, pitching to the tune of a 3.79 career ERA.
Davies has allowed just one earned run in 13.1 innings pitched this spring.
At the four spot, all things point to Trevor Williams, and David Ross echoed that on Saturday. Williams is a Chicago native who comes to the Cubs on a one-year deal after five seasons with the Pittsburgh Pirates. The righty has struggled to find consistency in his career but has shown flashes of potential that Tommy Hottovy and the Cubs are hoping to tap in too.
While Spring is a smaller sample size than most, Williams' 1.32 ERA in just over 13 innings is an encouraging sign for the Cubs as they look to complete their rotation.
The five-spot in the rotation is what brought the most question marks for the Cubs.
The clear answer in terms of talent is Adbert Alzolay, who has the most potential and the best stuff in the rotation by far.
Ross said on Saturday that Alzolay would be on the Major League roster and be the No. 5 starter to begin the season.
Despite pitching to a 2.95 ERA in 2020, Alzolay's career-high for innings pitched in a season is just 21.2 — so expecting a massive leap in terms of workload is wishful thinking and dangerous for the Cubs.
Good morning my people hope you guys a great and safe Sunday ??????.. "Results happen over time , not overnight- Work hard, stay consistent, be patient and never give up".. ????????????????

— Adbert Alzolay (@adbert29) March 28, 2021
Alec Mills was announced as the team's swingman to begin the season to help out in the bullpen.
He is the third Hendricks prototype in the rotation who pitched a no-hitter in 2020. Mills showed that he could eat innings and be effective in how Hendricks is — going 5-5 in 11 starts with a respectable 4.48 ERA.
With the season essentially tripling in size from last season's 60 games to this season's 162, many experts expect each team to use at least eight starting pitchers assuming all of them are healthy — just to simply cover innings.
Beyond Alzolay and Mills, who may just flip between fifth starter and swingman in the bullpen eventually, the Cubs could turn if they need more depth during the season to Shelby Miller — a 30-year-old project the Cubs signed after four seasons of struggle and a season missed due to injury.
The one glaring concern, seven pitchers deep into the potential rotation, and not one left-hander is even in the discussion (hmm, where is Jon Lester when you need him). With hitters like Christian Yelich and Joey Votto in the division, that becomes a concern — especially with only one/two for sure lefties in the bullpen (Kyle Ryan and Andrew Chafin). The Cubs, and most of the MLB, might have to dig deep to cover innings in 2021 — but at the very minimum, David Ross has some options with opening day less than a week away.

Tags: Cubs Baseball
,
David Ross
,
Kyle Hendricks
,
Zach Davis
,
Yu Darvish
,
Victor Caratini
,
Trevor Williams
,
Adbert Alzolay
,
Alec Mills
,
Jon Lester
,
Kyle Ryan
,
Andrew Chafin
,
Tommy Hottovy