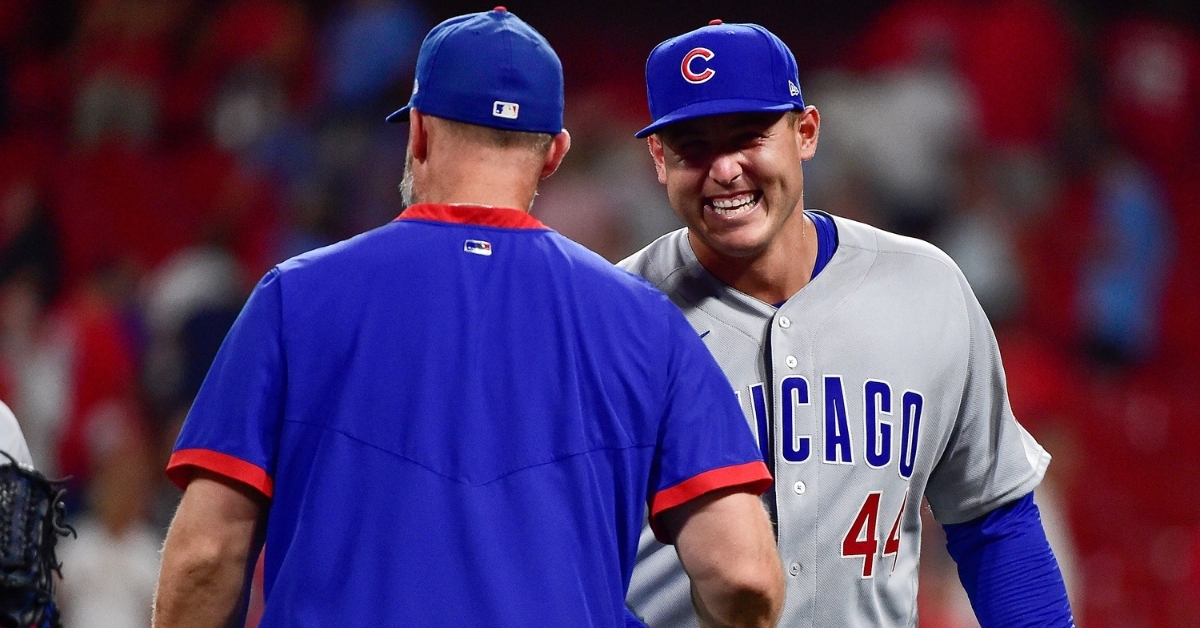 | | |
| --- | --- |
| Takeaways from Cubs' comeback win over Cardinals | |
---
| | | |
| --- | --- | --- |
| Wednesday, July 21, 2021, 11:29 AM | | |
Since the start of the second half, the Cubs are getting the reputation of scoring runs late to make things happen. That was the case against Arizona in both of their wins, where they scored a total of two runs in the first five innings of games before pouring it on late.
Fast forward to the Cardinals series, and the Cubs appeared to be on the verge of going down 2-0 as they trailed 6-1 after six innings. Nico Hoerner opened the scoring with an RBI groundout in the second before the Cardinals began to tee off on Trevor Williams, including a Nolan Arenado homer that gave the Cardinals a 2-1 lead.
Williams was far from perfect, allowing four runs in his first start since late May, but he did what the Cubs asked him to do as he made it through five innings for the first time since Mid-May. After Rex Brothers allowed a pair of solo homers to Tommy Edman and Jose Rondon, the Cardinals held a 6-1 lead after six before turning things over to their bullpen.
That bullpen has been the weak spot for the Cardinals this season, as command issues have seen them struggle. Still holding that 6-1 lead in the ninth, command issues began to haunt St. Louis yet again as the Cubs had the bases loaded with no outs. After closer Alex Reyes walked Sergio Alcantara and Anthony Rizzo to push across two runs, Javy Baez came through with a clutch RBI single making things 6-5. A few pitches later saw Ian Happ rip one down the right-field line for a go-ahead RBI double as the Cubs came all the back to take game two 7-6.
A big moment for Ian Happ
No one would argue that this season has been a struggle for Happ, but that hasn't stopped him from trying. According to David Ross, Happ is putting in more work than a lot of players in the cage right now and is hoping to see that effort translate to more success. Still, Happ is having his worst season as a pro, but at some point, his luck will change.
Perhaps his ninth-inning at-bat will be the one to change his luck as that was a big moment for him. Not only was that one of the more clutch hits for him this season, but it moved the Cubs back into third place in the NL Central ahead of their rivals. Given that he has an OPS over 1.000 against the Cardinals and second bet OPS in team history off them, Happ always seems to come up clutch against this team.
To make things even better, that hit came off Alex Reyes, who had recently set a major league record for consecutive saves by a rookie closer. He was 24-24 entering last night before Happ made sure that streak wouldn't continue. Hopefully, this is a sign of things to come for him.
38-1
Along with Reyes and his first blown save of the season, the Cardinals saw another streak come to an end as they were 38-0 when leading after eight innings this season. As bad as their bullpen has been command-wise, they have two great pitchers in the back end that get the job done when they have the lead.
If it wasn't for Reyes and John Gant pitching in the late innings, there is no telling where Mike Schildt and his team would be. Those 38 wins are nearly 90% of the wins they have this season, and it has made life easy for him a lot of times this season. Watching the Cubs do that to the Cardinals last night was not only shocking, but proof that you can only play with fire so long until you get burned.
This wasn't the first time the Cubs had success against the Cardinals pen, as there was another game earlier this season where the Cubs erased a multi-run deficit late only to fall in extras. Given what we have seen from the Cubs offense across the first five innings in games, a good plan against this Cardinals team may be to keep things close and get to that bullpen.
The ever-talented, ever frustrating Dillon Maples
There was once a time when Dillon Maples was a top 10 prospect who was looked at as the closer of the future. Those days were quickly gone as Maples was never able to harness his command at the big-league level making him frustrating to watch.
When you watch him pitch, especially when you watch that slider, you can see how talented he is. Not only does he throw hard, but that slider would be one of the best in baseball if he could command his fastball. That makes him so frustrating to watch as the fastball is the pitch he struggles with, not the slider.
After bouncing between the majors and AAA the past few seasons, Maples entered 2021 out of options and a sure lock to make the opening day roster. The Cubs are glad he did because he is pitching the best he has ever pitched. Not only does he have a 1.82 ERA across 20 games this season, but his command has dramatically improved as he now has 14 walks and 34 strikeouts across 24 innings.
The elite stuff the Cubs have expected from him for so long has finally come to the surface, and he is delivering at a significant level. When you consider the possibility that Ryan Tepera and other bullpen arms may get traded, Ross may lean on Maples more during the second half, especially if this success continues.