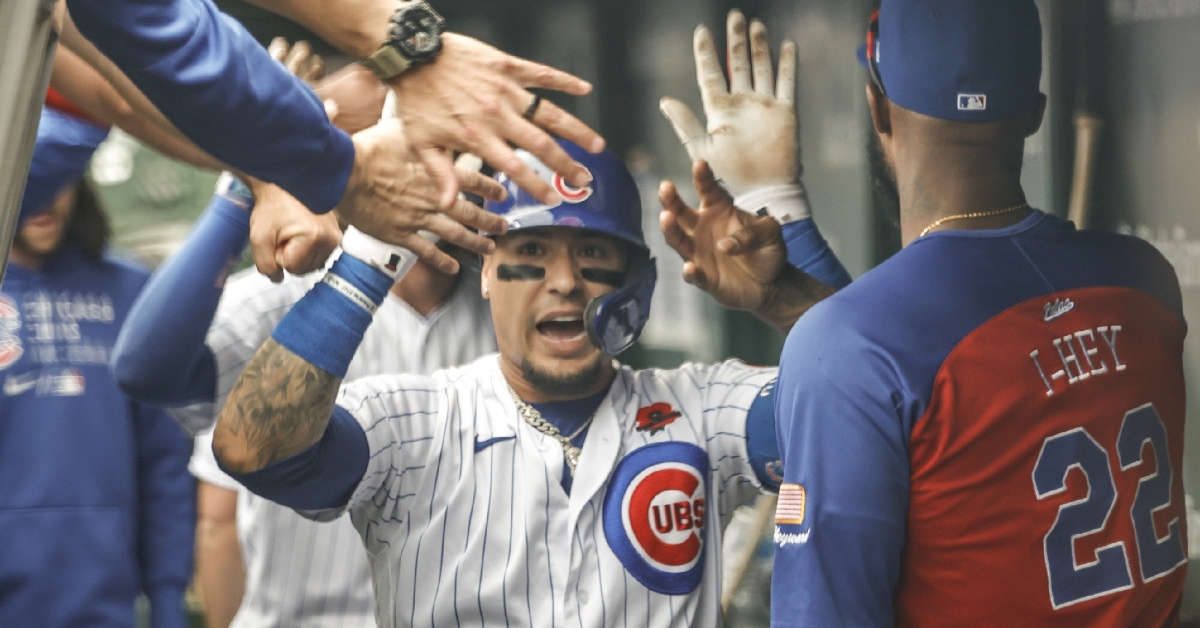 | | |
| --- | --- |
| Takeaways from Cubs' impressive win over Padres | |
---
| | | |
| --- | --- | --- |
| Tuesday, June 1, 2021, 9:00 AM | | |
The Cubs have historically been very good on Memorial Day, and they continued that trend on Monday against the Padres. In what is said to be their first real test in a while, Chicago wasted no time jumping on Chris Paddock and the Padres as they mashed five home runs in the 7-2 win.
Javy Baez delivered two of those homers to go with three RBIs, Patrick Wisdom connected for his first multi-homer game, with Kris Bryant adding a two-run shot of his own. Those five homers provided all the offense for the Cubs as they topped the Padres 7-2 in game one of a pivotal three-game series.
Making a spot start in place of the injured Trevor Williams was Kohl Stewart, who was impressive in his five innings of work. He allowed a Will Myers RBI single in the second as his lone blemish, but he wasn't charged with an earned run as the Cubs defense didn't help him early. The only other run the Padres were able to scratch across was a Fernando Tatis Jr homer in the sixth off Keegan Thompson as he allowed his first run of the season. However, the Cubs bullpen continued to do their thing from there as the Cubs continued to play great baseball in the 7-2 win.
Next man up
The Next man up mantra has taken on a new meaning with the Cubs this season, as they certainly have had to play with that mentality. With 14 players currently on the IL, this Cubs team hasn't been 100% at any point this season, and yet they are sitting at 30-23. David Ross deserves a ton of credit for their play, as it hasn't been easy for him to piece together a roster this season.
Williams was the latest to land on the IL after undergoing an emergency Appendectomy on Sunday Morning. Although those tend to be relatively easy procedures, there is no telling how long he will be out, leaving an opening in the Cubs rotation. That spot was filled by Stewert, who was on the same rotation day as Williams down in Iowa.
The former first-round pick of the Minnesota Twins, taken fourth overall in 2013, Stewart has struggled in his brief time in the bigs going 5-3 with a 4.43 ERA across 18 games, seven of which were starts. His minor league numbers were the same as he has posted a 40-42 mark with a 3.61 ERA.
Across four starts with Iowa this season, Stewart has emerged as the ace of the Cubs staff despite going 1-2 with a 3.68 ERA to go with five walks and 23 strikeouts. After his rough first start of the year, Stewart has settled in nicely and has been looking like a former first-round pick. In his start filling in for Williams, Stewart looked good as he pitched to contact and limited the damage.
Without knowing how long Williams will be out, there are far worse options than Stewart to fill in, and the Cubs will most likely continue to lean on him for the time being. However, his performance at Iowa this season certainly is worthy enough to get a look, and that is precisely what is happening now.
Kohl Stewart's #Cubs debut:

5 IP, 3 H, 0 ER, 1 BB, 2 K. #CubTogether pic.twitter.com/1kIp8a3JZ2

— Chicago Cubs (@Cubs) May 31, 2021
19-8 month
After a rough first month of the season that saw the Cubs sitting four games under .500, Chicago turned things on in May, going 19-8 for the month despite dealing with the rash of injuries they have dealt with. That alone is an impressive feat as it was just the eighth time since 1901 that the team has won more than 18 games in May.
To make things even sweeter, their win over San Diego ensured the best record in the National League for the month of May, which no one expected after their play in April. This team is playing with a ton of confidence, and they are much better than anyone expected. Their offense has surged into the top five and are as consistent as ever, their starting pitching has improved since the beginning of the season, and they currently have the best bullpen in all of baseball.
Not to mention they have only lost by more than one run once in the past 32 days, and you can see why they are winning games. All these outliers translate to great success, which is what this team is having right now. It may not last after they get through this brutal stretch of games, but fans can enjoy this team as they have been fun to watch for now.
Time to give Jed Hoyer some credit
The offseason certainly didn't go as fans expected it to this winter, and Hoyer felt the wrath of fans for quite a while. Many expected the Cubs to be out of the division race by mid-June and in sell mode from letting, guys like Jon Lester and Kyle Schwarber go to the constant signing of minor league players or one-year flyer type of deals.
However, not only has this team risen to second in the NL central, but should this type of play continue, you are looking at a team that may be looking to add at the deadline as opposed to selling. A big reason for their success and getting through the injuries they have suffered has been the depth pieces that Hoyer acquired this winter.
Depth is essential for any organization, and Hoyer indeed focused on that all winter long. From Matt Duffy, Patrick Wisdom, Rafael Ortega, and others on offense to Keegan Thompson, Justin Steele, Tommy Nance, and Stewart, things are coming together at the right time. The depth that Hoyer acquired this offseason is paying off in a big way, more so than even could have expected.
This team wouldn't be where they are today if it wasn't for these under-the-radar signings, and it is time we give Hoyer some credit for the job he has done this season. He may have taken out many flyers this season that has paid off so far, but that wasn't why he made these deals. Instead, he signed players based on their body of work and track records, as he has a knack for talent that others don't see.
If I could hand out any awards right now, Ross would be right up there with Jace Tingler and Gabe Kapler for manager of the year, while Hoyer would be in the running for executive of the year. The fact that he needed to replace so many pieces and has overcome the losses of other pieces to post the record they have is remarkable.

Tags: Cubs Baseball
,
Javy Baez
,
Patrick Wisdom
,
Kris Bryant
,
Trevor Williams
,
Kohl Stewart
,
Keegan Thompson
,
David Ross
,
Jon Lester
,
Kyle Schwarber
,
Rafael Ortega
,
Justin Steele