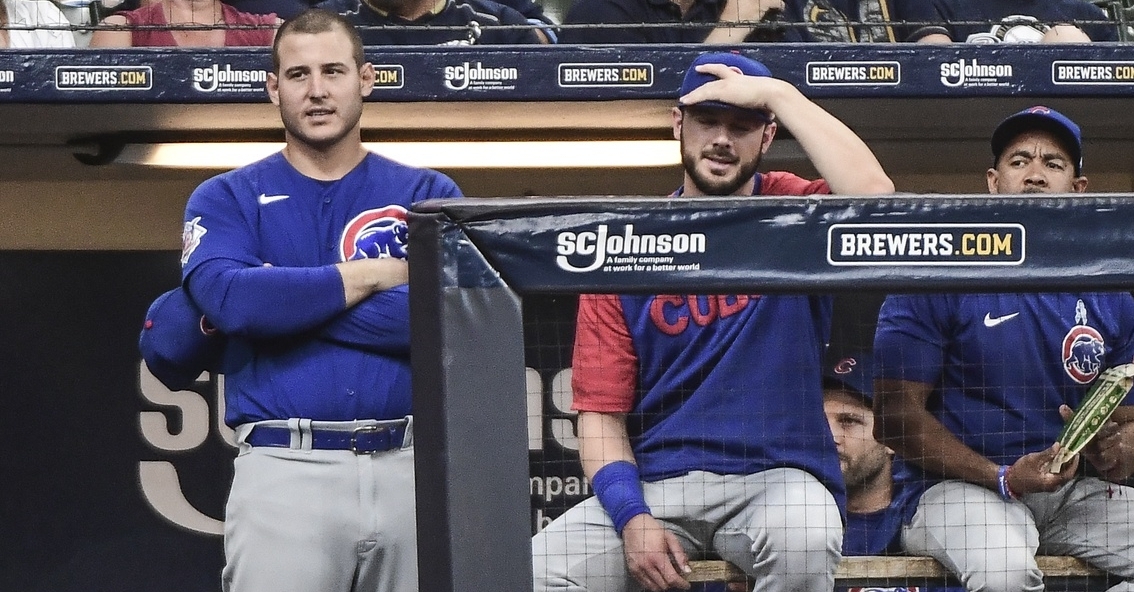 | | |
| --- | --- |
| Takeaways from Cubs loss to Brewers | |
---
| | | |
| --- | --- | --- |
| Thursday, July 1, 2021, 8:24 AM | | |
What was supposed to be a bullpen game for the Brewers turned into a nightmare scenario for the Cubs as Milwaukee completed the sweep 15-7. Not only was this the Cubs fourth series loss in four tries, but Chicago is 3-9 against Milwaukee this season and sits six games behind them in the NL Central.
With Aaron Ashby making his major league debut, the Cubs expected this to be a bullpen day for Milwaukee as he wasn't on a big pitch count. Instead, the Cubs welcomed him to show rather rudely, as he lasted just 2/3 of an inning with the Cubs putting up a seven-spot in the first to take a 7-0 lead. What stood out the most about that inning was the Cubs small-ball approach that had them winning so many games back in May.
Not only were they stealing bases and dropping down bunts, but all seven runs came without a single home run which is not something this team has done much of lately. Chicago entered this series with 47.3% of their runs coming off homers which ranks fourth in the MLB. Javy Baez went the other way for an opposite-field single, and when is going right, that tends to happen a lot. Jake Marisnick picked up an RBI while reaching on an error before coming home to score on a wild pitch.
Patrick Wisdom had two first-inning hits, including an RBI single, and even Eric Sogard got involved with a bunt RBI single as the Cubs were in command early. With Jake Arrieta on the mound, they need him to go five innings to help an already taxed bullpen. With a seven-run cushion, the Cubs were 15-0 since the franchise's inception when leading by that many runs after the first inning. What was there to worry about?
Well, it happens to be there was a lot to worry about because a promising start to the game turned into an all-out horror film with the Cubs also going with a bullpen day. Not only did Arrieta give up the seven-run lead, but he did so in just an 1 2/3 as the Brewers rallied for five runs in the second, with Luis Urias getting involved once again. Not only that, Arrieta committed an error on a slow bouncer from Tyrone Taylor, which pulled Wisdom off the bag. Taylor then collided with Wisdom forcing him out of the game as the injuries continue to mount for this team.
Things never got better as the game went on as the Brewers capped off the game with 15 unanswered runs to cruise to a 15-7 win and dominating sweep. It was the second time in this series that the Cubs pen was rocked for at least nine runs, with eight runs coming in one inning. Credit Urias, Willie Adames, and Jace Peterson for that as the trio combined for 11 of the 15 runs driven in, with Urias going deep twice and Adames connecting for a grand slam. Anytime you have Eric Sogard pitching twice in a series, it is not good.
Jake Arrieta might be finished
When the Cubs signed Arrieta this offseason, it was supposed to be the feel-good story of the offseason. After the first month of the season, it appeared that would be the case as Arrieta was sitting at 3-2 with a 2.57 ERA through five starts. Since then, he has been a train wreck and finally hit rock bottom on Wednesday.
Arrieta hasn't looked good in over a month, but nothing was as bad as it was in this one. Not only has he posted an ERA north of 8.00 since the beginning of May, but he can't seem to win on the road. Add in his inability to locate his pitches anymore, and it seems his days as a starter are long gone. At this point, Arrieta should and needs to be removed from this rotation in favor of Keegan Thompson or other young guys the team will count on in the future.
Whether that means he goes to the bullpen or is flat-out released remains to be seen, but Arrieta simply has little value in this rotation anymore. The Cubs need better pitching, and they need it soon for them to have any shot at chasing down Milwaukee.
Jake Arrieta: "Pitching 1 2/3, that's the story right there. You've got to go at least six innings. It should've been a pretty easy task to complete. It was all frustrating."

— Jordan Bastian (@MLBastian) June 30, 2021
If you have ever played catcher at any point in your life, stay by your phone as the Cubs may be calling. Unfortunately, the backup catcher position hasn't been kind to this team this season, as Taylor Gushue is the fifth backup catcher on the Cubs roster. Not only is that hard to believe, but we just hit the halfway point of the season today, so there could be more shuffling around before all is said and done.
Gushue was added to this roster on a minor league deal this offseason, but was invited to spring training with a chance to make the opening day roster. Although he didn't make the team, he put together a solid spring and was off to a great start with Iowa this season. Gushue connected for his fifth homer of the season Tuesday night, and it was between him and Tony Wolters as to who would be coming to Chicago.
Gushue entered the game in place of Wisdom in the second inning after he left following a collision at first. After that, things went downhill for him as he went 0-3 at the plate with three strikeouts. It was a challenging situation for Gushue to be in, which sums up the season for this team so far.
Cool to see former #Gators C Taylor Gushue get called up to #Cubs after 8 years in minors and nearly 2,000 ABs. One good part about covering bad D-Rays teams years ago was writing about so many guys like Gushue getting a call to majors after long wait. Shot by @TimCaseyPhoto... pic.twitter.com/q4eX51HcEs

— Scott Carter (@GatorsScott) June 30, 2021
Is it time to sell and tear it down?To make matters worse, not only are the Cubs 1-6 on this 10-game trip, but they have dropped six straight games and have fallen to six games behind Milwaukee. Depending on how things go with the Reds over the weekend, all that talk about buying will be long gone as the Cubs may very well enter sell mode.
Things may not look good right now, but as things sit, I still want them to be buyers at this point, and I will tell you why. Facing a six-game deficit in your division is not an easy hill to climb, but there are 81 games left which is plenty of time. That means you have to make one game up in the standings every 12 games, which is doable. Not only will the Cubs schedule get a bit easier come July, but the Brewers schedule will get tougher.
You have to look at the overall health of this Cubs team, who continues to be hampered by injuries. At some point, this team will be healthy or at least as healthy as they can be. When that time comes, you can expect things to start clicking or at least to trend in the right direction.
The last point I will make in terms of why I want the Cubs to hold off on selling, at least for now, is their record against everyone else but Milwaukee. Both the Cubs and Brewers have posted identically 39-30 records against common opponents. However, the Cubs are 3-9 against Milwaukee, and that six-game swing makes up the difference in the standings.
Milwaukee has had their number this season, but there are still seven meetings between the two teams the rest of the way. I'm not expecting them to take all seven games, but they have a chance to make up some ground. If the Cubs can continue to play the way they have against the rest of the league over the next few weeks, they will still be in a great position to buy at the deadline. The question is, does the front office feel the same?