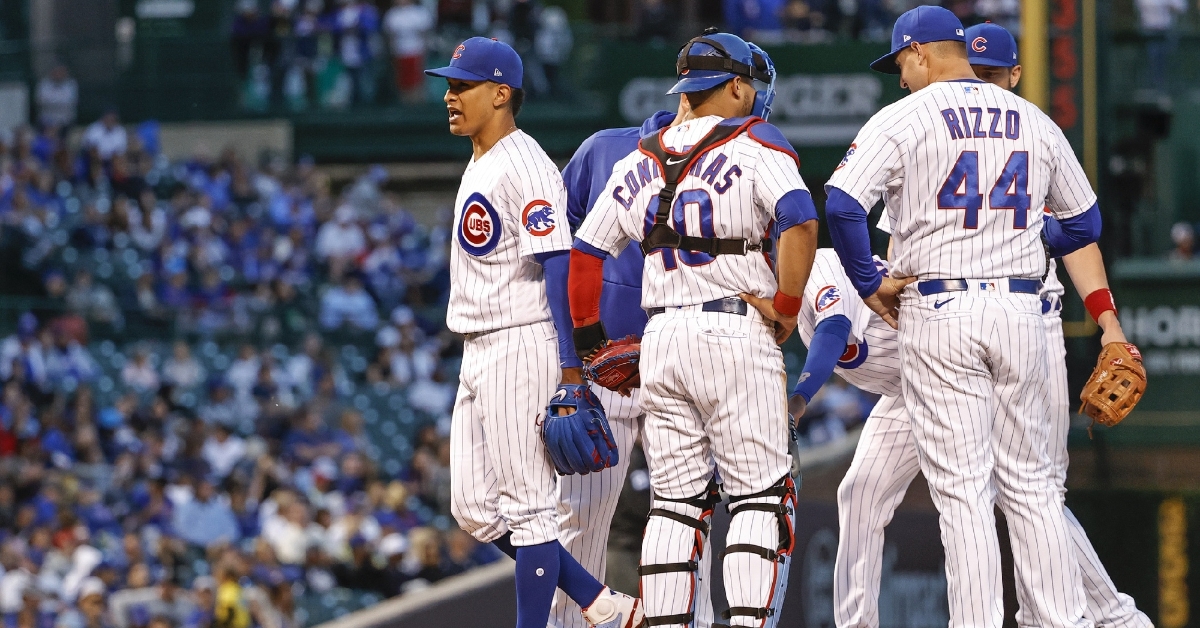 | | |
| --- | --- |
| Takeaways from Cubs loss to Indians | |
---
It has been a while since we could say the Cubs are on the wrong end of a losing homestand. After losing two of three to Miami and then dropping the first of two against Cleveland, the Cubs officially have their first losing homestand of the month and haven't looked going so either.
In June, the offense continues to be putrid as several key bats in their lineup have hit under 200 for the month, making it look like April all over again when they couldn't score runs. As a team, they have posted a sub 230 on-base percentage, and that is not going to get it done when you face the pitching this team has seen lately.
Making his return from the IL was Adbert Alzolay last night as he faced the Indians for a second time. In his first start, Alzolay allowed three runs in six innings, with all those runs coming off a pair of homers. He took the loss in that start but looked good. It was practically a carbon copy the second time around, as Alzolay once again allowed three earned runs off two Indians homers lasting just 4 2/3 inning this time around.
Those homers came from Bobbie Bradley and Josh Naylor, as that was more than enough offense to back Adam Civale on the hill. Tied for the AL lead in wins, Civale isn't like most of the Indian starters who depend on high velocity and strikeouts. Civale pitches to contact and tends to get stronger as the game goes on, but he still knows how to get people out.
Across 4 2/3 innings of his own, Civale allowed no runs on just three hits to go with five strikeouts. He walked two batters but was pulled before he could qualify for the win due to an unknown finger injury. Brian Shaw and the Indians bullpen took over from there as they battled it out with the Cubs pen. Chicago's pen has given up some runs over the past week, but they still entered the game with a streak of nine perfect innings, which ended in the eighth.
Tommy Nance not only allowed a two-out double, but then uncorked a pair of wild pitches that pushed across another run to make things 4-0. Chicago tried to make some noise in the ninth inning, but once again, their inability to get the big hit proved costly as they drop the series opener to Cleveland 4-0. The win also guarantees the Indians a season series win over the Cubs.
Enough of the mental mistakes already
When things were going well for this team, there wasn't much they were doing wrong. Now that they have struggled to win games over the past two weeks, many of the early season problems are popping up once again, which is a concern.
Not only is the entire team not hitting once again, but they have been slopping in the field, and their mental errors have been piling up. It all started Friday when Joc Pederson made a terrible play on a fly ball, and David Ross was not happy with him even though the out was recorded. That then carried over to Sunday when Anthony Rizzo was picked off not once, but twice on consecutive trips around the bases.
Add in Javy Baez, forgetting how many outs there were in the fourth, and frustrations are starting to build in the Cubs clubhouse. Ross appeared to have enough mental mistakes last night as he pulled Baez from the game following the fourth inning. While the two talked in the dugout, Baez takes full blame for what happened, and Ross used him as an example.
This team needs to get out of the current funk they are in because the next 10 game road trip could ultimately put this team at or under .500, depending on how things go. Fortunately, the Cubs remain in first place as the once-hot Brewers and Reds have also cooled off to help keep the Cubs afloat.
WATCH: Javier Baez removed from game after forgetting how many outs there are https://t.co/XSSNULyVM9

— CubsHQ.com (@ChicagoCubsHQ) June 22, 2021
Offense, offense, where is the offense?
Let's be honest, the month of April was brutal if you are a Cubs fan, as their lack of hitting was painful to watch. Once the calendar flipped to May, this team started to play exceptionally well, and that carried over to the first part of June. The pitching was performing at an incredible level, the bullpen has been lights out, and the offense was starting to get that consistent feel that they haven't had in years.
Fast forward to the end of June, and many of the issues this team had in April have popped up again. While the bullpen continues to do their thing, the starting pitching has fallen off slightly as the Cubs starters are struggling to give this team length. The offense once again has been the big issue as five of their regular hitters are hitting below 200 for the month with a team on-base percentage of just 227.
Former MVP Kris Bryant is one of those hitters enduring a rough month as his average has dropped nearly 30 points in the last two weeks. This is the first prolonged slump he has endured this season, and the team is slumping once again. Following their shutout loss last night, it was the eighth consecutive game that this team scored three runs or less. That is the longest streak since 2018, and it may go a bit longer when you look at the upcoming pitchers they will see.
The Cubs are in a funk, especially on offense, and they need just one game to get their confidence back in a good place. Maybe avoiding Shane Bieber on Tuesday and getting an unproven pitcher could be the solution, but they still must deliver.
Should the Cubs go with a six-man rotation the rest of the way?
Ross has done a great job managing this team this season, especially when it comes to the bullpen. He has, however, indicated that this team needs starting pitching help as the guys they have simply are not going deep enough into games.
Kyle Hendricks is the one pitcher Ross can count on to give the team innings, as he has proven that time and again. Zach Davies has done a better job of getting through at least five, as has Alzolay, who has improved as the season has gone on. The rest of the rotation has struggled with Jake Arrieta getting lit up his last three starts to seeing Kohl Stewart, Robert Stock, and Alec Mills all fill in for an injured Trevor Williams.
Williams will be back at some point, but are we at the point now where Ross should consider going with a 6-man rotation the rest of the year. By doing this, it not only gives guys extra rest, but it could help save this team some bullpen innings as the starters may be able to go longer. Mills and Alzolay are the names that come to mind.
Mills was a starter last season, but still only has 25 career starts under his belt. He can give you six innings, but if you can get five innings out of him, you're happy. All spring long, the Cubs have said they wanted to monitor Alzolay's innings given his injury history. So far, he has proven to be just what the Cubs were looking for in the rotation and has shown so much growth as a player.
At some point, the innings question will pop up again, leaving Ross and the organization the difficult task to shut him down. Given his role and the stuff he has, that will hurt this rotation significantly, and he wouldn't be easy to replace. Going with a six-man rotation would not only save Alzolay in terms of innings, but it gives him extra days between starts which could help him get through more of the season before being shut down.
This could also give guys like Keegan Thompson and Cory Abbott a chance to start later in the season as they are viewed as future arms in the rotation. The Cubs have plenty of pitching options to play with, but now the question becomes how Ross will use those options? All he cares about at this point is getting better and getting more length one way or another.

Tags: Cubs Baseball
,
Adbert Alzolay
,
Joc Pederson
,
David Ross
,
Anthony Rizzo
,
Javy Baez
,
Kris Bryant
,
Kyle Hendricks
,
Zach Davies
,
Jake Arrieta
,
Kohl Stewart
,
Robert Stock
,
Alec Mills
,
Trevor Williams
,
Keegan Thompson
,
Cory Abbott