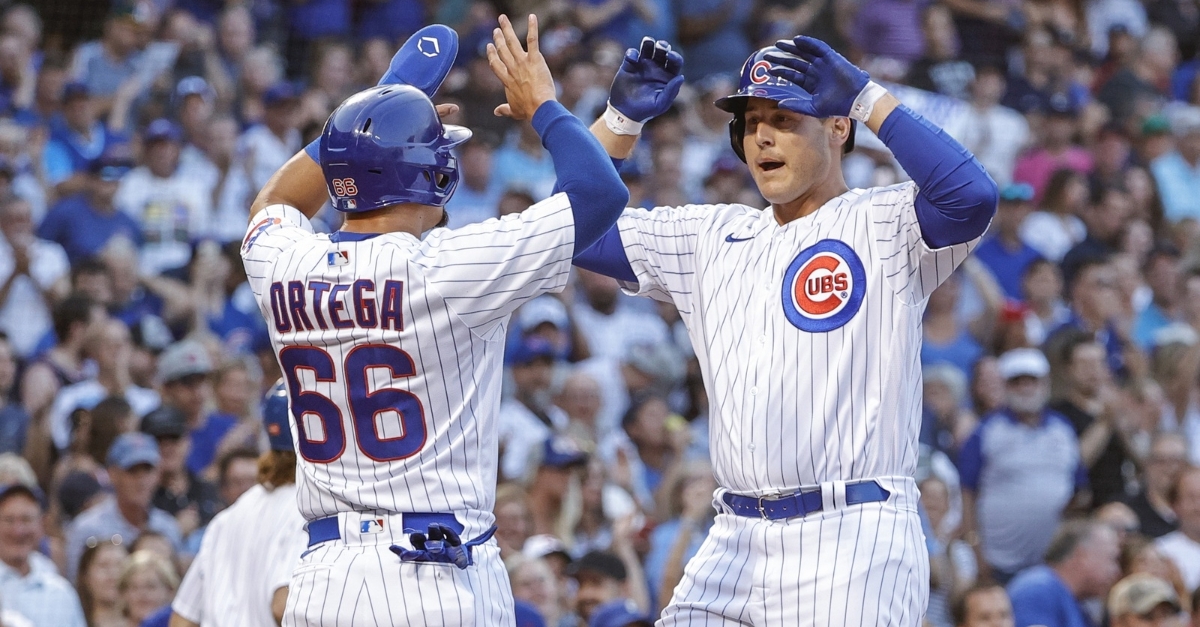 | | |
| --- | --- |
| Takeaways from Cubs loss to Reds | |
---
In a matchup between promising young right-handers Vladimir Gutierrez and Adbert Alzolay, the rookie Gutierrez got the better end of the deal going 6 1/3 innings of work to help the Reds knock off the Cubs 7-4. It was the fifth time in the last six games that the Reds beat the Cubs as they continue to decide whether to be buyers or sellers at the deadline.
While Gutierrez was doing his thing, Alzolay continued to struggle keeping the ball in the yard as he served up three more homers in this one. That brings his season total to 23 homers allowed, with both Jesse Winker and Joey Votto taking him deep in the first to build a 2-0. Thankfully, Anthony Rizzo was there to back him up in the bottom of the first, taking Gutierrez deep to tie things up 2-2 as that now makes three consecutive games where Rizzo has homered in the first.
The Reds were able to take the lead for good in the second off a Kyle Farmer single before Votto homered for the second time in the night to make things 4-2. Much like Rizzo, Votto is feeling it as he has now homered in four straight games. Despite allowing those four runs early on, Alzolay kept his team in the game as he continues his streak of starts allowing four runs or less.
Hoping the bullpen would be able to keep things close, Dan Winkler served up the Reds fourth homer of the night as Eugenio Suarez took him deep in the sixth to make things 5-2. That score would hold until the ninth when the Reds padded their leadoff Kyle Ryan, courtesy of Aristides Aquino and Jonathan India picking up RBI doubles to make things 7-2.
The Cubs did show some life in the bottom of the ninth with Patrick Wisdom and Kris Bryant going deep to pull within 7-4. With a chance at the tying run coming to the plate, Reds manager David Bell went back to Amir Garrett, and this time he was able to slam the door for the save.
Before the game, it was revealed that right-handed pitcher Keegan Thompson was sent to Iowa with fellow right-hander Cory Abbott sent in his place. At first, fans were surprised, given how good Thompson has been coupled with how bad Abbott has looked. However, when you dive deeper into the decision, you can see why it was made and how it will benefit the Cubs.
Not only has Thompson been working a ton over the past week, but the Cubs are mainly sending him down so he can get stretched out to be a starter once again. That is something he has done his entire Minor league career, and with a 3.14 career ERA, you could say he is good at it.
Thompson has made one start with the Cubs this season, and it came against the Dodgers. Granted, he was on a 50-pitch limit that saw him pulled in the fourth, Thompson still showed plenty of potential going toe-toe with Walker Buehler. A reliever his entire MLB career thus far; the Cubs feel now is the perfect time to get him back into the rotation and stretch him out.
Given the possibility of Alzolay's innings limit coming in the near future, the Cubs are going to need some arms down the stretch, and Thompson could be one to give them those innings. He may also use this opportunity to audition for next season as he could wind up in the rotation full-time.
Adbert Alzolay and the lefties
While the home run ball continues to be a significant issue for Alzolay, so does his struggles against left-handed batters. Not only were all three home runs from lefties, but six of his seven hits allowed in his start came off the bat of a left-handed hitter. When you look at his season splits, it is remarkable as he has limited opponents to just a .225 average.
What that doesn't show you is that left-handers have hit him for a .322 average while right-handers are stuck in the 140 range. A big reason for that is his wipeout slider that often fades away from right-handed hitters. They have a tough time getting to that pitch, and he can often make them look silly.
However, his slider also plays into the power spots for most left-handed hitters, which is also a problem for Alzolay. For someone who relies on his slider as much as he does, Alzolay needs to redefine his approach against left-handed hitters to start achieving the success he wants. Whether that means using more fastballs on them or a different pitch selection is yet to be determined, but he needs to get lefties out if he wants to stay in this rotation.
The Reds bullpen is awful
Even though they did a better job last night than on Monday, the Reds bullpen is downright awful, which is a big reason why Bell left Gutierrez in as long as he did. When you watched this game unfold, you could see how restless Bell was in the dugout as he simply has no one to trust at this point.
With a 7-2 lead in hand, that lead never felt safe until the final out as the Cubs were getting plenty of hard contact off the Reds relievers. For this team to be sitting where they are, considering how bad their bullpen has been, is a miracle, but credit Bell, the offense, and the starting staff for covering up that major flaw.
To improve that part of their team as they continue to remain competitive, the Reds made a late trade with the Yankees and acquired relievers Luis Cessa and Justin Wilson for a player to be named later. Cessa has been having a great year posting a 2.82 ERA across 29 games, while Wilson has struggled in his 21 games, posting an ERA of 7.50.
The Cubs are very familiar with Wilson, as he was part of their organization from 2017-18 and posted an ERA in the 3.4 range during his time. Both of these arms will be fresh faces in the Reds bullpen, and that alone should give Bell more help and more late-game options to use.