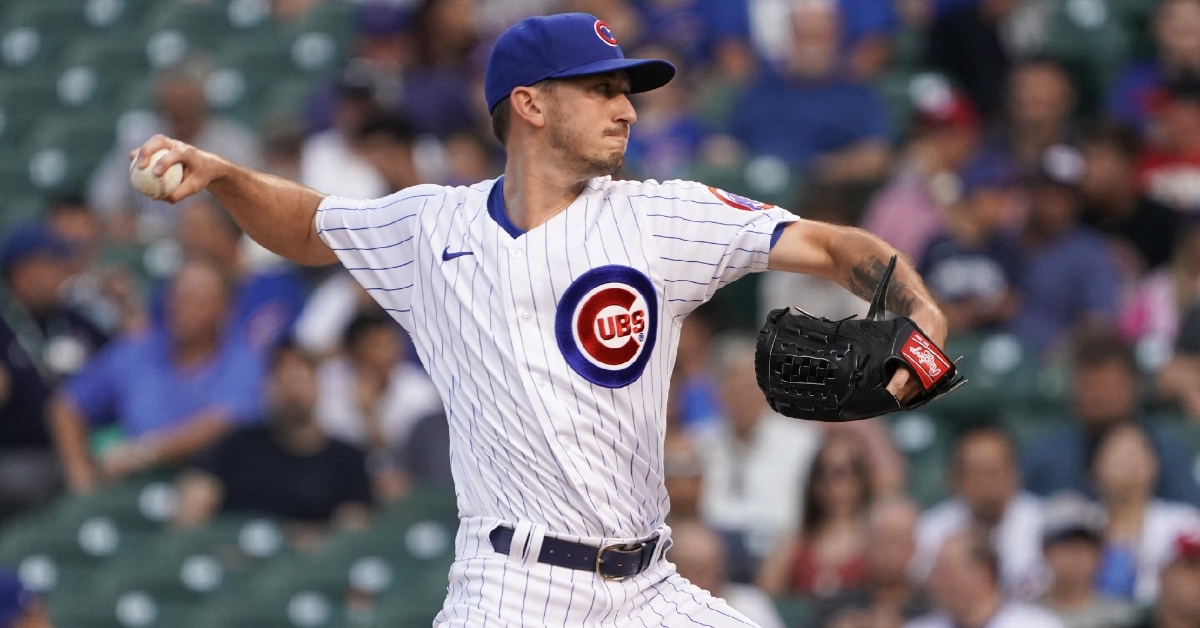 | | |
| --- | --- |
| Takeaways from Cubs loss to Reds | |
---
| | | |
| --- | --- | --- |
| Thursday, July 29, 2021, 11:29 AM | | |
On a staff that has seen Trevor Bauer, Luis Castillo, and Sonny Gray across the past several seasons, Tyler Mahle has emerged as the new ace of the Reds staff. Mahle was making his fourth start of the season against the Cubs and was at his best Wednesday night.
After a rough first start, Mahle has been impressive in his last two turns against Chicago and has pitched exceptionally well at Wrigley. He continued both of those trends last night by shutting out the Cubs through six innings despite only striking out two hitters. Looking to match his production was Zach Davies, who was coming off his best start of the season against Arizona last time out.
Davies also made it through six innings last night to go with another eight strikeouts, but he was on the losing end of a decision as he allowed four runs in his six innings of work. The first of those runs came from guess who, Joey Votto, as the Reds first basemen homered again and has now gone deep every game this series.
A Jesse Winkler double in the third mixed with the Tyler Stephenson single in the fifth were all the runs Davies allowed as he left the game trailing 4-0 before putting the ball in the hands of the bullpen. Outside of Adam Morgan and his scoreless frame, the Cubs bullpen struggled last night with Dillon Maples pitching the eighth and struggling to find the zone. He not only walked a batter, but hit two more, including Shogo Akiyama with the bases loaded to push in another run.
With Cory Abbott on for the ninth, not only did the right-hander struggled with his command, but was lit up in the process, surrendering a second Votto homer on top of an Akiyama double to push the Reds lead to 8-0. Chicago was able to make a little bit of noise in the bottom of the ninth when David Bote and Ian Happ picked up RBI singles. However, that was all they could do as the Reds beat the Cubs for the sixth time in seven tries, 8-2.
Joey Votto is owning the Cubs
There was a time not all that long ago where Votto was an annual MVP candidate. While those days are long gone, he continues to be one of the more productive first basemen in the game. However, one thing that hasn't gone away is his ability to destroy Cubs pitching, and that is precisely what he is doing this series.
Not only did Votto homer again last night, but he has now homered in every game of this series and five straight tying a Reds franchise record. To make things worse, he has consecutive multi-homer games against Cubs pitching and has totaled five homers so far in this series. This kind of stretch shouldn't surprise you when you look at his career numbers, but it does surprise you when you look at his numbers the past few seasons.
Votto continues to have a great eye at the plate, but it appears he changed his stance at the plate this season, leading to more home runs than in recent seasons. There is no way he can keep this pace up, but you are looking at a 36-year-old first baseman who has a shot at reaching 30 homers for the first time in several years.
On Wednesday night, Joey Votto joined David Ortiz (2014), Alfonso Soriano (2013), Barry Bonds (2002) and Ty Cobb (1925) as the only players with consecutive multi-HR games after turning 37 in the Modern Era (since 1900). pic.twitter.com/21c3CaiBcy

— ESPN Stats & Info (@ESPNStatsInfo) July 29, 2021
No Nico No
As if losing 8-2 wasn't bad enough last night, the Cubs could be on the verge of losing Nico Hoerner once again as he left the game in the seventh following an awkward swing. It wasn't the swing that was concerning, but more so the reaction as he immediately grimaced in pain while grabbing the right side of his chest.
Any time that happens, you immediately think of an oblique injury which is not good. Those are some of the trickiest injuries to set a timetable on because they are difficult to heal. Should that be what happened to Hoerner, I find it very unlikely he would be back before September, if at all this season.
For as good as Hoerner has been in his career, he hasn't been the most durable player as injuries have slowed him down. Across two minor league seasons, Hoerner played in just 96 career games as a series of hand and wrist injuries forced him out of the lineup more than he was in. Add in his hamstring injury in May and now a potential oblique injury, and you can see what I mean.
Injuries are part of the game, and a lot of time, there is nothing you can do about it. However, there comes a time when injuries are a concern. Should Hoerner continue to miss time with whatever injuries he deals with, that will be concerning for Cubs fans, as the less he is on the field, the harder it makes for David Ross to play him.
Nico Hoerner exits game with apparent injury; Kris Bryant takes over at shortstop https://t.co/BbmOhPDbXh

— CubsHQ.com (@ChicagoCubsHQ) July 29, 2021
The old Dillon Maples shows up
Maples has been an interesting player to cover all season, mainly because of the dramatic turnaround he has had. A once top 30 prospect, Maples has always had the tools to be a dominating reliever, but never could harness his command. That alone made him frustrating to watch because fans knew at any time he could load the bases and look bad doing it.
Entering this season without a minor League option, Maples knew that it was now or never if he wanted to make the opening day roster. Not only did he do that by pitching well out of camp, but he looked like the reliever the Cubs expected him to be for the better part of this season. While he may not be striking guys out at the same clip, his walk rate is dramatically down while his ground ball rate is up.
Perhaps a change in mechanics can be credited to that success, as he has looked great this season, posting a 2.28 ERA thus far. However, Wednesday night was an all too familiar feeling for Cubs fans as Maples not only didn't pitch to the level he has this season, but went back to looking like the Maples of old.
Not only was command all over the place, but Maples walked a batter and hit a batter which helped load the bases. He then hit another batter to push in a run. That has always been his problem as he throws the ball with so much movement, but no clue where it is going half of the time. Hopefully, last night isn't a sign of things to come.
Dillon Maples is the 1st Cubs reliever to have multiple games in a season with 2+ hit batters since Tot Pressnell in 1941.

— Jordan Bastian (@MLBastian) July 29, 2021