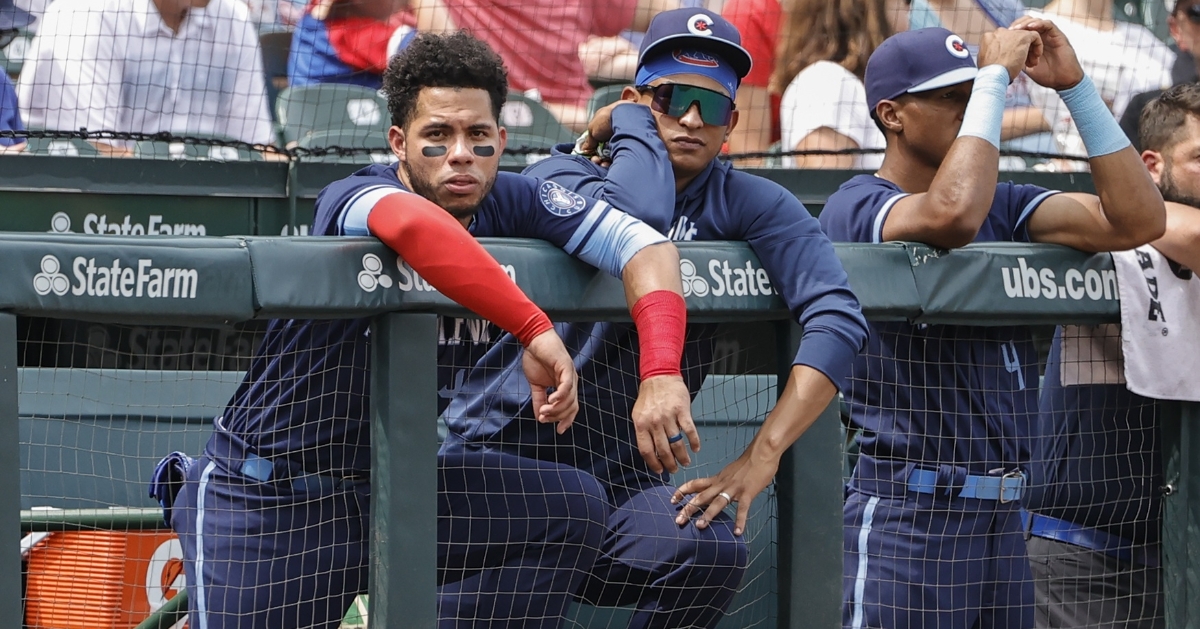 | | |
| --- | --- |
| Takeaways from Cubs loss to White Sox | |
---
| | | |
| --- | --- | --- |
| Saturday, August 7, 2021, 9:13 AM | | |
After more than four months of the MLB season, the Cross-Town Cup finally got underway with round one in Wrigley. One thing that will always come from this is, no what the records are; you can throw those out the window. This series is about bragging rights and although one team is far superior to the other, expect six very well played games this season.
In a matchup of potential Cy Young candidates, Lance Lynn toed the rubber against the Professor Kyle Hendricks for a Friday afternoon tilt. Despite six impressive innings from Hendricks again, he left trailing 2-0 as Andrew Vaughn, and Sevy Zavala picked up RBI singles in the fourth. That would be all that Hendricks would allow as he and Lynn went at it for six innings with the Sox leading 2-0 at that point.
That is when the Cubs offense started to take shape as David Bote put the Cubs on the board with a seventh-inning sacrifice fly only to see Cesar Hernandez take Kyle Ryan deep to put the White Sox in front 4-1. Holding late-game leads has not been an issue for the White Sox and with Craig Kimbrel now added to set up Liam Hendricks, wins should come that much easier.
At least that was the plan when the White Sox made the trade for Kimbrel as he returned to the North Side for the first time since the deal. What better way to be welcomed back by the home crowd than to serve up a home? Not just any home, but a game-tying three-run shot as Andrew Romine made his presence felt to tie things up 4-4.
His homer helped get the game to extra innings, where the White Sox began to tee off on Manny Rodriguez. It all started with the late-inning replacement Brian Goodwin as his two-run shot gave the White Sox the lead for good 6-4. Add in RBI hits by Gavin Sheets and Tim Anderson, the White Sox, had a comfortable 8-4 lead.
After a dominating showing by Hendricks, Garrett Crochet was called upon to pitch the 10th. Despite Frank Schwindel getting into one for his first homer of the season, the White Sox were able to hold on as they take around one 8-6.
The Greg Deichmann era is underway
Acquired in the Andrew Chafin deal from the Oakland Athletics, Greg Deichmann was viewed as someone who could be a September call up this season and could challenge for a starting spot next season. However, less than two weeks after being sent to the Cubs, Deichmann found himself in the starting lineup playing right field as he made his major league debut.
In a surprise decision, Deichmann was added to the roster before the game as Jason Heyward hit the IL with an Index finger issue. Although it was just one game, Deichmann picked up his first career hit of what will hopefully be many in a Cubs uniform. He may not have hit the ball hard, but he can say his first career knock was off a Cy Young caliber pitcher in Lynn.
Now the question is, how many games will Deichmann play in down the stretch. Widely seen as a top 20 prospect in the Cubs system, he could be the first player of a new cast of prospects to make their way to Wrigley. If the new farm system ratings are accurate, the Cubs have moved into the top 10, where they could start making an impact sooner rather than later.
First career hit for @Greg_D07! pic.twitter.com/66SPI8B2hG

— Chicago Cubs (@Cubs) August 6, 2021
Welcome back, Craig Kimbrel
Although his first two years as a Cub didn't go as planned, Kimbrel bounced back in a big way this season while making yet another All-star game. Not only was he looking like his old self, but he may have been pitching the best he ever has entering the game Friday with a major league-best 0.48 ERA.
Now on the other side of the Cubs/Sox rivalry, Kimbrel made his first appearance at the Friendly Confines since being acquired by the Sox. With the crowd acknowledging him and showing their respect for all he did this season in a Cubs uniform, Kimbrel was treated to a rather rude homecoming as Romine took him deep to tie the game in the eighth 4-4.
Ironically, that was the first earned run Kimbrel has allowed at Wrigley this season and nearly equaled the amount of runs he allowed all season. This was the outing Cubs fans were used to seeing his first two seasons and something the White Sox were hoping to avoid.
Craig Kimbrel still a member of the Cubs lol pic.twitter.com/Uf110Yn9yN

— Jordan Moore (@iJordanMoore) August 6, 2021
The streak continues
No one would argue that Hendricks wasn't his best, but the Professor continues to get the job done. Facing a lineup that can do a lot of damage, Hendricks did serve up seven hits, but most of them were on soft contact. Although his command wasn't the best walking three hitters to go with seven punchouts, he continued to do what he does and keep the Cubs in the game.
This is what he does and what he has done since 2014. There is a reason why he is ranked in the top five in terms of best ERA since 2015. Hendricks may be old school in terms of how he pitches, but the bottom line is he knows what works and uses that to his advantage. He is the ace of the Cubs and continues to be overlooked by most of the league.
Although he didn't record the win on Friday, Hendricks also didn't take the loss. That makes 13 consecutive starts without taking the loss, which is by far the best in the majors. During that time, Hendricks has posted a 3.13 ERA bringing his ERA to 3.09 since 2015. That ranks fourth in the majors as Jacob DeGrom, Clayton Kershaw, and Max Scherzer are the only pitchers to have posted better ERAs than him since 2015.
Kyle Hendricks is second in MLB with 17 quality starts this season! pic.twitter.com/bEhkDYrVlz

— Marquee Sports Network (@WatchMarquee) August 7, 2021