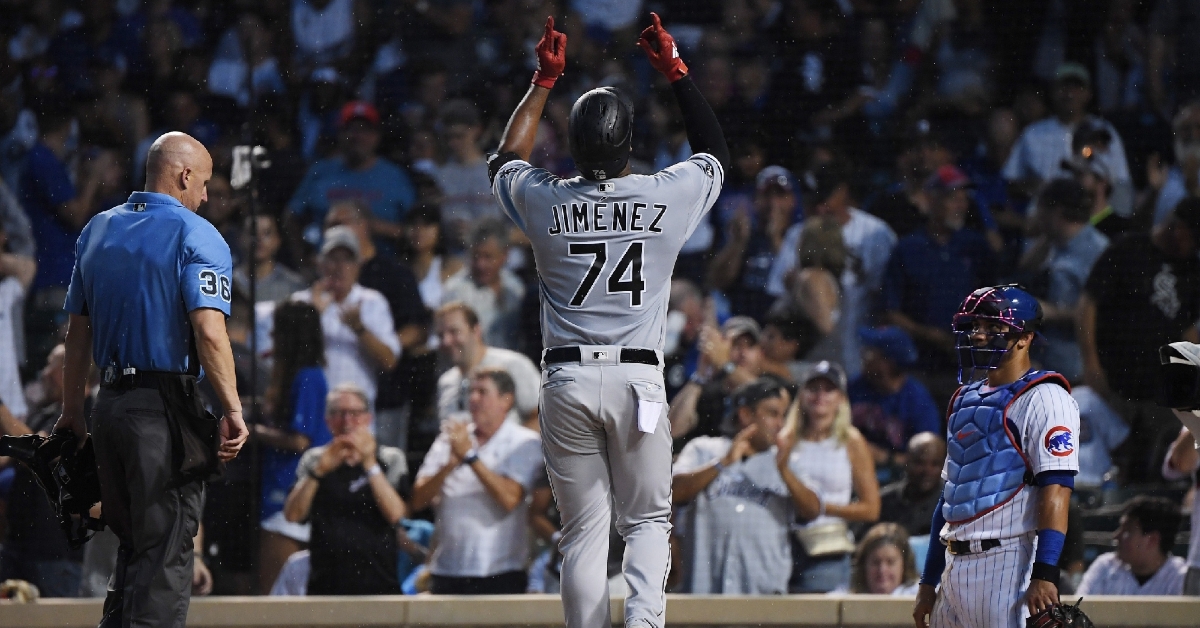 | | |
| --- | --- |
| Takeaways from Cubs loss to White Sox | |
---
| | | |
| --- | --- | --- |
| Monday, August 9, 2021, 8:59 AM | | |
Sunday was a historic night at Wrigley Field for various reasons, and not all were good. First off, it was the anniversary of the first night game at Wrigley. Secondly, ABC had the broadcast, making it the first time that ABC had a game on the National Stage in more than two decades.
Third, it was just the White Sox third-ever sweep at Wrigley Field as they flexed their muscles in a 9-3 win over the Cubs and proved who the kings of Chicago are right now. With the change-up artist Zach Davies on the mound for the Cubs facing off with their former farmhand Dylan Cease, not only did the White Sox strike first, but they struck early and often to make life miserable for Cubs pitchers across the board.
Tim Anderson needed just one pitch to give the Sox a first-inning lead as he took a Davies fastball the other way for a leadoff homer and the 1-0 lead. Hard contact was the theme of the night for Davies as he allowed not one, not two, but three first-inning homers, including two-run shots by Eloy Jimenez and Andrew Vaughn, to put the Cubs in an early 5-0 hole after one. Jimenez added to his line with a two-run double in the seventh as Davies was chased after just two innings trailing 7-0.
That 7-0 lead was more than enough for Cease as he continues to go about his business on the mound. Despite only getting through five innings, Cease struck out 10 Cubs to go with three walks and just five hits. He did, however, surrender three runs in his outing, with Frank Schwindel picking up a two-RBI pinch-hit single before Greg Deichmann collected his first career RBI with a floated to left to pull the Cubs within 7-3.
That would be as close as they would get as Jimenez added a second homer later in the game as part of his five-RBI night while Vaughn capped off the scoring with his third RBI. The win also marked two consecutive games where the White Sox didn't have to use Craig Kimbrel or Liam Hendricks as they continue to go about their business in the win.
57 and counting
There has been no secret this season as to how many different players the Cubs have used, but even I was surprised by what I learned. Along with the additions of Jake Jewell and Michael Rucker last week, Deichmann was added to the roster this weekend which marks the 57th player the Cubs have used this season.
That is by far the most in franchise history, and the season is still two months from finishing with September call-ups still coming, so expect that number to way up. A big reason for so many players has been the rash of injuries the Cubs have had to deal with this season, mixed with the constant shuffling of several bullpen arms.
Now add in the trade deadline and all the pieces the Cubs sent away, and they continue to plug guys in from the minor leagues hoping to be a competitive team. While the wins may not be coming right now, this team has remained very competitive since the deadline, and the Cubs are starting to find some diamonds in the rough in terms of their offseason pickups.
Pitching to contact doesn't always work
While pitching to contact sometimes works, it doesn't work well when you have a staff where 80% of pitchers are soft tossers dependent on pitching to contact. What makes things more difficult is when some of those soft tossers don't have elite stuff, which has been happening to Davies since 2015.
Davies is a contact pitcher and is going through his worst season as a pro in terms of ERA, record, and command despite posting relatively good numbers across the board since entering the league. That has led to his highest home run per nine innings rate and his highest hard contact percentage.
That doesn't bode well when Davies ranks first in pitches put in play as teams make contact 80% of the time off his pitches. It would be one thing if that contact were hit right at people, but the bottom line is that contact is not going towards players, and it is getting hit hard across the board.
The first two innings of his start last night was a prime example of that, as every pitch put in play was struck well. This has been a recurring theme for the Cubs all season, and it was only a matter of time until it came to be too much. For Davies, that time has come, and he needs to get back to his old self over the final two months.
Zach Davies, who allowed seven runs in two innings tonight: "It's definitely a low point, not only in my season, but in my career."

Said he knows his outing was the kind that "just deflates a team." Added that his pitch to pitch focus needs to improve in upcoming starts.

— Jordan Bastian (@MLBastian) August 9, 2021
The Jimenez and Cease trade still looks bad
The Cubs have made many bad trades in recent years, but the worst one may have been the Jose Quintana for Jimenez and Cease. When the move happened, it made a ton of sense as the Cubs needed starting pitching help, and Quintana gave the Cubs everything they were looking for.
However, he was never outstanding and never reached the level the Cubs expected him to as he hovered right around .500 in his three-plus years with the Cubs while posting an ERA over 4.25. That wouldn't be a terrible line had the Cubs given away minimal prospects for him, but they parted ways with their top overall prospect in Jimenez at the time to go with their best pitching prospect Cease.
While Cease struggled his first few years on the Southside, he has finally come into his own this season, and you can see why the Cubs were so high on him when they drafted him. On the other hand, Jimenez was impressive the moment he stepped on a big-league diamond and continues to impress ever since.
Not only does he possess prodigious power, but his smile is infectious in the dugout as he clearly loves the game of baseball. Watching both players torment the Cubs last night is just another painful memory of where this team could be had they not gutted their system to get a ring. Now a top 10 farm system again, hopefully, the Cubs don't fall into that trap a second time around as they look to build towards another title.
It would appear that Eloy Jimenez is back pic.twitter.com/q2mewcwDAW

— Barstool Chicago (@barstoolchicago) August 9, 2021