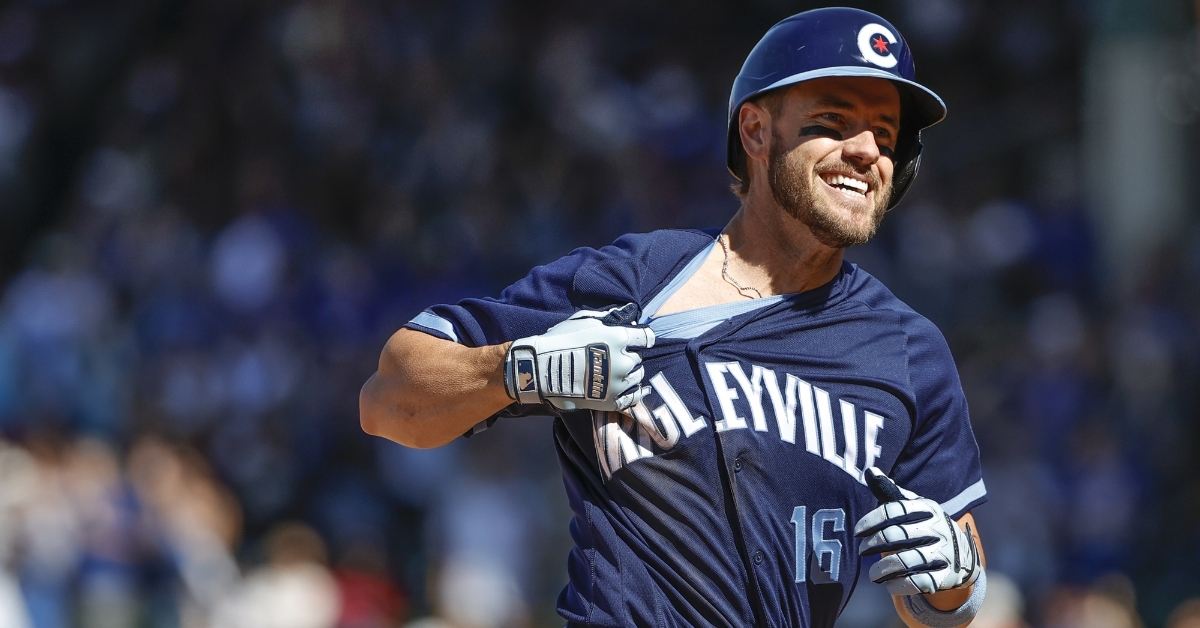 | | |
| --- | --- |
| Takeaways from Cubs win over Cardinals | |
---
The Cubs are to the Cardinals what the Brewers are to the Cubs, and that is Kryptonite. At least that is what they have been so far as the Cubs improved to 6-1 against the Red Birds this season, including 4-0 at home following a 10-5 win on Friday.
Kyle Hendricks continues to do his thing against the Cardinals as his mastery against them is mystifying. Not only did he give the Cubs 6 1/3 solid innings of two-run ball, but he also did it much differently than most of his starts as he pitched to more contact than he is accustomed to. Hendricks walked one-hitter and struck out one as he forced the Cardinals to put the ball in play.
That they did, and for the most part, it didn't go well as Tyler O'Neil, and Yadier Molina picked up RBI singles off him for the lone runs allowed. The win moves Hendricks to 11-4 on the season, and he has now gone 11 straight starts without a loss. Offensively, the Cubs had things going immediately as Joc Pederson picked up a bases-loaded double of Wade LeBlanc in the first to give the Cubs a 3-0 lead.
After the Cardinals closed the gap to 3-2, Ian Happ entered as a pinch hitter for Jake Marisnick and delivered an RBI single to make things 4-2. Add in a pinch-hit bases-loaded double by Kris Bryant and a Patrick Wisdom homer, and the Cubs stormed in front 9-2, backing Hendricks with plenty of support. Jason Heyward added an RBI single later to give the Cubs a 10-2 lead.
With Kyle Ryan on to pitch the ninth, St. Louis started to get things going as they pushed across three runs in that inning, with two of them coming off a Paul DeJong homer. Thankfully, the Cubs built a big enough lead where three runs wouldn't hurt then, and they picked up a 10-5 win.
Joc Pederson can hit lefties
One of the biggest reasons why Joc Pederson came to Chicago was that it was the one place willing to make him an everyday player. After six strong seasons with the Dodgers, Pederson was always seen as a platoon player as the Dodgers often sat him against left-handed pitchers.
Looking to prove he could hit lefties this season, David Ross gave him the opportunity early, and Pederson has rewarded him to some degree. Sure, his average may not be the highest off lefties, but Pederson is proving he can produce against lefties and is showing why he should be an everyday player.
With the trade deadline rapidly approaching, Pederson could find his way out of Chicago in the coming weeks as contending teams are looking to pick the Cubs dry. Hopefully, the Cubs can get someone decent back for him as he has proven to be a reliable hitter this season and has excellent postseason success.
Hendricks and Happ continue to dominate the Cardinals
If Hendricks could start 30 games a season against St. Louis, he would be a Cy Young candidate every year. It is incredible when you look at the amount of success he has against St. Louis and how easy he often makes it look.
In three starts against the Cardinals this season, Hendricks has posted a 3-0 record while posting an ERA under 3.00. That follows a similar trend going back to 2019, as the Cardinals have a hard time doing much off him. This was a much-needed win for Hendricks heading into the all-star break as he is well on his way to a career-high in wins this season.
Like Hendricks, Happ has also dominated Cardinal pitching as he has posted a 346 average against the Cardinals. That is his best average against any opponent by far, and he immediately made his presence felt on Friday. After Marisnick started with a lefty on the mound, Happ entered the game to replace Marisnick and immediately cashed in with an RBI single.
As things stand right now, Happ is the only regular in the starting lineup that is still hitting under 200. 2021 has been rough for him, and he has shown signs of snapping out of it soon. Maybe seeing the Cardinals not only now, but right after the all-star break is a good thing for as it could get his confidence going for an excellent second half.
Kyle Hendricks is tied for the league lead in wins with 11! pic.twitter.com/d9GRhOo0p1

— Marquee Sports Network (@WatchMarquee) July 10, 2021
The once nearly invincible Cubs pen has shown cracks in their armor the last several weeks, but that was bound to happen. A big reason for that has been the overworked arms that continue to throw as much if not more innings than the starters.
Another reason for their struggles was the loss of Ryan Tepera, as it threw the bullpen order out of whack, forcing Ross to use guys in unfamiliar places. With Tepera back in the fold, Ross has his three-headed monster in the back of the bullpen while others can now resort back to their regular role.
It is unclear whether Tepera will be a Cub past the deadline, but he has been one of those minor league deals that has panned out. While it appears this team is set to enter sell mode, I wouldn't go that far quite yet. With their next 11 games against the Cardinals and Diamondbacks, the Cubs could very easily rip off a nice stretch of wins that could put them right back in the mix for the division.
Does the front office want that to happen, and will they let that happen? The more wins this team gets, the harder it will be for them to be sellers. The more losses and the easier it will become, so that Ross will be toeing a fine line the next several weeks. The only silver lining to take away from this is the better these players perform, the better packages the Cubs can bring back in return.
ICYMI: #Cubs make several roster moves https://t.co/WQpxDvDqZ5

— CubsHQ.com (@ChicagoCubsHQ) July 10, 2021

Tags: Cubs Baseball
,
Kyle Hendricks
,
Joc Pederson
,
Ian Happ
,
Jake Marisnick
,
Kris Bryant
,
Patrick Wisdom
,
Jason Heyward
,
Kyle Ryan
,
David Ross
,
Ryan Tepera