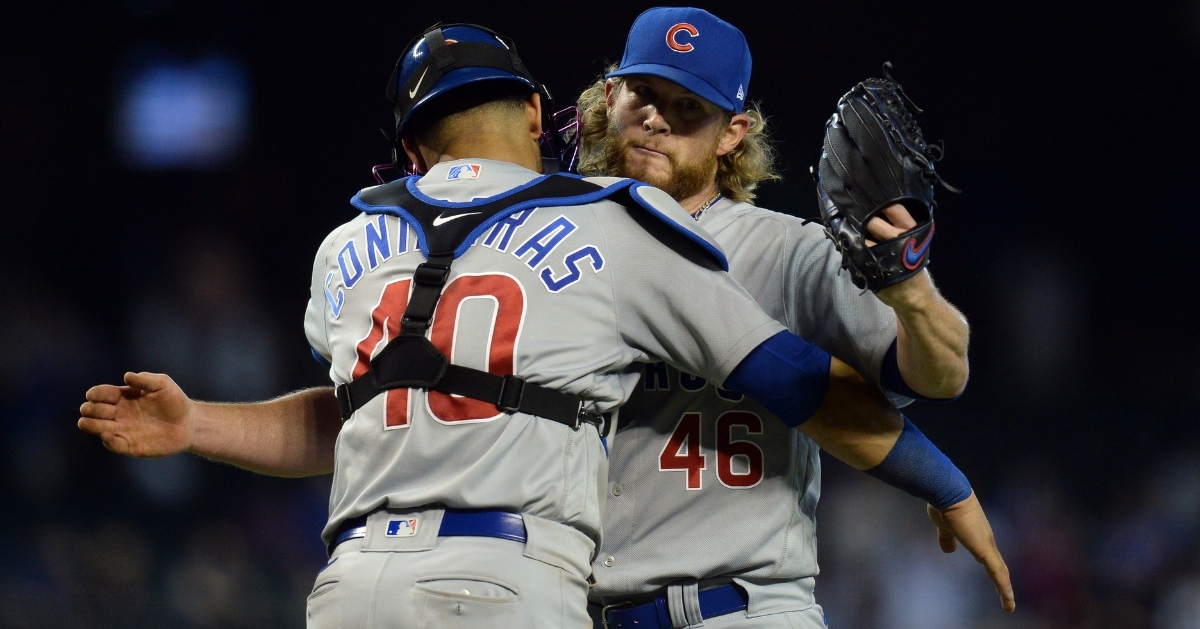 | | |
| --- | --- |
| Takeaways from Cubs win over D-backs | |
---
It took just two days into the second half for the Cubs to reach .500 as they topped the Diamondbacks 4-2 to move to 46-46. Adbert Alzolay was on the hill, and despite earning a no-decision, it was a step in the right direction. Alzolay went five innings, needing just 69 pitches to get through those five innings as he allowed two runs on five hits. The first of those runs came on a Nick Ahmed second inning groundout before Josh Rojas doubled the lead in the fifth with an RBI single.
Opposing Alzolay was Zach Gallen, as he was a tough customer for the Cubs bats to handle. Gallen went 5 2/3 innings of work, allowing just a Javy Baez RBI double in the top of the sixth. Gallen walked two and struck out seven in what was a tough-luck no-decision for him. In what became a battle of the bullpens in the sixth inning, the Cubs pen was doing their job as they looked to get back on the roll they were on in early June.
The combo of Keegan Thompson, Rex Brothers, and Adam Morgan kept the Diamondbacks off the board from the fifth inning on and gave the Cubs every possible opportunity to steal this game. With Joakim Soria on to close things out in the ninth, Robinson Chirinos entered the game as a pinch hitter and came through with a game-tying RBI single.
Later in that inning, it was time for Willson Contreras to play hero as he connected for a long two-run shot to put the Cubs in front 4-2. That would be all the Cubs needed as Craig Kimbrel came in and racked up a pair of strikeouts to lower his ERA to 0.53 after recording his 21st save of the season.
A step in the right direction
The second half will be very intriguing to watch for a variety of reasons. Obviously, the most prominent reason would be what the Cubs do at the deadline and how different this team will look come the end of the month. Another critical thing to watch during the second half is how the Cubs will handle Alzolay.
When the Cubs announced he would be the team's No. 5 starter this season, it was meant with a ton of questions. Considering his injury history and his less than 20 career major league appearances, many people felt he wasn't ready to shoulder a full-time starter's role. After David Ross revealed that he would be the fifth starter, he also said that Alzolay would be on an innings limit this season to protect his arm.
After being one of their better starters for the better part of the first half, Alzolay is now going to be approaching the innings limit the Cubs set for him this season. While we don't know what that limit is, it is coming, and fans won't know what the number is until it happens. However, if Alzolay continues to pitch the way he did today, the Cubs may extend his limit a few extra starts down the stretch. Regardless, look for Alzolay to continue to improve and be ready to go full tilt next season.
Alzolay's pitching line:
5 IP, 5 H, 2 ER, 2 BB, 2 K#CubTogether pic.twitter.com/I5ZCracsrj

— Chicago Cubs (@Cubs) July 17, 2021
Is Craig Kimbrel on his last hurrah?
One of the biggest names circling the trade talks is that of Cubs closer Kimbrel. Not only is he near the top in Major League Saves, but Kimbrel has the lowest ERA in baseball among qualified relievers. The longer he continues to put up his numbers, the better of a return the Cubs would get should they decide to move him at the deadline.
While it looks pretty likely that the Cubs will move him, he does have a team option on his contract for next season, so the Cubs may elect to hold onto him a bit longer. The only way I see that happening would be if the front office felt like this team would compete next season. Considering the start that Kimbrel got off to as a Cub, it is a miracle he is where he is today.
Credit him to that as his work ethic to get better has really paid off. 2021 was also the first time during his Cubs tenure that he has had a normal offseason and a full spring training to get his feet wet. It is amazing what happens when a pitcher gets into a regular routine heading into the season, and Kimbrel is undoubtedly benefitting from that.
The legend of #DirtyCraig continues!@BudSelect pic.twitter.com/afzXmeThqR

— Chicago Cubs (@Cubs) July 18, 2021
Javy Baez stays hot
Even though Baez was 1-5, he did pick up an RBI as his recent hot stretch continues. Going back to the final week of the first half and now the first two games of the second half, Baez is hitting north of .300 to go along with three homers and now 11 RBIs.
We have seen this before with Baez as he continues to be one of the streakiest hitters in the game. When he is off or struggling, he struggles to make any contact and completely looks lost at the plate. However, when things are going well, not only does Baez produce, but he can carry this team offensively.
I wouldn't say he is at that point where he is carrying the team yet, but he is producing at a level not seen since his MVP-type season. In that year, Baez had a .283-batting average to go with 34 homers and 111 RBIs. With his RBI, Baez has 21 homers and 57 RBIs which is ahead of his pace during the 2018 season.
At this rate, Baez would be on pace for 37 homers to go with 108 RBIs. These are the types of numbers that the Cubs expect from Baez, although they would love to see his batting average be above .260. Although that may not be the case again this season, his production at the plate can't be disputed.
Baez is putting up great numbers, and when you compare his numbers to those of the upcoming free-agent class, Baez is leading the way. He is certainly playing himself into a lucrative contract this offseason, and it's the Cubs who are going back to the negotiation table hoping to strike a deal before the deadline.
Javy Baez with a rocket RBI double. Cubbies on the board. pic.twitter.com/jDFyv5hfJe

— Justin Groc (@jgroc) July 17, 2021