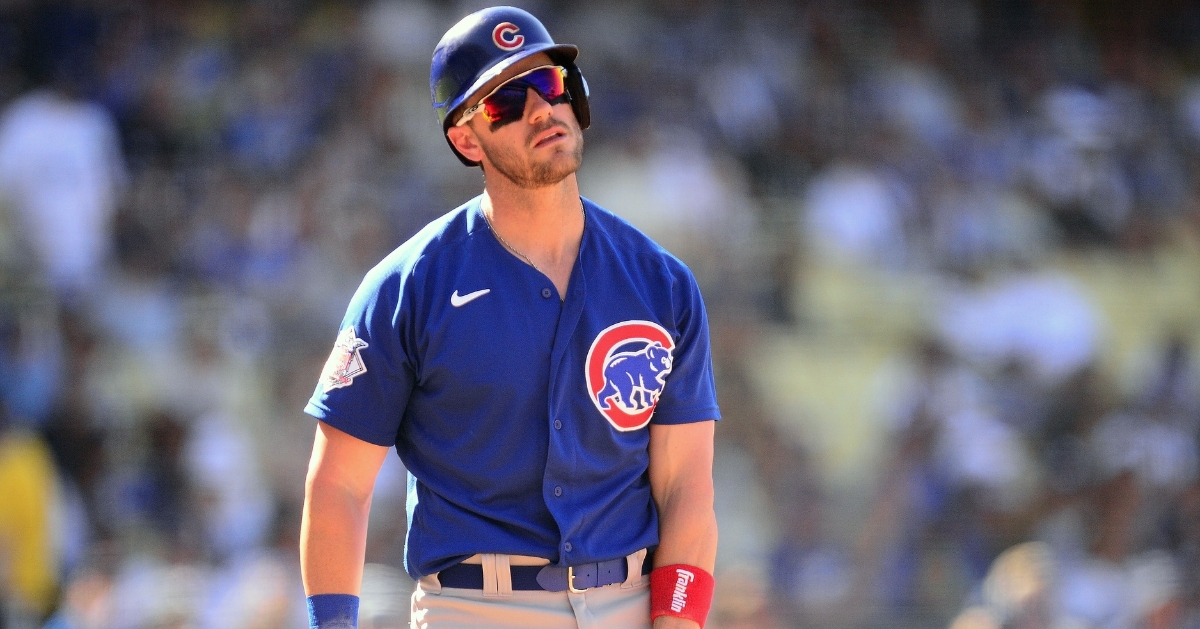 | | |
| --- | --- |
| Takeaways from Dodgers' walk-off win over Cubs | |
---
| | | |
| --- | --- | --- |
| Sunday, June 27, 2021, 9:54 AM | | |
In a David vs. Goliath type of matchup in terms of starting pitchers, Alec Mills took on the vaunted Dodgers offense as he opposed lefty Luis Urias. After an incredible start to the season for Urias, things have gone downhill his past five starts, but he made up for it in a big way on Saturday. Although he only lasted 5 1/3 innings giving up two runs on five hits, there were many positives to take from his start as he walked just one-hitter and struck out a career-high 12.
On the other hand, Mills had a much more difficult time navigating through this Dodgers offense as he was pulled after just four innings of work, allowing eight hits to go with two walks and two strikeouts. Much like Jake Arrieta on Friday, Mills lived dangerously pitching in and out of trouble all night, allowing a first-inning RBI double by Max Muncy and a Justin Turner RBI single to put his team in an early 2-0 hole. Give Mills credit; he was able to limit the damage and held the Dodgers scoreless the rest of his outing before the Cubs bullpen came in.
With Urias doing his thing and having a two-run cushion, runs were not going to be easy to come by if you were a Cubs fan. Anthony Rizzo took it upon himself to help the cause as he connected for his ninth homer of the season-ending a long homerless drought to make things 2-1 in the fourth. One inning later saw Ian Happ come in as a pinch hitter for Mills as he went on to rip an RBI double, scoring a suddenly hot Jason Heyward and tied things up 2-2.
The rest of the game saw a battle of the bullpens as Brad Wieck, Dan Winkler, and Rex Brothers allowed one hit to go with nine strikeouts over the next four innings, keeping things tied heading to the ninth. Unfortunately for the Cubs, the Dodgers pen was just as good with Joe Kelly, Garrett Cleavinger, Phil Bickford, and David Price getting the job done for them.
Still tied and in the bottom of the ninth, David Ross elected to go with Keegan Thompson with hopes of getting the game to extras. However, after retiring the first two hitters, Thompson fell behind Cody Bellinger and was forced to come at him with a heater. Bellinger was ready as the lefty dropped the head of the bat and crushed one over the right-center field fence for his third career walk-off home run, handing the Dodgers a 3-2 win.
No one would fault Ross if he would have chosen to sit Contreras last night given what happened on Friday. Contreras has been one of the more critical pieces of the Cubs this season, and some would argue he could be the team MVP even if the numbers are not quite there.
Not only has he caught the most games in baseball this season, but he has caught the most innings also, and it isn't even close. A big reason for that has been the Cubs inability to find a backup catcher, which is something they need desperately. Along with so many innings comes the constant beating he takes behind the dish. He has taken a 99 MPH fastball off the hand after getting crossed up by Craig Kimbrel only to miss one game.
Friday saw him take a 98 MPH heater from Kelly in the batter's box that struck him right in the hand once again. Visibly in pain at first base, Contreras not only showed his toughness by staying in to finish that game, but played through a painful bruise yesterday. He is doing this because he knows the team doesn't have a reliable backup right now, but give him some credit. Pain or not, he is helping this team and is showing how tough he is as a player.
Willson Contreras took this 98-mph pitch to the hand. He stayed in the game. pic.twitter.com/CvxdxB1w4Y

— Andy Martínez (@amartinez_11) June 26, 2021
Happy anniversary Anthony Rizzo
Yesterday marked nine years to the day that Rizzo made his Cubs debut. He went about celebrating his anniversary by picking up his ninth homer of the season-ending what was a long homerless drought. Now in the final year of his contract with the Cubs, there are many talks regarding his future and what might become of it.
Rizzo is beloved by Cubs nation, and if you ask the organization, he would most likely be the de facto captain of this team. Over his nine years with the organization, you have one of the more consistent hitters who will give you a 275-batting average with 25-30 homers and 100 RBIs. Since 2015, Rizzo is fifth in the National League in RBIs totaling 569 so far, with a shot at 600 by the season's end.
Even with so many great numbers, there are some concerns with him, especially this season where his power numbers are way down. Add in the constant lower back issues he has had with him playing in an age 32 season, and there are questions about his future with this team. Rizzo wants a long-term deal from someone, but would the Cubs be willing to commit four or five years to take him to an age 37 season.
If the numbers were where they are accustomed to being, I would say 100% the Cubs would be on board. However, given his sudden decrease in power not only this season, but last season to the Cubs may be thinking his prime as a player is over and may not want to be tied into anything lengthy with him beyond this season.
OTD in 2012, a first baseman by the name of Anthony Rizzo made his @Cubs debut!#CubTogether pic.twitter.com/6pbcfgO004

— Marquee Sports Network (@WatchMarquee) June 26, 2021
The team will get help soon
While this team continues to battle throughout June, they have fallen to seven games above .500 and now trail Milwaukee who they see next week for the top spot in the division. Yet, they have managed to remain competitive and, for the most part, play good baseball despite tons of injuries that have thrown this roster into a flux all season.
Well, it looks like many of those injuries are on the mend, and the Cubs could get plenty of help by early July. Justin Steele, Trevor Williams, David Bote, and Dillon Maples are all set for rehab assignments on Sunday, with Nico Hoerner not far behind. These five players have held significant roles on this team and look to do that again once ready.
While Matt Duffy may be a bit longer yet, the Cubs will get some in-house reinforcements that could be coming at the perfect time. The problem for Ross will then become who stays and who goes on this roster once these players are ready. Williams and Hoerner seem like locks at this point as Williams would slide back into the rotation with Hoerner taking Sergio Alcantara's spot on the roster.
What happens to Bote, Steele, and Maples is a big question. Ideally, Bote would join this roster, but that would mean someone would have to get sent down in return. Patrick Wisdom would seem like a logical candidate, but give his production, and you are most likely looking at Rafael Ortega or Eric Sogard as the ones Bote would replace. Steele and Maples may find it challenging to get back on this roster, given the performance of the Cubs pen. Either way, Ross will have some decisions to make, but all that matters is this team is starting to get some pieces back at a good time.

Tags: Cubs Baseball
,
Alec Mills
,
Jake Arrieta
,
Anthony Rizzo
,
Ian Happ
,
Jason Heyward
,
Brad Wieck
,
Rex Brothers
,
David Ross
,
Keegan Thompson
,
Willson Contreras
,
Craig Kimbrel
,
Justin Steele
,
Trevor Williams
,
David Bote
,
Dillon Maples
,
,
Patrick Wisdom
,
Rafael Ortega