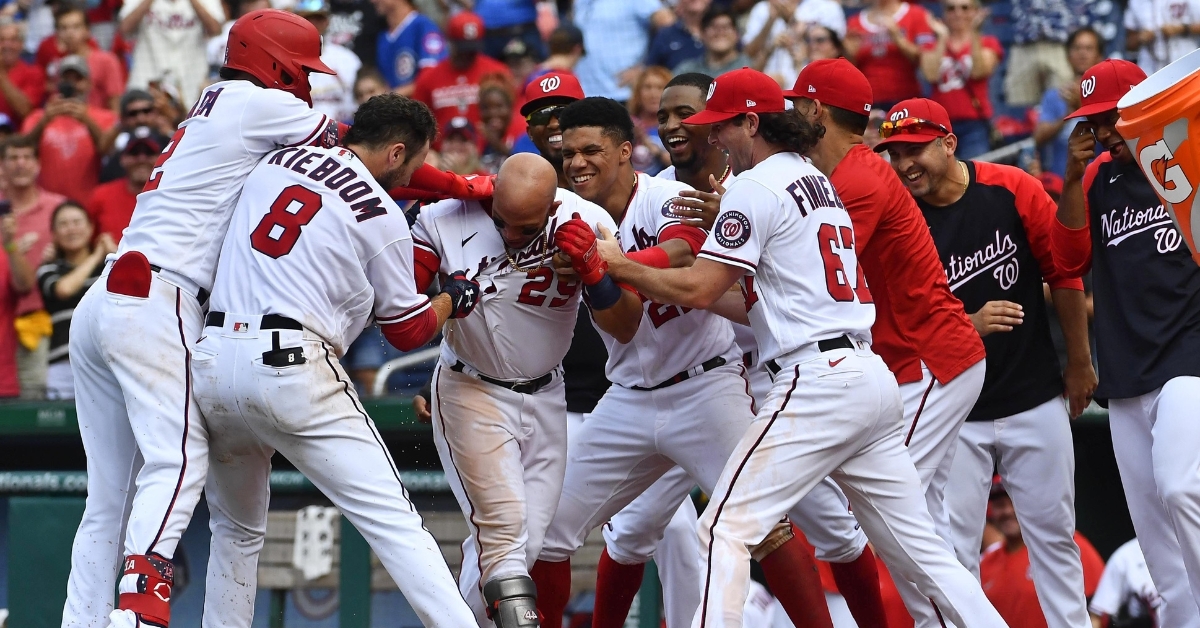 | | |
| --- | --- |
| Takeaways from Nationals' walk-off win over Cubs | |
---
Even though the Cubs roster may not look the same as it did earlier, this team continues to fight until the final out. While the wins may not always be there, David Ross deserves a ton of credit for how he has been able to keep this team together during all the chaos and trade rumors this season.
Looking for a series win against Washington, the Cubs sent Adbert Alzolay to the hill as he faced off with Eric Fedde. Alzolay may not have been at his best, walking four and striking out four in five innings of work, but there were some positives to take away from his start. For starters, even with four earned runs allowed, Alzolay kept the ball in the yard as none of the runs came across via the homer.
However, the same can't be said about the bullpen as Kyle Ryan and Manny Rodriguez served up two homers, with both coming to Yadiel Hernandez in the seventh and ninth inning. Those two homers came off Rodriguez as Hernandez delivered the walk-off blast giving the Nationals a 6-5 win.
For the Cubs, it was a one-man show with Rafael Ortega continuing to impress in the leadoff role. Not only was he responsible for four of the team's five hits, but he delivered all five RBIs off the strength of three homers. He single-handedly kept the Cubs in the game as they looked to pick up a come from behind win only to fall in the ninth. This marks the 36th one-run game of the season for the Cubs as they have gone 15-21 in those games.
Have a day, Rafael Ortega!
What we are witnessing with Ortega is nothing short of amazing as this man continues to impress. At 30 years old, Ortega has been around quite a while, but has spent most of his time in the minor leagues. 2017 was the only time he saw more than 200 plate appearances, and he was a member of the Angels that season.
Given the way he is playing right now, Ortega will almost certainly surpass that total this season and could be playing for a job next year. Not only is he hitting .348 since July 1, good for seventh in the Majors, but he is doing so with impressive fashion as he ranks near the top inline drive percentage.
That means not only is he making contact, but hard contact as those line drives are turning into hits. Along with that comes an impressive power surge where Ortega hit four homers across his last two games, including three on Sunday. This was the Ortega the Cubs saw all spring and the one who got off to a hot start for Iowa this season.
Had he played like this before this season, Ortega wouldn't have bounced around as often as he did. Now that he sees regular plate appearances for just the second time in his career, Ortega shows what he can do. Better late than never, I guess.
Rafael Ortega has six home runs this season.

Half of them were hit today. pic.twitter.com/nPO1YxAYXy

— Chicago Cubs (@Cubs) August 1, 2021
There have been plenty of Cubs struggling this season, but none as much as Ian Happ and Jason Heyward. Happ is the most frustrating one of them all, especially after he had a breakout 2020 season. For some reason, that has not carried over into this season, and he is having his worst season as a pro, even worse than his 2018 that ultimately saw him demoted in 2019.
Heyward has fallen into a similar pattern as he doesn't look right at the plate. Underwhelming offensively since arriving in Chicago, Heyward started to turn things around the past three seasons, where his numbers have continued to improve. However, 2021 has been a nightmare of a season for him, and had it not been for his contract, and the Cubs would have cut ties with him by now.
Both players are trapped in a season-long slump that is showing no signs of letting up any time soon. The best way for these guys to get back to themselves is by having a mental reset to get away from the game to clear their heads. For Heyward, that would be the offseason, while Happ could use time in AAA to rediscover what he has lost.
Jason Heyward has the lowest OPS in the Cubs lineup. Oof

— Aldo Soto (@AldoSoto21) August 1, 2021
Alzolay finally gets support
A 4-11 record is not something Alzolay wants to see next to his name, but this has been a learning season for the right-hander. What most people don't realize about his record has been the tough luck he has run into, as he has deserved better fate in a lot of his starts.
With a 4.90 ERA, some may find that hard to believe, but stats don't lie as the Cubs have given Alzolay an average of 2.12 runs of support per start. That means that Alozlay needs to be as close to perfect as he can for him to win games which haven't been the case this season. Sunday saw the Cubs break out for five runs as they finally gave him the support he has been waiting for.
Too bad he didn't hold up his end on the mound, but at least he can walk away with a no-decision. Another thing he can take away is this was his first start in a long time where he didn't allow a homer. Hopefully, Alzolay can build off that, and the Cubs can start giving him the support he deserves for how good he was earlier in the season.
Adbert Alzolay, Wicked 87mph Changeup. ?? pic.twitter.com/eHTgjWrTZk

— Rob Friedman (@PitchingNinja) August 1, 2021