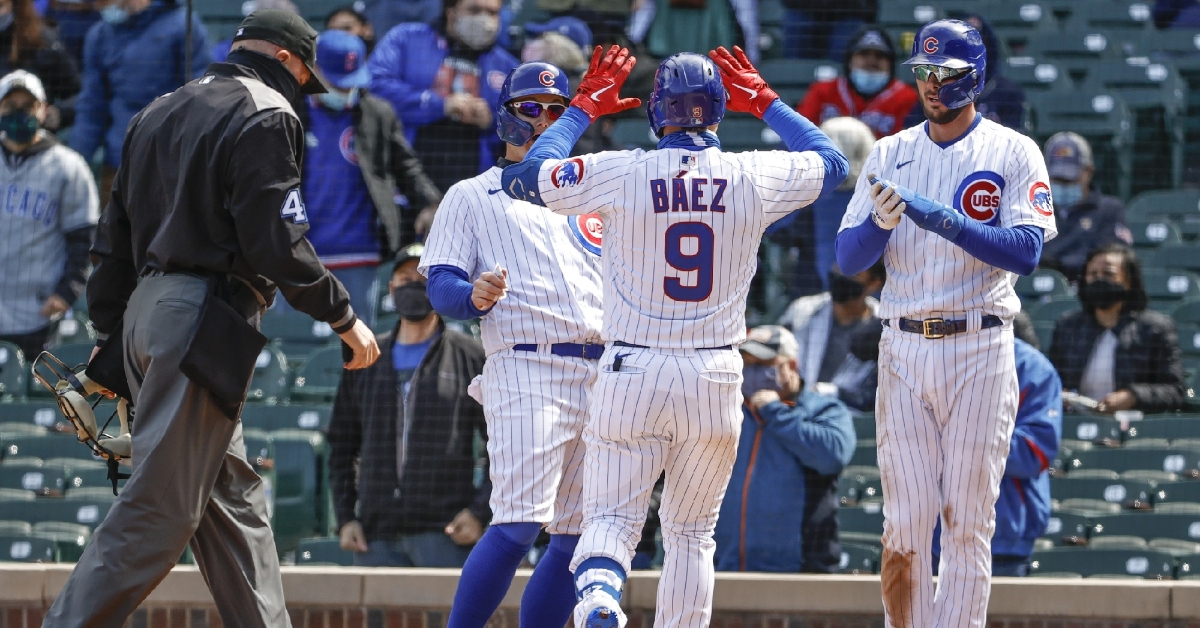 | | |
| --- | --- |
| Three takeaways from Cubs' blowout win over Braves | |
---
| | | |
| --- | --- | --- |
| Sunday, April 18, 2021, 8:07 AM | | |
They always say good things come to those who wait. For the Cubs, after weeks of a sluggish offense, the bats got going on Saturday, pounding out 13 runs on 14 hits in what was a 13-4 victory. 12 of those 13 runs came via six home runs, with the David Bote RBI double as the lone RBI not recorded off a homer.
Both Willson Contreras and Kris Bryant connected for a pair of long balls, with Javy Baez and Bote picking up the other two as Huascar Ynoa and Atlanta's pitching got roughed up in a big way. Even though Trevor Williams only lasted five innings, walking three and striking out four, he also gave up just four hits, and one earned run as the offense took care of him for a change. It was an excellent bounce-back performance after his rough second start, and he is now 2-0 with a 2.35 ERA at Wrigley Field this season.
Along with those 14 hits, every starter but one had at least one hit with Joc Pederson as the exception. Despite not recording a hit, Pederson did reach base three times, so there were some positives to take away from an overall dominating performance.
So that is what is hitting looks like
After nearly three weeks of watching this offense struggle, the Cubs bats came to life and brought home more runs than they have scored in their last five games combined. Hopefully, that is a sign of things to come for the remainder of the season, as it was a great showing.
Guys like Contreras have started to heat up as of late as he has connected for three homers in the first two games of the series. Bryant continues his hot start with three more hits, two home runs, and guys like Baez and Bote picked up seven combined RBI's after struggling to do much over the last week or so.
One concern that fans have after watching this performance is the track record of this team. Often when you have a performance like this, the offense goes cold, and they may score 11 runs over their next three or four games. That wouldn't surprise anyone this season when you look at the offensive struggles, but hopefully, the Cubs can use this game as a confidence booster for this offense.
Cubs getting healthy again
The Cubs were the lone team in all of MLB that avoided a single COVID positive test in 2020. This year that hasn't been the case as four players and two coaches came down with COVID in the last two weeks, causing concern within the clubhouse.
While there have been no additional positive tests to this point, the Cubs still have had more issues than most teams this season but managed to get through them ok. Now, they appear to be on the mend again as Matt Duffy, Brandon Workman, Jason Adam, and Dan Winkler all returned to the team this weekend and got on the field Saturday.
Three of the names are bullpen arms as the Cubs had to make some significant adjustments in the last series. For the most part, the Cubs bullpen has been solid, but they have struggled lately as some of their key pieces were in COVID protocol. Adam and Workman are two of the main contributors in the pen, while Winkler is used for whatever David Ross needs him for.
These men all threw scoreless outings on Saturday and will be monitored closely to ensure their health is where it needs to be. Either way, getting them back on the field is extremely important, and the Cubs bullpen is now getting back to where they need to be.
Cubs finally beat a high-velocity arm
While the hitting struggles have been prevalent this season, particular struggles have persisted for more than a year. One of those struggles has been the inability to beat top-notch fireballers who can throw 95 MPH plus. The Cubs had the lowest batting average in baseball last season in pitches above 95 MPH and are off to a similar start this year.
Ynoa is another one of these young hard throwers that can touch triple digits with his heater. With a 0.75 ERA, it looked like another tough matchup for the Cubs as he had the makings to make them look silly. Despite his excellent command in which he walked one and struck out five, Ynoa was hit hard, allowing six earned runs on seven hits.
Five of those earned runs came via the long ball, with Contreras tagging him for a pair and Baez getting him one other time. We always said the hits would come eventually, and if you have watched this team in the past, when they start hitting, the hits come in bunches.
A win like this against a pitching style that tends to give them fits is a huge win in my book, as the Cubs were reeling in more ways than one. You can bet Chicago will break down this game, look at what went right, and hopefully apply that to their season the rest of the way.