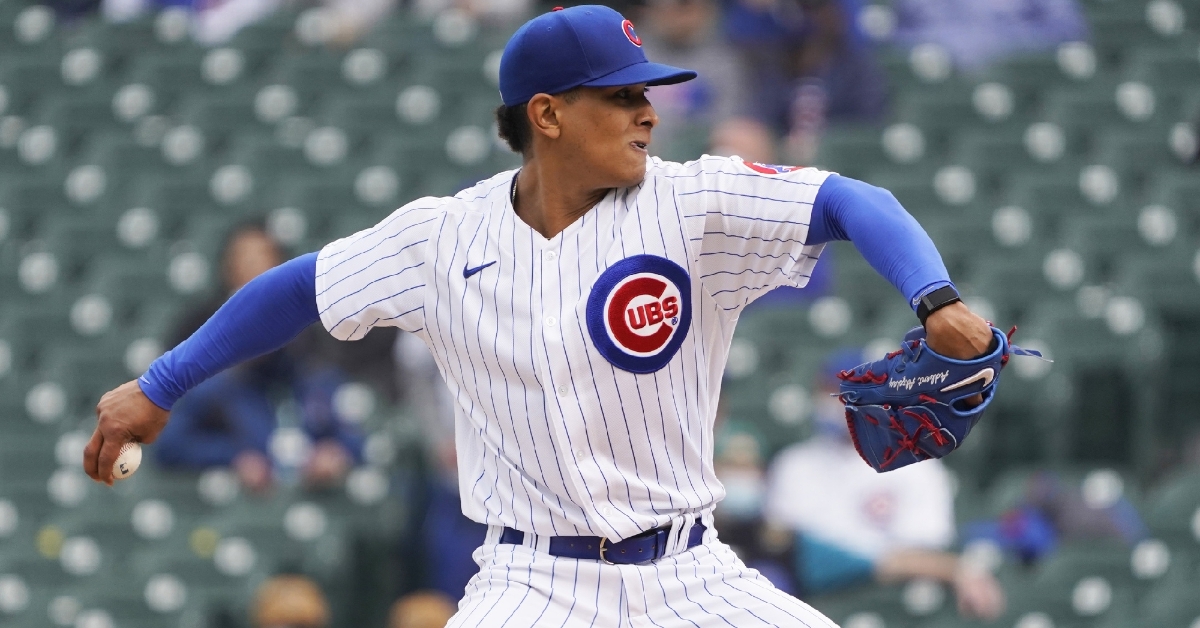 | | |
| --- | --- |
| Three takeaways from Cubs loss to Brewers | |
---
In search of a season-high four-game winning streak, the Cubs turned to Adbert Alzolay on the mound as he returned from South Bend to make the start. It would be no easy task as Alzolay would not only be facing the Brewers for the third time but going against Freddie Peralta for a third time also.
Despite another strong outing in which Alzolay walked two and struck out seven Milwaukee hitters, he could not make it through the fifth inning, allowing two earned runs in 4 2/3 innings of work. For the first time this season, the Cubs were able to score multiple runs off Peralta when Nico Hoerner ripped a two-run double in the second inning, giving the Cubs a 2-0 lead.
Peralta settled in nicely after that and eventually finished the game with one walk and seven strikeouts, but a high pitch count forced him out of the game after five innings. After allowing the first two batters of the game to reach, Alzolay settled in nicely, retiring the next 12 hitters he faced. He then ran into some fifth inning trouble, where he was later removed and replaced by Rex Brothers. A bases-loaded walk and hit by pitch tied things up 2-2 and ruined another great outing by the Kid.
The Cubs offense continued to be held in check following the second inning as the Brewers bullpen remains tough. With Andrew Chafin on the mound in the seventh, Manny Pina came through with a go-ahead pinch-hit homer, giving Milwaukee a 4-2 lead. Down but not out, Jason Heyward was able to get one of those runs back as his solo homer off Devin Williams in the eighth closed the gap to 4-3.
Down to their final outs and facing Josh Hader, Hoerner led things off with a walk as he represented the tying run. A borderline strike call not only got David Ross ejected but seemed to settle Hader in as he retired the next three hitters and the Brewers held on 4-3, ending the Cubs winning streak.
Another promising outing for Alzolay
While the record may show 0-3 with a 5.40 ERA, Alzolay continues to improve with each start. All three of his starts have been against the Brewers, allowing four, three, and two runs in each of those starts. Although he has yet to get through six innings in any of his starts, Alzolay continues to adjust, and his command has gotten much better.
This will be one of those players who will be excited about not seeing Milwaukee for a while, as he would love to face another team. Despite all the criticism the Cubs have received for not developing homegrown pitching, Alzolay seems to be on the right track in being a long-term starter.
He is young but relatively experienced and has some of the best stuff on the entire rotation. Not to mention he is the only one who can throw 95, and there is a lot of promise in that arm. If he continues to make the adjustments he makes from start to start, the results will follow. The next step for him is to get through five innings and earn that first win of the season.
Adbert Alzolay was dealing today ?? pic.twitter.com/Cnwv7rAdh9

— MLB Pipeline (@MLBPipeline) April 24, 2021
Andrew Chafin hates Milwaukee
For the most part, the lefty Chafin has been a pleasant surprise this season, and someone Ross can depend on in any situation. You wouldn't guess that by looking at his 5.00 ERA, but that is inflated because of two bad outings. Oddly enough, both of those rough outings came against the Brewers, and both were in relief of Alzolay.
Looking like someone who is lost in the 1970s, Chafin is quickly becoming a fan favorite and has done much better than anyone expected, especially when you look at his ERA the past two seasons and during his small sample size with Chicago last year.
Chafin has always been someone who can get lefties out, which is why the Cubs acquired him. However, Chafin has been equally as good against righties in 2021, and his command has been at an all-time high. What was looked at as a bullpen depth piece when they elected to bring him back Chafin has now emerged into a key cog in that Cubs pen.
Dan Vogelbach would be nice as a future piece
In case you have forgotten, Brewers first basemen Daniel Vogelbach was once a Cubs prospect and a pretty good one for that matter. Always, someone who landed in the top 20, Vogelbach was viewed as the future first basemen of the Cubs until Anthony Rizzo game aboard.
Even after that trade was made, Vogelbach remained in the Cubs minor league system, where he continued to put up impressive offensive numbers. To find consistent playing time, Vogelbach was dealt to the Mariners in 2016 in exchange for Mike Montgomery. Once in the Seattle system, Vogelbach not only reached the big-league level but started to show the potential the Cubs fell in love with.
Now with the Brewers, Vogelbach certainly isn't seeing the playing time he wants to, but that doesn't mean he isn't a valuable piece. With Rizzo's future up in the air in terms of what the Cubs will do with his next contract, they also don't seem to have anyone close to being ready to step in.
Had Vogelbach remained in the system, he would be the short-term fix at first base for Rizzo while the Cubs figure out what they want to do. There could be a lot worse options than Vogelbach. Who knows, if Rizzo does elect to sign elsewhere, maybe the Cubs take a crack at Vogelbach in free agency and try to bring him back to the organization.
Dan Vogelbach pic.twitter.com/MHvSVCOT3t

— Robert O'Neill (@RobertONeill31) April 24, 2021