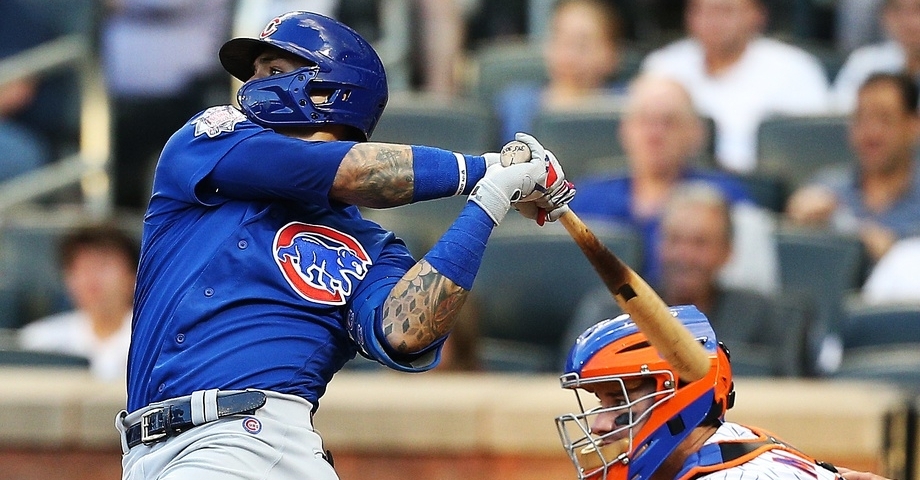 | | |
| --- | --- |
| Three takeaways from Cubs loss to Mets | |
---
| | | |
| --- | --- | --- |
| Wednesday, June 16, 2021, 8:56 AM | | |
Already down in the series 1-0 and with Jacob DeGrom set to take the ball on Wednesday, Tuesday became sort of a must-win for the Cubs if they wanted a shot to split the series. With both Adbert Alzolay and Trevor Williams remaining out of the rotation, and Kohl Stewart back in Iowa, the Cubs knew they needed to fill two spots this series and chose Alec Mills for Tuesday.
After spending the 2020 season in the rotation, Mills has been in the bullpen all season, making just one start against Milwaukee earlier in the season. For the most part, Mills gave the Cubs everything they could have asked from him as he tossed 4 1/3 solid innings allowing just three runs on five hits. He also walked two and struck out a season-high six, needing just 57 pitches to do so.
There had to be a pitch limit that Mills was approaching because getting pulled at 57 doesn't make sense. Had I been in David Ross's shoes, I would have let him finish the fifth and then worry about what to do after. Mills opposed Taijuan Walker, who was on his best all game. Not only did he go seven innings and allowing just two runs on five hits, but he struck out a career-high 12 hitters to go with zero walks. Walker also retired the final 12 batters he faced as he seemed to get stronger as the game went on.
The lone runs Walker gave up came off the bat of Javy Baez as he took him deep for his 15th of the season, spotting Mills with a 2-0 lead in the fourth. Unfortunately for Mills and the Cubs, 2019 NL rookie of the year Pete (The Polar Bear) Alonso provided all the offense for the Mets, including a game-tying two-RBI single in the fourth to get the Mets on the board. Two innings later, Alonso took a Rex Brothers slider and drove it to deep left, bringing in the game-winning run on the sacrifice fly as he had all three RBIs for the Mets.
The Cubs had a chance to tie things up in the ninth off Seth Lugo as a Willson Contreras single was followed up by an Eric Sogard double. Instead of having runners on second and third with one out, Willie Harris got aggressive on the bases and tried to score Jake Marisnick from first on the play. Unfortunately, he was thrown out at home, and the Mets held off Chicago 3-2 to take a 2-0 series lead.
Concern for Kris Bryant
Kris Bryant has played at an MVP level all season long, and that has been a big reason the Cubs offense has taken off this season. Not only has his offensive production lined up well with his MVP season, but he is also bouncing around all over the diamond showing his versatility on the field.
During the first inning of last night's game, Walker tried to go inside on Bryant and hit him right in the hand, forcing his departure from the game. Getting hit on the hand is always a scary situation, given how many bones can be broken in that area. To hear that X-rays were negative is a bit of a relief, but also expect Bryant out of the lineup against DeGrom and possibly multiple days if needed.
Losing an MVP candidate is never easy, especially going against the best pitcher in the game, but hopefully, this is only a day-day type of thing and nothing long-term. You always wonder about the long-term effects with hand injuries and the possibility of it lingering, much like Baez and his thumb. Hopefully, Bryant doesn't miss a beat and gets back soon.
Kris Bryant was unable to hold bat properly after getting hit. Xrays negative. David Ross was unsure of his status for Wednesday.

— Bruce Levine (@MLBBruceLevine) June 16, 2021
The controversial decision hurt the Cubs
Going back to that play in the ninth inning, which does look like it cost the Cubs chance to tie things up, and I understand the decision. With the bottom of the order up and a speedster on the bases, Harris wanted to be aggressive and put pressure on the Mets defense.
With Sogard ripping a double into Right Center, Harris saw Marisnick blazing into third base. Instead of holding him there and having runners on second and third with one down, he chose to send Marisnick to the plate. It took a perfect relay throw from Jonathan Villar to James McCann, but the result of the play was not good as Marisnick was nailed by a wide margin. Sergio Alcantara then struck out, ending the Cubs threat.
I have no problems being aggressive in that situation if there were two outs. However, with one out in the ninth, you play things a little safer knowing you have more chances. Had Harris held up Marisnick, the Cubs not only had runners on second and third with one out but also had two chances to either tie things up or take the lead.
Alcantara may have struck out, but Rafael Ortega was next, and who knows what he would have done. I know this was only one loss, and there are still 90+ games to go, but every win is critical during the season. This is a decision this team must live with, and hopefully, it is something that doesn't haunt them in a tie-breaker scenario.
Just a monster 8-4-2 to cut down Jake Marisnick trying to score the tying run from first base. A near-perfect relay from Kevin Pillar and Luis Guillorme for the second out.

Mets 3, Cubs 2, top nine. pic.twitter.com/ilYdY2uyAm

— Anthony DiComo (@AnthonyDiComo) June 16, 2021
Thank you, Cincinnati
While the Cubs haven't gotten much going in New York to open this series, they do owe a thank you to the Reds as they have taken care of Milwaukee the first two games of their set. Entering this series tied with the Brewers, the Cubs very easily could have found themselves down two games in the standings with these losses but instead remain tied.
Everyone knew how easy of a schedule the Brewers had this month and how tough the Cubs had, so to see this team in the position they are in is great. Both Milwaukee and Chicago have been playing great over their last 20 games, and it was only a matter of time until they cooled off.
Fortunately for Chicago, Milwaukee managed to cool off at the same time they have keeping things tied atop of the division standings. The Cubs know the Central division race will be more than a two-team race when all is said and done, but they are fortunate to have the cushion they have now over the rest of that division.

Tags: Cubs Baseball
,
Adbert Alzolay
,
Trevor Williams
,
Kohl Stewart
,
Alec Mills
,
David Ross
,
Javy Baez
,
Rex Brothers
,
Willson Contreras
,
Jake Marisnick
,
Kris Bryant
,
Rafael Ortega