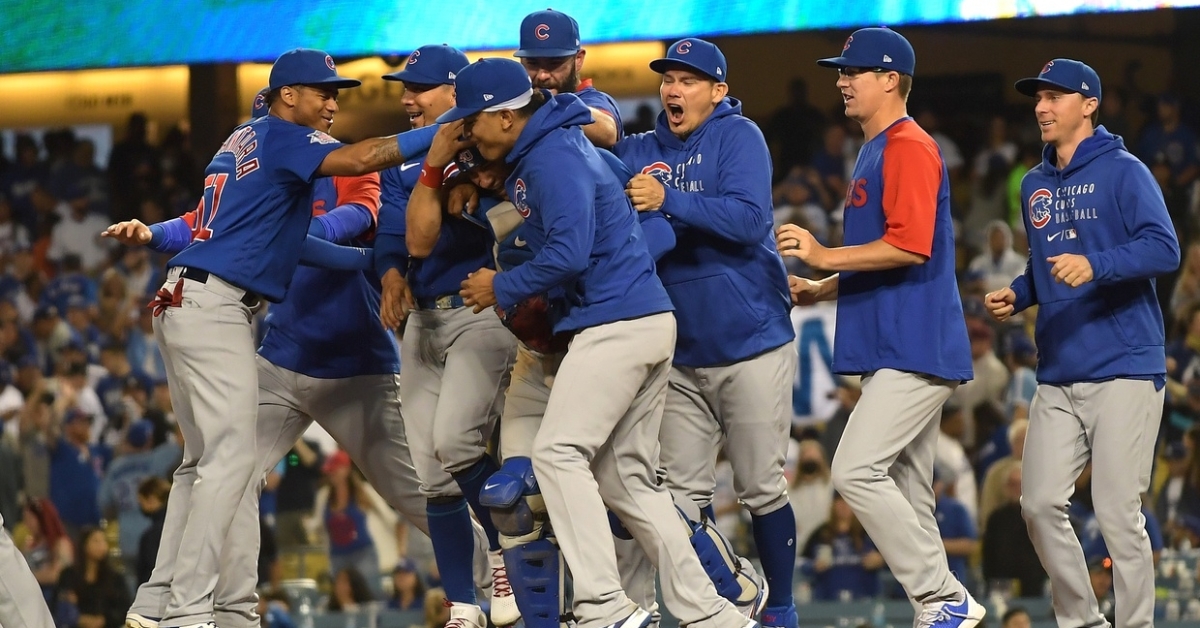 | | |
| --- | --- |
| Three takeaways from Cubs' no-hitter of Dodgers | |
---
| | | |
| --- | --- | --- |
| Friday, June 25, 2021, 8:45 AM | | |
Talk about a great way to open a 10-game road trip. After a less than ideal mini homestand, the Cubs traveled to Los Angeles, where they took on the defending World Series Champion Dodgers. In what could be the turning point of their season one way or another, not only did the Cubs win, but they made some history in the process.
Backed by a first-inning solo shot by Javy Baez, Zach Davies and the Cubs never looked backed as they handed previously unbeaten Walker Buehler his first loss of the season. The Cubs received a two-run Willson Contreras homer, and Jake Marisnick pinch-hit later in the game to pick up a 4-0 win. That wasn't the story, however, as Cubs pitching set the tone.
Despite Davies walking five batters in his outing and the team itself walking eight compared to just seven strikeouts, Los Angeles hitters really couldn't do much as they failed to make consistent hard contact throughout. After Davies went six no-hit innings, he turned things over to the three-headed monster of Ryan Tepera, Andrew Chafin, and Craig Kimbrel as they continued to do their thing.
Not only did they throw three more scoreless innings, but that trio finished what Davies started as the Cubs combined to throw a no-hitter against the Dodgers for the 17th no-hitter in franchise history. It was also the first combined hitter in franchise history, so there was even more history made in that feat.
Cubs pitchers love LA
It isn't too often a team gets no-hit at home. However, it is rarer when a team gets no-hit by the same team twice in six years at home. Yet, that is exactly what the Cubs did to the Dodgers last night as LA searched for answers. It may not have been your typical no-hitter where the starting pitcher dominates, but it was a no-hitter nonetheless, and that is all that matters.
Davies walked five hitters in his outing, and as a team, the Cubs walked eight batters compared to just seven strikeouts. Usually, that is a recipe for disaster against a great lineup like the Dodgers, but the Cubs not only limited the damage, but limited the hard contact to seal the deal. Not only was it the first time the Cubs had a combined no-hitter in franchise history, but it was the first time the Dodgers were ever no-hit in a combined fashion.
Add in the Jake Arrieta no-hitter in August 2015, and the Cubs have no-hit the Dodgers now twice at Dodger Stadium in the last six years. Not many teams can say they have had that kind of luck. There is something about Chavez Ravine that brings out the best in the Cubs pitchers from time to time, and they were more than up for the task last night.
Cubs are good at pinch-hitting
Say what you want about the Cubs offense and how inconsistent they have been over the past several seasons, but one thing they can do is pinch-hit. Going all the way back to Tommy La Stella and John Jay, this team has always had quite a few players who were great at coming off the bench to provide the offense with a spark. This season is no different as the Cubs continue to rank near the top of the National League in pinch-hit average.
A big reason for that is Eric Sogard, who may be struggling as an everyday player, but he is hitting near 300 as a pinch hitter to go with several RBIs. In addition, Rafael Ortega has done well in limited pinch-hit at-bats, going 3-6, including two for his last two, while Patrick Wisdom also has notched a pair of pinch hits. Then you have Jake Marisnick, who has historically been a great pinch hitter, and this year is no exception.
Marisnick entered the game as a pinch hitter last night and picked up an RBI single in the process to give the Cubs their fourth and final run. He may only be hitting around 250 in the pinch this season, but he does lead the team with seven pinch-hit RBIs. This is one of the more overlooked areas on a baseball team, as pinch hits are critical to starting rallies or keeping innings alive. Fortunately, the Cubs have been excellent about mixing in the right combinations, and those players typically come through.
Another season series win
As difficult as this may be to believe, the Cubs have officially clinched another season series as they lead the Dodgers 4-0 this season. Even if they lose the final three games in Los Angeles, the Cubs would still have gone 4-3 against the defending World Champions, which is huge.
They also hold a 5-1 record against the Padres and went 4-3 against the Mets, all of who figure to be in the playoffs or the playoff hunt before all is said and done. Beating playoff teams is essential during the regular season as it can go a long way in deciding who plays who in the post season.
While there is a lot of season left and no guarantees that the Cubs make it, it is nice to have these tiebreakers under your belt. I do not believe the Cubs will finish better than the Padres or Dodgers when the season comes to an end, mainly because those teams will beat up on the Diamondbacks and Rockies so bad, they can bank wins.
However, the Mets are one team that I think will be in for some battles this season, and they could end up with a record similar to Chicago when the season ends. If Chicago is tied with any of these three teams at the end of the season, they get the nod regarding seeding as they hold the tiebreaker over all of them. So that is something that will play a role at some point this season.

Tags: Cubs Baseball
,
Javy Baez
,
Zach Davies
,
Willson Contreras
,
Jake Marisnick
,
Ryan Tepera
,
Andrew Chafin
,
Craig Kimbrel
,
Jake Arrieta
,
Tommy La Stella
,
Rafael Ortega
,
Patrick Wisdom