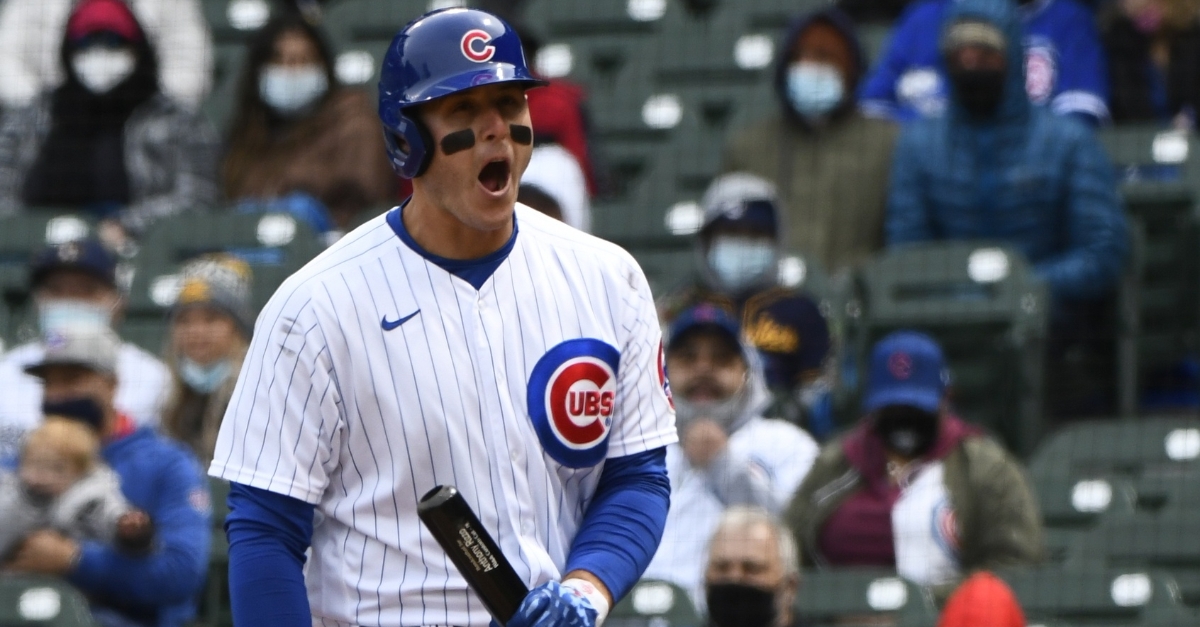 | | |
| --- | --- |
| Three takeaways from Cubs' shutout loss to Brewers | |
---
The Brewers are certainly making life difficult for the Cubs as they extended their lead in the NL Central to three games following a 6-0 victory. Even without Christian Yelich and Lorenzo Cain, Milwaukee has still posted a 6-3 record against the Cubs this season and have won all three season series thus far.
A big reason for that is Brandon Woodruff, who remains close to unhittable against the Cubs. In his three starts, Woodruff has gone at least six innings in each of those starts and has been charged with one earned run in those three outings. Although he was winless until today, he continues to give the Cubs a headache, as have most Brewers pitchers this season.
Fortunately for the Cubs, they had Jake Arrieta on the hill as he was looking to keep his strong start to the season going. Despite pitching into some trouble in the first inning, which resulted in a bases-loaded walk to Travis Shaw, Arrieta was able to pitch around trouble lasting six innings, giving up two hits and one earned run. He added three walks and eight strikeouts to his line.
.@JArrieta34 has a 2.28 ERA in 61 career starts at Wrigley Field.#CubTogether pic.twitter.com/LvJAKttx0A

— Chicago Cubs (@Cubs) April 25, 2021
Unfortunately for the Cubs, that one run would be all the Brewers would need as the Cubs offense was handcuffed yet again. Milwaukee put the game away in the ninth inning when they pushed across five runs anchored by a two-run Luis Urias single and Kolton Wong RBI double, and the Cubs fell to Milwaukee once again 6-0.
Milwaukee has the Cubs number
There was once a time during this rivalry where the Brewers struggled to win games, let alone compete against the Cubs. That is not the case anymore, as they have taken each of the last three season series from Chicago and are well on their way to taking it this year.
A big reason for that is the big-three that Milwaukee trots out on the hill with Freddie Peralta, Woodruff, and Corbin Burnes taking that title. All three are not only hard throwers but hard throwers with excellent command. High-velocity success continues to be an issue for this team, and when you face a team like the Brewers nine times in the opening month, the results shouldn't shock you.
Milwaukee is not afraid of the Cubs anymore, and they continue to show it on the field. Not only that, but they know how to attack the middle of this lineup, generally making quick work against the Cubs leading hitters. With a two-month break, until these teams meet again, the Cubs will hopefully be in a better mindset next time around as Milwaukee appears to be the early division favorites at this point.
Final: Brewers 6, Cubs 0. pic.twitter.com/0s6x6Fh9OG

— Chicago Cubs (@Cubs) April 25, 2021
Maples could be key in bullpen
It took longer than Cubs fans anticipated, but righty Dillon Maples is finally coming into his own at the big-league level. Once viewed as a top 30 prospect and the future closer of this team, Maples has some of the more elite stuff in the organization, and that all comes from his slider.
His issue has always been command, where he tends to walk nearly as many hitters as he strikes out. While the walks are still a bit of a concern this year, his walk rate is way down from seasons past while his strikeout rate is also up. That is a big reason he is posting a 2.00 ERA after nearly a month in, and David Ross is starting to trust him in more situations.
Maples will only go as far as his command takes him, and so far, he has had excellent command and success in 2021. With Jason Adam, Ryan Tepera, and several others struggling as of late out of the pen, Maples is suddenly an important piece out of the pen as the Cubs are finally seeing what they expected of him.
Ian Happ might need to move down in lineup
Last year, when Ian Happ became the team's leadoff hitter, it gave them a legitimate option for the first time since Dexter Fowler. For the most part, Happ did more than adequate leading the team in home runs and runs scored. Once September hit, Happ took a foul ball off the right eye, and his average plummeted the rest of the way.
Happ will not use that as an excuse as to why he is struggling, but you have to wonder if that is still a lingering issue. Look at players in the past who have been hit in the face and how long it takes them to get back to form. Could that be the main issue as to why Happ is struggling to hit the ball?
Hitting aside, Happ is still getting on base as he has no trouble taking his walks. However, he is being counted on to hit homers and drive in runs, so maybe moving him back to the middle of the lineup could be the best thing for him. That could take the pressure off him to produce, which could once again give him confidence.
If this is something Ross would consider, the Cubs have a couple of in-house options, and Nico Hoerner immediately comes to mind. In his four games since returning from South Bend, Hoerner is seeing the ball exceptionally well and is making hard contact across the board. That has continued from Mesa, where he put together an impressive spring. He not only can handle high velocity but gives them the approach at the plate that you look for in a leadoff guy.