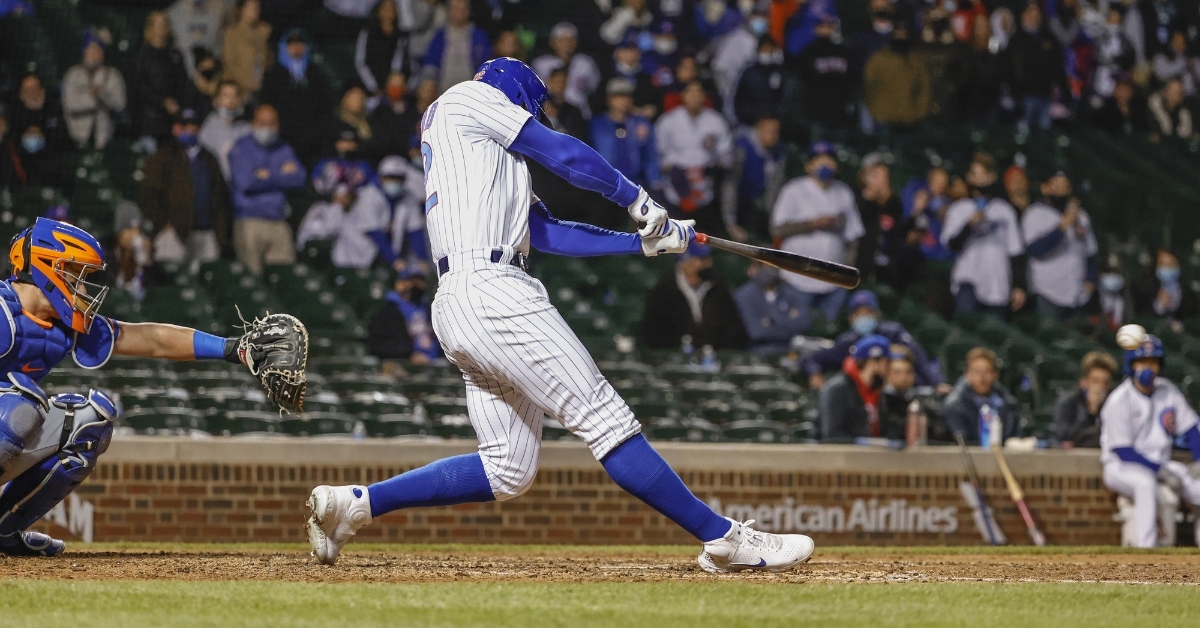 | | |
| --- | --- |
| Three takeaways from Cubs' walk-off win over Mets | |
---
For the first time in 2021, the Chicago Cubs have swept an opponent beating the New York Mets 4-3 in 10 innings to climb back to .500. Although it is still early, this was a big series for the Cubs as the Mets are expected to contend until the end.
Making his fourth start of the season, third at Wrigley was Trevor Williams as he faced off against Joey Lucchesi, who was filling in for Jacob DeGrom. Williams may not have gotten the win, but he did go five innings allowing two earned runs on five hits to go with one walk and six strikeouts. Had his pitch count been slightly lower, he most likely gets to come out for the sixth.
Either way, Williams continues to pitch well at Wrigley Field, where he has allowed two earned runs or less in all three of his starts. That is critical when you look at the struggles he had before this year at Wrigley. With Williams doing his thing on the mound, the Cubs tried to their part offensively as they were able to chase Lucchesi following a three-run third inning, taking a 3-0 lead. An infield single by Willson Contreras opened the scoring before Kris Bryant doubled home a pair.
The lone blemish on Williams line came in the top of the fourth when the Polar Bear Pete Alonso got into his second two-run homer in as many days cutting the lead to 3-2.
Trevor Williams said the hung slider that Pete Alonso hit over the fence was one of those pitches that leaves your hand and "you scream internally, 'Don't swing.'"

— Maddie Lee (@maddie_m_lee) April 23, 2021
From that point on, it was a battle of the bullpens, and for the most part, both were incredible. In 6 1/3 innings of relief for the Mets relievers, the Cubs could only muster four hits to go with one walk and nine strikeouts.
In five innings of relief from the Cubs arms, they were even better, allowing just one hit to go with five strikeouts and two walks. However, it was the Cubs pen that surrendered the game-tying run as a Jason Adam hit batsmen led to a J.D. Davis RBI double off Ryan Tepera tying things up 3-3. After neither team could push across the go-ahead run in regulation, it was off to extra innings, where Dan Winkler took the ball in the 10th.
Despite walking a pair and loading the bases with one-out, Winkler made the one pitch he needed to make, getting Dominic Smith to ground into an inning-ending double play giving the Cubs a chance. With Javy Baez on second, Edwin Diaz hit Matt Duffy, putting a pair of runners on base. David Bote then dropped down a tough sacrifice bunt moving both runners up. After walking Eric Sogard to load the bases, Jason Heyward came through off the bench as his RBI single sent the Cubs home with a 4-3 walk-off win.
Continue to play small ball
All season long, I have been harping on the Cubs and the desire that they need to play small ball to win games. Not only have they done that against the Mets, but they continue to do that in critical situations, and it is leading to more runs.
None of those small-ball opportunities were as crucial as last night in the 10th inning when Bote dropped down his first career sacrifice bunt. It wasn't necessarily the bunt that was impressive, but more so the pitch and how he was able to get the bunt down.
After fouling off his first bunt attempt, Diaz went right back at him with a 99 MPH riding fastball that looked like it would hit him in the chest. Somehow Bote not only got out of the way but pulled the bat back far enough to make contact and drop down the bunt. It worked to perfection as it was so perfectly placed that the only throw was to first base. That set things up for the game-winning run as the small ball game is working for the cubs right now.
I almost never celebrate a sac bunt, but I gotta give some love for David Bote's oh-crap-this-is-gonna-hit-me last night, which ultimately set up the opportunity for the walk-off win.

Apparently Bote hadn't had a sac bunt in five years. Bonus thanks to Alonso for the slip. pic.twitter.com/kJm6QYE7pT

— Bleacher Nation Cubs (@BleacherNation) April 23, 2021
Javy Baez needs to clear his head
Despite hitting a grand slam on Wednesday, Baez is clearly frustrated with how he has played this season, and that is starting to show on the field. It showed up in the seventh inning when Baez made one of his rare mental mistakes at the plate that nearly cost his team.
After missing a fastball and popping it up, Baez screamed at his bat and walked out of the batter's box with his head down. Little did he know that ball would end up dropping in play leading to a bloop single. Had he been hustling out of the box, he probably ends up at second. To make matters worse, a lazy turn at first led to him being called out only to have replay bail him out in the end.
For the rest of the game, you could see visible frustration on Baez's face, and he didn't try to hide it. Something is going on in his head right now, and it isn't good. David Ross needs to sit Baez in the next game, not to teach him a lesson necessarily but to let Baez clear his head. Maybe giving him a mental break is exactly what he needs and could help him snap out of whatever funk he is currently in.
Javy Baez will want to erase that play from start to finish.

— Jesse Rogers (@JesseRogersESPN) April 23, 2021
Welcome Back Nico
Although not the way Nico Hoerner may have wanted it, but he is officially back on the big-league roster, getting called up late afternoon yesterday. His callup puts an end to any service conversation as he didn't last the 36 days he needed to for that extra year of control.
In the corresponding roster move, which allowed for his callup, left fielder Joc Pederson has been put on the IL with wrist tendinitis. Pederson was one of the big offseason moves by Chicago and was looked at as someone who could replace Kyle Schwarber. Pederson has struggled at the plate after putting together a fantastic spring and is hitting under .160 with just one homer and five RBIs.
While it is unknown why he is struggling so much to this point, you have to wonder if something was going on with his wrist for a while now, and he finally said something. Maybe he was trying to play through the pain but got to the point where he couldn't take it anymore. Kris Bryant did that last season with a broken bone in his hand and didn't say anything until after the season.
Pederson is a good player but not a great player who is going to produce when healthy. The fact that he has looked as bad as he has coming off the spring he had leads me to believe this wrist injury has been bothering him for a while. Hopefully, the next two weeks off gives him a chance to heal and be ready to step back on the field and produce in a big way.
BREAKING NEWS: #Cubs place Joc Pederson on 10-day IL, recall Nico Hoerner https://t.co/2sYCz46Rgs

— CubsHQ.com (@ChicagoCubsHQ) April 22, 2021

Upgrade Your Account
Unlock premium boards and exclusive features (e.g. ad-free) by upgrading your account today.
Upgrade Now

Tags: Cubs Baseball
,
Trevor Williams
,
Willson Contreras
,
Kris Bryant
,
Jason Adam
,
Ryan Tepera
,
Javy Baez
,
David Bote
,
Jason Heyward
,
David Ross
,
,
Joc Pederson
,
Kyle Schwarber