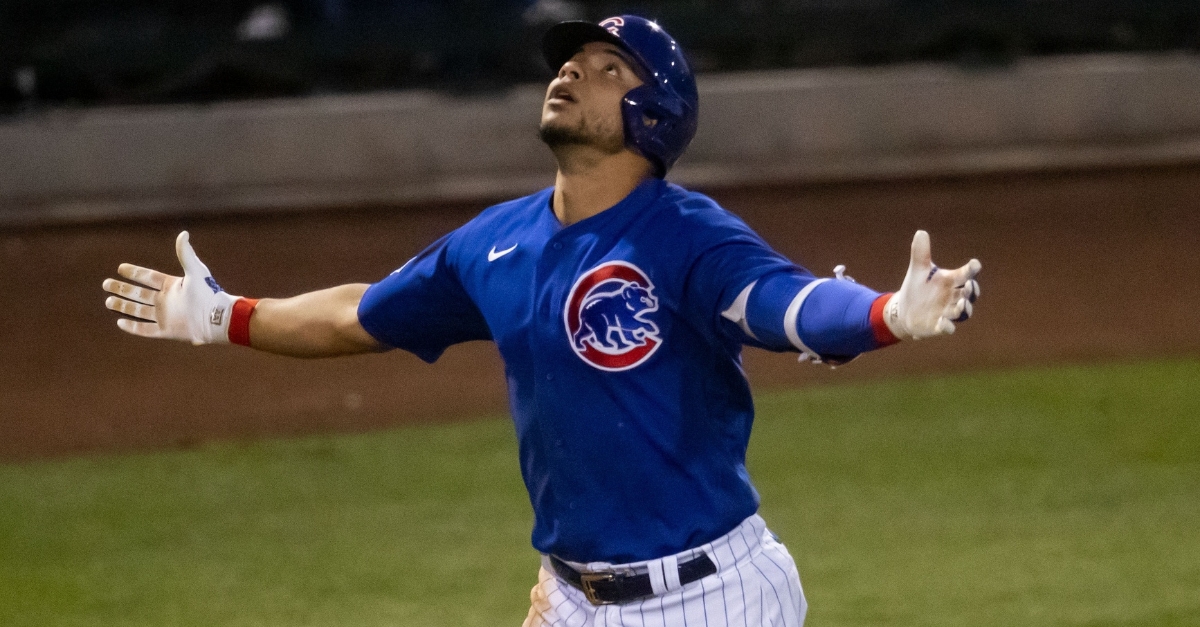 | | |
| --- | --- |
| Three takeaways from Cubs win over Padres | |
---
| | | |
| --- | --- | --- |
| Thursday, March 18, 2021, 8:27 AM | | |
Following their only off day of the spring, the Cubs returned to Sloan Park Wednesday for a rare night contest with the Padres. Many feel like the Padres could be the overall team in the NL. This could be used as a measuring stick to see how the Cubs match up against one of the best.
Spring or not, fans were treated to a pitching matchup between Chris Paddock and Kyle Hendricks. What was supposed to be a pitcher's duel turned into a one-sided affair as the Cubs chased Paddock after just 1 2/3 innings of work as his pitch count climbed to 50. Kyle Hendricks faired a bit better, going 3 1/3 inning and allowing two runs, but he too had a high pitch count. In the end, the Cubs offense took care of business, riding a five-RBI night from Willson Contreras to pick up the 8-2 win.
Chicago wasted no time getting their offense going, with Ian Happ working a leadoff walk in the bottom of the first before heading to third on a Contreras single. A few pitches later saw Paddock bounce one in the dirt as Happ got a great read on it to score from third. The Cubs busted things open at the bottom of the second as they not only batted around but also did so with a two-out rally that eventually chased Paddock.
Hendricks got the rally started with a single to right, but a bang-bang play at first lead to what looked like an ugly injury. Thankfully, he was ok, and he stayed in the game. Happ followed up the Hendricks single with an opposite-field single of his own, putting runners on first and second. That set the stage for Contreras, who got into a Paddock fastball and crushed it over the left-field fence to give the Cubs a 4-0 lead. Chicago loaded the bases after that, but a Javy Baez pop-out ended any further damage.
Despite being ok after what looked like an ugly play at first, Hendricks appeared a little off in the third, with San Diego mounting a comeback. With Tommy Pham reaching base for the second time, Jake Cronenworth split the gap in right-center field to put San Diego on the board as his RBI triple set the offense up for more. Manny Machado followed suit with a sacrifice fly, and just like that, we had a 4-2 game. Hendricks was able to get out of the inning without further damage before yielding way to Juan Gamez in the fourth.
Still up by a pair, the Cubs pitching was lights out the rest of the game using five other arms to keep the Padres offense in check. Andrew Chafin, Jonathan Holder, Craig Kimbrel, Dan Winkler, and Joe Biagini not only pitched shut-out ball but allowed just three hits in their five innings of relief, walking none and striking out six.
Anthony Rizzo continued the long-ball trend for Chicago in the bottom of the fourth, pulling one inside the foul pole in right for the solo shot extending the lead to 5-2. Looking to bat around again in the sixth, Contreras continued an already big night with an RBI triple to right, bringing home his fourth and fifth RBI. Contreras finished a double short of the cycle but was pulled following that at-bat. With one out, Joc Pederson manufactured a run the old-fashioned way as his sacrifice fly made things 8-2. It was his 10th RBI this spring, continuing an impressive trend.
That RBI proved to be the final run of the contest for either side as the Cubs knock off the Padres 8-2 to improve to 8-5-2 on the spring. The Cubs will be back on the diamond this afternoon as they travel to Goodyear to take on the Indians.
That is why pitchers shouldn't hit
There will always be the ongoing debate as to whether the NL should adopt the DH. On the one hand, you have the baseball purist that says pitchers hitting is part of the game. On the other hand, the DH is becoming more of a universal thing across all levels of baseball, so there should be continuity.
Pitchers have the reputation of not being good hitters, and for the most part, that is accurate. Of course, there are rare occasions when you have guys like Michael Lorenzen, Carlos Zambrano, Jake Arrieta, and Travis Wood who can handle the bat, but in most instances, that is not the case. Watching pitchers hit nowadays is as dull as they come as 90% of the time they stand there and try to bunt it without showing much effort.
If they do put the ball in play by some chance, it becomes a mystery on the bases as they often are not the fleetest footed. Last night was a bring example as to why pitchers should not be hitting in spring training. After ripping a single to right, Hendricks was nearly thrown out at first trying to beat the play. What made things worse was his collision on the bases that looked ugly at first. Had he gotten hurt, things would not have been pretty in the rotation.
No one tell Kyle it's spring ??#PitchersWhoRake pic.twitter.com/spWYSQKM8e

— Marquee Sports Network (@WatchMarquee) March 18, 2021
Opposite field leads to success
One of the biggest messages that both David Ross and Anthony Iopoce preached to their team this offseason was more contact. In essence, both want to put the ball in play more, even if that means sacrificing power in the process. The more games you watch this spring, the more you can see this team striking out less and putting the ball in play.
Not only that, but they are not relying on their pull happy approach and have gone the opposite way on a more consistent basis. Off their eight hits last night, five went the opposite way, with only Pederson, Rizzo, and Contreras pulling one. That type of approach not only keeps the defense honest but could lead to teams playing fewer shifts against the Cubs. Chicago needs to keep this approach going forward as that will open a lot up for this offense.
Bryant is still searching for his first homer:
In a contract year, Bryant admits he is not only feeling healthy once again but has a clear mind as the trade talks are behind him. Hopefully, for his sake, that leads to a big year where the Cubs can potentially talk extension with him. However, 15 games into the spring and Bryant is not only hitting just .211 but has yet to connect for a long ball.
Yes, that is concerning, but at least he is getting on base by taking his walks, so he is seeing the baseball well. Some of his at-bats have led to hard contact but mostly singles or doubles in the gap. For a guy paid to hit homers and drive in runs, he is not getting the same lift on his swing that he once did.
You have to wonder if this is a lingering effect from his shoulder injury, as this has been a trend for the past couple of years. Most Cub fans are on the fence about Bryant and if he should return beyond this season. Should he have a great season, I will bet more will be on board with him coming back. If not, it will be a very interesting offseason for him to see how teams value him.

Tags: Cubs Baseball
,
Kyle Hendricks
,
Willson Contreras
,
Ian Happ
,
Javy Baez
,
Juan Gamez
,
Andrew Chafin
,
Jonathan Holder
,
Craig Kimbrel
,
Anthony Rizzo
,
Joc Pederson
,
Jake Arrieta
,
Travis Wood
,
David Ross