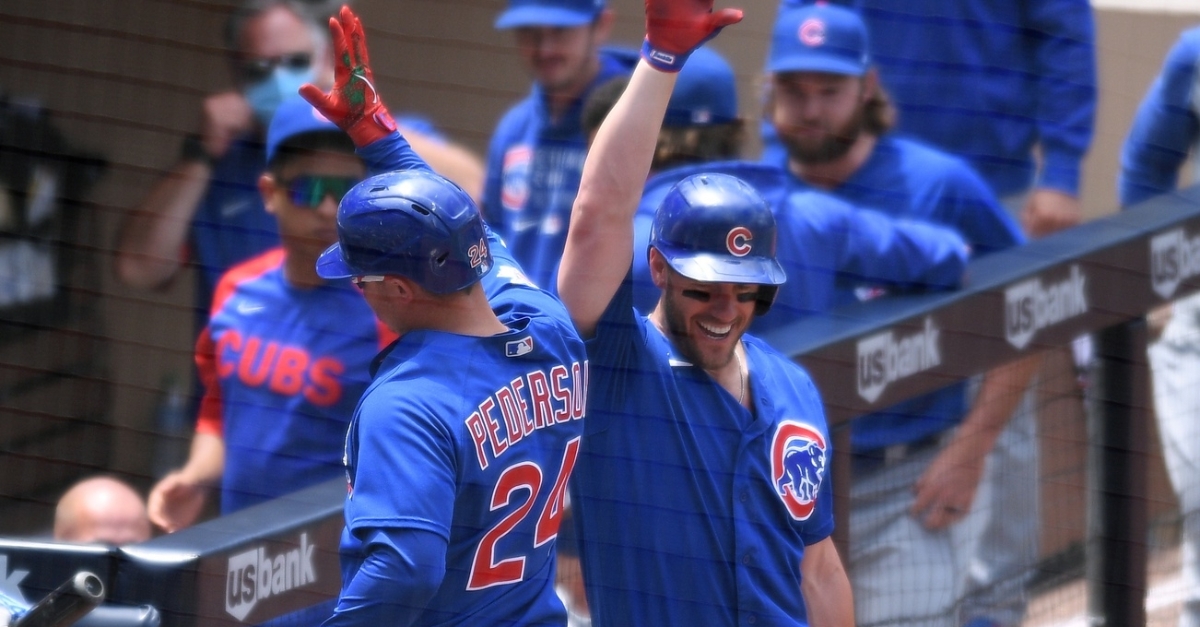 | | |
| --- | --- |
| Three takeaways from Cubs win over Padres | |
---
| | | |
| --- | --- | --- |
| Thursday, June 10, 2021, 8:34 AM | | |
What started as an ugly road trip turned into about as good as it could be, with the Cubs winning three of their last four to finish the trip 3-4. That includes winning the last two games over the San Diego Padres, including a 3-1 win on Wednesday afternoon.
With that win, the Cubs finished the season series 5-1 against the Padres, which is impressive in itself. To make it that much more impressive, the Cubs did that without a lot of their roster as they continue to impress despite being shorthanded.
In a matchup that had drawn a lot of attention, Jake Arrieta took to the mound for the Cubs as he opposed former Cub Yu Darvish. Traded away this offseason in exchange for Zach Davies and prospects, the Darvish deal was met with tons of criticism this offseason as a lot of people are wondering why that move was made. However, when you look at how he finished 2019, pair with his 2020 and now start to 21, he would have been the perfect ace to put at the front of the Cubs staff.
That is all water under the bridge now as the Cubs took on their former teammate for the first time since the deal. Darvish was as good as advertised, giving up two earned runs in seven innings of work to go with eight strikeouts. One of those runs came off a Joc Pederson homer while Anthony Rizzo delivered the game-winning run by grounding out into a double play.
Fortunately for Chicago, Arrieta was just as good, if not a little better. He may not have gotten deep into the game, but Arrieta was strong as he delivered one of his best road starts of the year. In his five innings of work, Arrieta not only struck out six hitters to go with just one walk, but he allowed just one run on four hits. That lone run came off a Manny Machado singled in the third inning as he was otherwise solid.
Arrieta didn't record the win as he was pulled with the game tied 1-1. However, once David Ross turned to the bullpen, it became a battle of what bullpen is better. Take away game one in which Adbert Alzolay failed to reach the fifth inning, and the Cubs pen was strong once again, throwing four hitless innings of relief to go with no walks and five strikeouts.
Three of those strikeouts came from Ryan Tepera, who continued his dominance by tossing two more scoreless innings for relief. Add in a Sergio Alcantara eighth-inning homer to give the Cubs a much-needed insurance run, and the Cubs go on to win a big one 3-1.
Yu still good
Let's be honest, the Darvish tenure in Chicago was met with mixed reviews as he dealt with his fair share of criticism. Over the first year and a half of his deal, the fans were ready to run him out of town as he not only dealt with injuries but was a shell of who he has been as a pitcher.
The final year-plus of his deal saw Darvish not only look like a Cy Young candidate again but saw him as the most dominating pitcher in the National League for an extended period of time as he emerged as the Cubs stopper when they needed him most. Facing a difficult decision with a tough offseason ahead, the Cubs elected to send Darvish to San Diego to dump salary and build for the future.
While that trade came with a ton of deserving criticism, it was a move that had to be made at that time. Had Chicago known they would be in the position they are now, there is no way they part ways with Darvish, and it would be nice to add some more wins to this team's overall record.
Darvish carved up the Cubs through basically seven innings as he certainly felt he had something to prove on Wednesday. Fortunately for the Cubs, they reminded him what it was like not to get run support as they managed to hang on for the 3-1 win.
Yu Darvish used Rizzo's walk-up song then walked to the plate with the biggest smile you've ever seen pic.twitter.com/Won9cudaVn

— Barstool Chicago (@barstoolchicago) June 9, 2021
Managing like it's the 2015 Royals
As the game of baseball continues to change, so does how a manager manages things, as analytics, matchups, and overall history play a big reason. For Ross, not only has he continued to follow the analytics trend, but he also manages like an old school manager breaking out the small ball when needed.
Ross continues to manage this team like the 2015 Kansas City Royals, and so far, it is working. It was in that season when the Royals not only won the World Series but boasted the League's best bullpen in the process. With guys like Kelvin Herrera, Greg Holland, and Wade Davis, it almost became a five-inning game where it was game over if you didn't have the lead.
A lot of those same similarities can be drawn for the Cubs season as they not only have the best bullpen in the league right now but continue to play the matchup card when dealing with the rotation. At this point, it doesn't matter who is on the mound, as Ross is treating everyone the same.
He knows what the statistics show about facing a lineup three times. So unless the starter is flat-out dominating, Ross has no problem pulling a guy after five innings to avoid facing that lineup for the third time. When you have a bullpen performing the way the Cubs pen has so far, how can you not like that strategy?
It's time for real baseball
The Cubs are set to return to Wrigley Field on Friday after getting a much-needed day off on Thursday. After playing nearly three weeks of games without an off day, the Cubs will use tomorrow as a recovery day before the real fun begins.
Not only will the St. Louis Cardinals be coming to town this weekend, but for the first time since September 2019, Wrigley Field will be allowed to have 100% capacity. The players have seen how loud Wrigley can be with just 60%, so you can imagine how things will be this weekend. Of all the series to go to 100%, this was the perfect one to start with, and it will be a rowdy atmosphere.
It may only be June, but this weekend will feel like a World Series game when you hear how loud it will be. Boasting one of the best home records already, the Cubs will use the Max Capacity to their advantage as they could be on the verge of a massive second-half home schedule.
Once this team gets healthy, and the fans continue to file in, look for this team to feed off the crowd's energy. That alone will be a huge difference and could be the biggest x-factor in the division race this season.
Heading back to a full house at Wrigley Field like ?? pic.twitter.com/JsjlkXFdfK

— Marquee Sports Network (@WatchMarquee) June 10, 2021