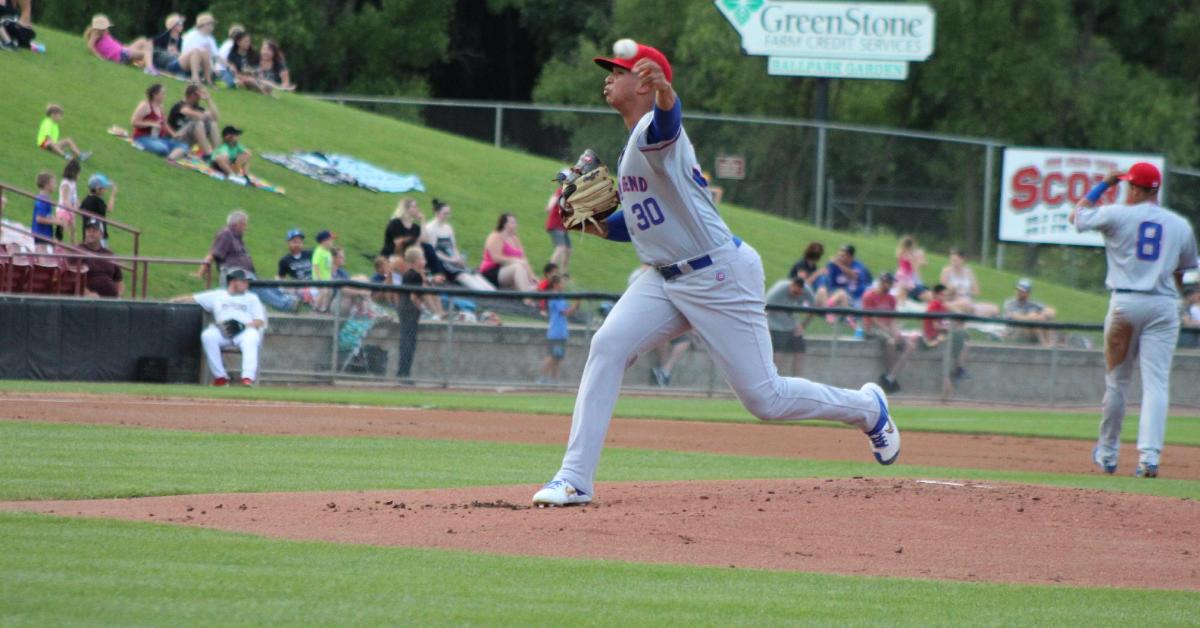 | | |
| --- | --- |
| What to expect from Tennessee Smokies in 2020 | |
---
If anyone needs to press a reset button on last season, it would be the Tennessee Smokies as nothing went in their favor a season ago. After going through a rough first half that saw them go from five games over .500 to seven games under, a series of injuries and promotions hampered the Smokies season as they finished a system worst 58-81 good for last place and 30.5 games out.
Even with that record, the Smokies saw several key performances that will help the Cubs organization long term. From the emergence of both Cory Abbott and Tyson Miller in the rotation to the sudden power Surge of Robel Garcia, Tennessee fans had some fun baseball to watch despite their lousy record. The brightest moment of the season for the Smokies was the MLB promotion for Nico Hoerner as he was called up despite playing in less than 60 games this season.
With all those achievements now in the rearview, the Smokies can only go up from a miserable season a year ago as they will look to rebound in a big way. This is what I am looking for in 2020.
The Southern League has historically been one of the toughest leagues to adjust to in the minor league system, especially regarding hitting. With runs hard to come by in 2020, the Smokies will need to figure out where a lot of their offense will come from as Garcia (promotion) and Vimael Machin (promotion and rule 5 pick) will no longer be playing in Tennessee in 2020. That will put pressure on a lot of guys that frankly didn't live up to expectations a season ago.
Of the position players that are expected to be back, Roberto Caro is the best player returning as he will look to build on a great campaign. He will be joined by speedster Zach Davis in the outfield, with the possibility of Eddy Martinez and others rounding out the outfield. As for the infield, Christian Donahue and Jared Young are the lone two set in stone right now with much of their infield yet to be decided in spring. Clayton Daniel could be one player fast-tracked to AA as he showed tons of promise in A this season.
Ian Rice, Tyler Payne, and Rafelin Lorenzo are the trio of catchers on the roster and except for Payne, none of them are ready to start long term. That is what makes the Miguel Amaya topic even that more intriguing this season. After really struggling to put things together for Myrtle Beach last season, do the Cubs dare move him up to AA to play in one of the toughest leagues in the game, or do they allow him some more time in Myrtle Beach so he can prove he is ready to go. Regardless, Tennessee will be struggling in terms of catching much of the year.
Switching over to the pitching side of things and it is no secret that Abbott and Miller where the aces on this staff a season ago. With Miller already in AAA and Abbott most likely headed there following his record-breaking season last year, the Smokies are left with some significant holes to fill in the rotation. The combination of Erich Uelmen, Keegan Thompson (back from injury), Luis Lugo, Jack Patterson, and Jake Stinnett give the Smokies tons of options. Still, some of these players are coming back from injury and may not be right until mid-season.
That is where the Brailyn Marquez and Alex Lange topic will undoubtedly come up. Lange was horrendous for Myrtle Beach a season ago but was still promoted mid-season. Once that happened, he found a new gear and transformed himself as a reliable starter. Marquez is the one that will continue to generate the most buzz. Armed with his triple-digit heater, the tall lefty performed well for South Bend a season ago before dominated with the Pelicans in his six starts late in the season. He will be the ace for the Pelicans to open 2020, but without question will find himself in Tennessee should his development continue.
Finally, we move to the bullpen, which was a mess all season. To make matters worse, the only ones who seemed to have decent seasons in the pen are most likely heading for AAA, so Tennessee will have to pick wisely in terms of what they want to do. Tommy Nance, Ben Hecht, and Zach Hedges, who have all started in the past, are certainly options but expect them to get looks at the rotation first before deciding on the pen.
That leaves Bailey Clark and Oscar De La Cruz as the only dependable locks in the pen. De La Cruz entered the season as a starter and was ranked as the No. 3 pitcher in the Cubs season before 2019. Following a suspension to open the season, De La Cruz never found his groove in the rotation, eventually moving to the pen midway through the year. Despite having several ups and downs, I like the role he is in now because it gives Tennessee flexibility in the bullpen.
Clark, to me, is the most important person for the Smokies right now. In 33 games of relief a season ago, Clark finished with a 3.68 ERA, which was good for one of the best on the team. His 25BB and 38K ratio needs to improve, but his four saves will be the most on the team returning from last season. Ideally, I don't like him as a closer, but he may have to fill in until a more defined one is discovered. That is why he will play such an important part this season.
Prediction: Tennessee will struggle once again this season, but it won't be as brutal as last year. I don't expect a postseason appearance but could see them win around 61-63 games moving them into fourth in the division. Looking at what this team has now, expect the first half to be very rough while the second half could be fun. Much of this team's success will come outside the organization once promotions begin to take place.

Upgrade Your Account
Unlock premium boards and exclusive features (e.g. ad-free) by upgrading your account today.
Upgrade Now

Tags: Cubs Baseball
,
Cory Abbott
,
Tyson Miller
,
Robel Garcia
,
Vimael Machin
,
Roberto Caro
,
Zach Davis
,
Eddy Martinez
,
Christian Donahue
,
Jared Young
,
Clayton Daniel
,
Ian Rice
,
Rafelin Lorenzo
,
Miguel Amaya
,
Keegan Thompson
,
Luis Lugo
,
Jake Stinnett
,
Brailyn Marquez
,
Ben Hecht
,
Zach Hedges
,
Bailey Clark
,
Oscar De La Cruz