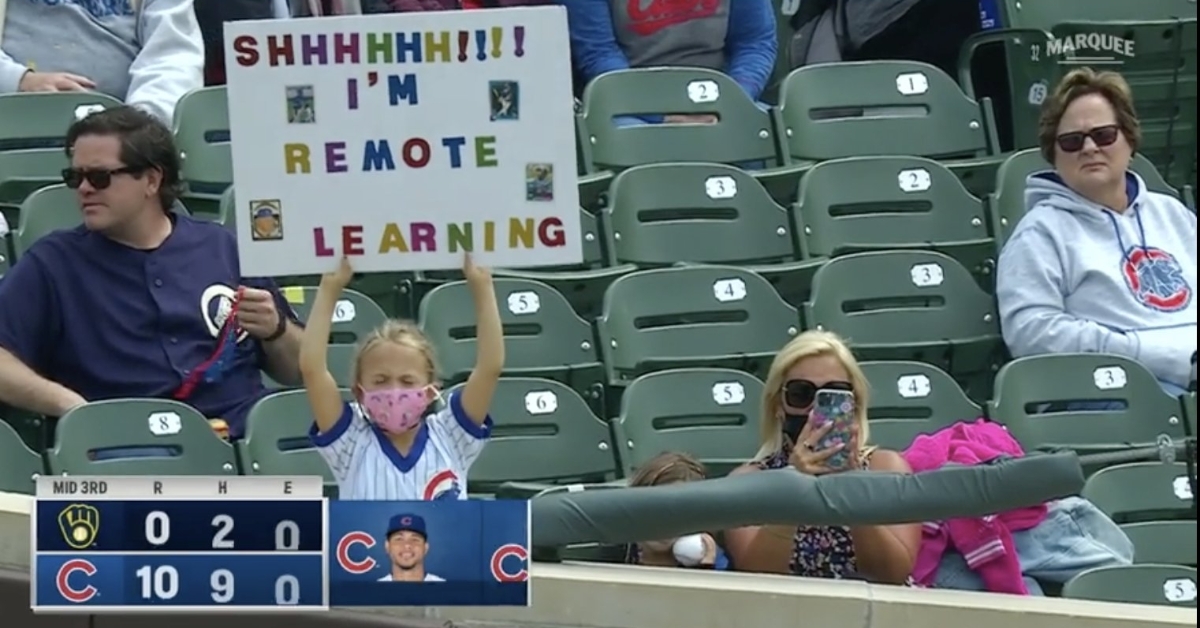 | | |
| --- | --- |
| LOOK: Young Cubs fan holds up hilarious sign at Wrigley Field | |
---
| | | |
| --- | --- | --- |
| Friday, April 23, 2021, 4:24 PM | | |
CHICAGO — With a hilariously worded sign featuring a play on words regarding remote learning, a young Chicago Cubs fan embraced her burgeoning "Bleacher Bum" persona. A fixture of weekday afternoon games at Wrigley Field over the years has been the overarching question of how so many fans are able to show up and watch, and "skipping school" might be one of the answers to that loaded question.
While playing hooky from school and work is not a requirement to watch weekday afternoon baseball at the Friendly Confines, it is suspected to be a common trend. One young Cubs fan had the opportunity to experience plenty of excitement at a contest on Friday afternoon, with the North Siders jumping out to a commanding 10-0 lead over the Milwaukee Brewers through just two innings at Wrigley.
Making the experience even better for the youngster was the fact that her clever poster landed her an appearance on the televised broadcast of the game. Not shying away from the fact that she was missing school to take in a baseball game, the little girl proudly held up a sign with the message "SHHHHHHH!!!! I'M REMOTE LEARNING" emblazoned across it.
?? ?? ?? pic.twitter.com/sm36kR10jt

— Sarah Langs (@SlangsOnSports) April 23, 2021
Although the "remote learning" the young Cubs supporter gleaned on Friday was not exactly the kind of remote learning that has been a fixture of the education system since March 2020, she certainly learned how to build an early lead against a division rival from a remote location in the Wrigley seats. One can only hope the little girl's valuable learning experience will not be ruined by her teacher watching a replay of the game later on. Then again, in baseball-obsessed Chicago, an afternoon at the ballpark might qualify as an excused absence.