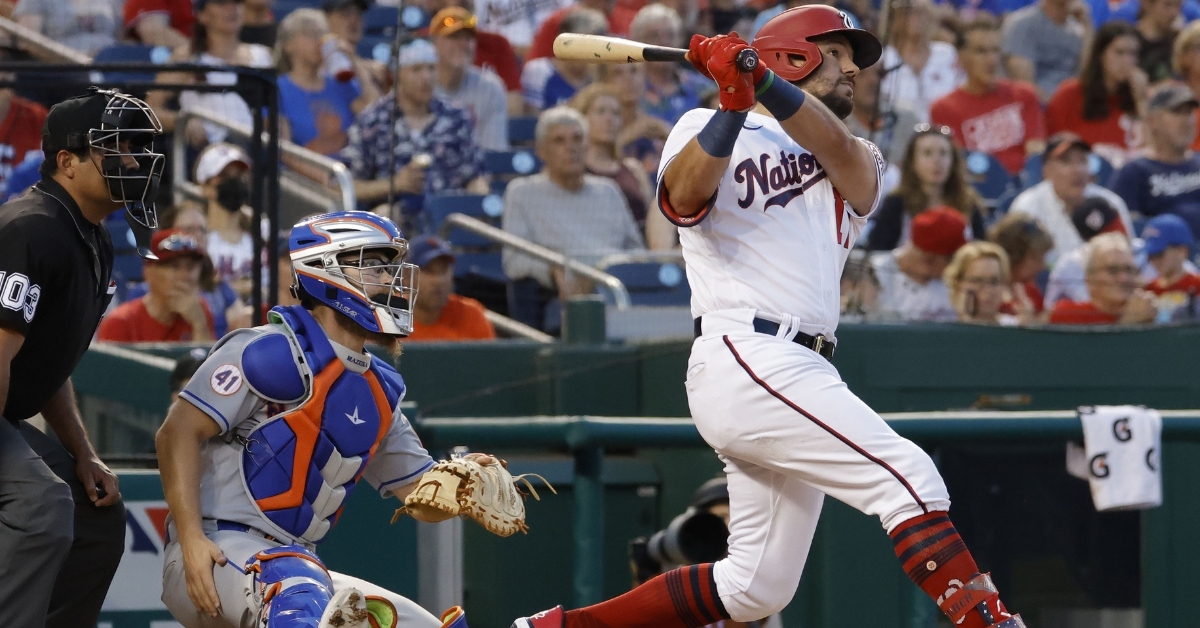 | | |
| --- | --- |
| WATCH: Kyle Schwarber becomes third-ever player to hit 15 home runs in 17 games | |
---
| | | |
| --- | --- | --- |
| Monday, June 28, 2021, 11:46 PM | | |
WASHINGTON — Having quite the memorable month of June at the plate, former Chicago Cubs left fielder Kyle Schwarber has raked for the Washington Nationals in recent weeks, hitting homer after homer, game in and game out. Schwarber went yard twice more on Monday, making him just the third player in MLB history to power out 15 dingers in a span of only 17 games.
Joining iconic sluggers Barry Bonds and Sammy Sosa by hammering his 15th tater in 17 outings, Schwarber led the Nats to an 8-4 win over the New York Mets at Nationals Park. Seven of Schwarber's 15 recent round-trippers have come against the Mets, and he has also hit six leadoff bombs in his last 16 games.
In the Nationals' first plate appearance of Monday's tilt, Schwarber crushed a 439-footer into the upper deck beyond right field. He went on to start off another half-inning by going yard when he belted a 409-footer into the right field seats to begin the bottom of the fifth. Schwarber has hit 15 home runs this June — a Nats record for the most dingers tallied in any month — and has 24 homers and 52 RBIs on the season.
Here's your daily Kyle Schwarber June HR tally update:

June 12 - SCHWAR??
June 13 - 2 SCHWAR??s
June 14 - SCHWAR??
June 19 - 2 SCHWAR??s
June 20 - 3 SCHWAR??s
June 23 - SCHWAR??
June 24 - 2 SCHWAR??s
June 25 - SCHWAR??
June 28 - SCHWAR??@kschwarb12 // #NATITUDE pic.twitter.com/3YUdqqSvwJ

— Washington Nationals (@Nationals) June 28, 2021
Hey @TMobile,

Just cancel the HR Derby already.

Plz send the trophy to...

ATTN: Kyle Schwarber
1500 S. Capitol Street SE
Washington, DC, 20003@kschwarb12 // #NATITUDE pic.twitter.com/NE6Xabq8wN

— Washington Nationals (@Nationals) June 29, 2021
Here's your (twice) daily Kyle Schwarber June HR tally update:

6/12 - SCHWAR??
6/13 - 2 SCHWAR??s
6/14 - SCHWAR??
6/19 - 2 SCHWAR??s
6/20 - 3 SCHWAR??s
6/23 - SCHWAR??
6/24 - 2 SCHWAR??s
6/25 - SCHWAR??
6/28 - 2 SCHWAR??s (so far)@kschwarb12 // #NATITUDE pic.twitter.com/kdVmmeA9Fw

— Washington Nationals (@Nationals) June 29, 2021
#Mets 0 @ #Nationals 1 [B1-0o]:

Kyle Schwarber homers (23): fly ball to RF (solo)

Hit: 439ft, 110.2mph??, 33°??

Pitch: 90.5mph Four-Seam Fastball (RHP Jerad Eickhoff, 1)

— Home Run Tracker (@DingerTracker) June 28, 2021
#Mets 0 @ #Nationals 4 [B5-0o]:

Kyle Schwarber homers (24): fly ball to RCF (solo)

Hit: 409ft, 105.8mph, 25°??
[2nd of game]

Pitch: 81.9mph Slider (RHP Jerad Eickhoff, 4)

— Home Run Tracker (@DingerTracker) June 29, 2021
If you squint, you can see the Mets in 7 of these 15 frames.@kschwarb12 // #NATITUDE pic.twitter.com/i78X6pY1Rk

— Washington Nationals (@Nationals) June 29, 2021
Home Runs Since June 12:

Brewers - 14
Kyle Schwarber - 14
Mets - 14
Phillies - 14
Royals - 14
Tigers - 14
Pirates - 13
Reds - 12
Cardinals - 10
Dbacks - 8
White Sox - 8@kschwarb12 // #NATITUDE pic.twitter.com/b4hJxufSBJ

— Washington Nationals (@Nationals) June 29, 2021
Only 3 players in @MLB history have hit 15 HR in a 17-game stretch:

• Kyle Schwarber (2021)
• Barry Bonds (2001)
• Sammy Sosa (1998)@kschwarb12 // #NATITUDE pic.twitter.com/8vIJ4WtirF

— Washington Nationals (@Nationals) June 29, 2021