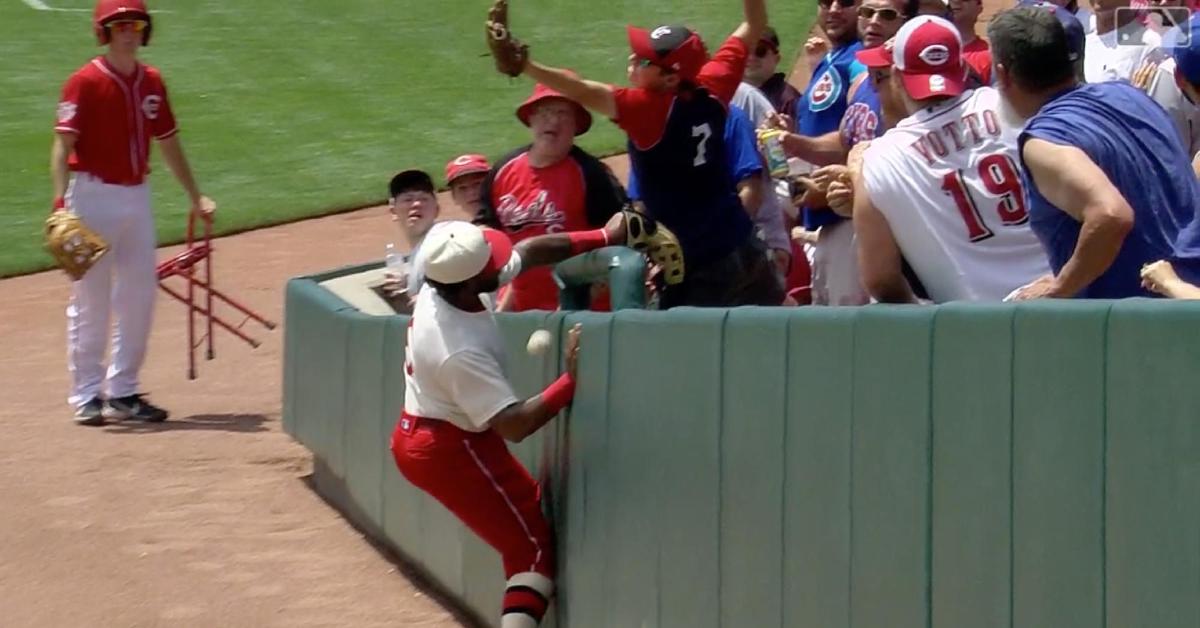 | | |
| --- | --- |
| WATCH: Questionable fan interference ruins Cubs' scoring opportunity | |
---
| | | |
| --- | --- | --- |
| Sunday, June 30, 2019, 3:08 PM | | |
CINCINNATI — With the Chicago Cubs boasting runners on second and third with two outs in the top of the third on Sunday, a questionable fan-interference call ruined the scoring opportunity. A foul ball hit off the bat of Cubs first baseman Anthony Rizzo was ruled to have been interfered with by a young man sitting down the left-field side at Great American Ball Park, thereby resulting in the inning-ending out.
Rizzo and Cubs manager Joe Maddon were far from pleased after an umpire review resulted in the ruling being changed from a foul ball to a foulout. Apparently, they felt that fan interference should not have been called due to the fact that there was no guarantee that Reds left fielder Phillip Ervin would have caught the baseball.
A Reds fan reached out over the partition and deflected the ball with his glove while attempting to snag it. Ervin was in position to make the catch before the teenager reached out for it, which is why the interference call was made, but it did not sit well with Maddon and Rizzo that fan interference by a fan of the home team ended up hindering the road team. The boy was escorted away from his seat by security personnel soon after the interference call was made.
The fan interference rule that applied today is not new. It merely doesn't happen often. You cannot reach onto the field and impede a defender's ability to make a catch. It's that simple. What does happen often-grounders get touched by a fan & they immediately call interference

— Len Kasper (@LenKasper) June 30, 2019