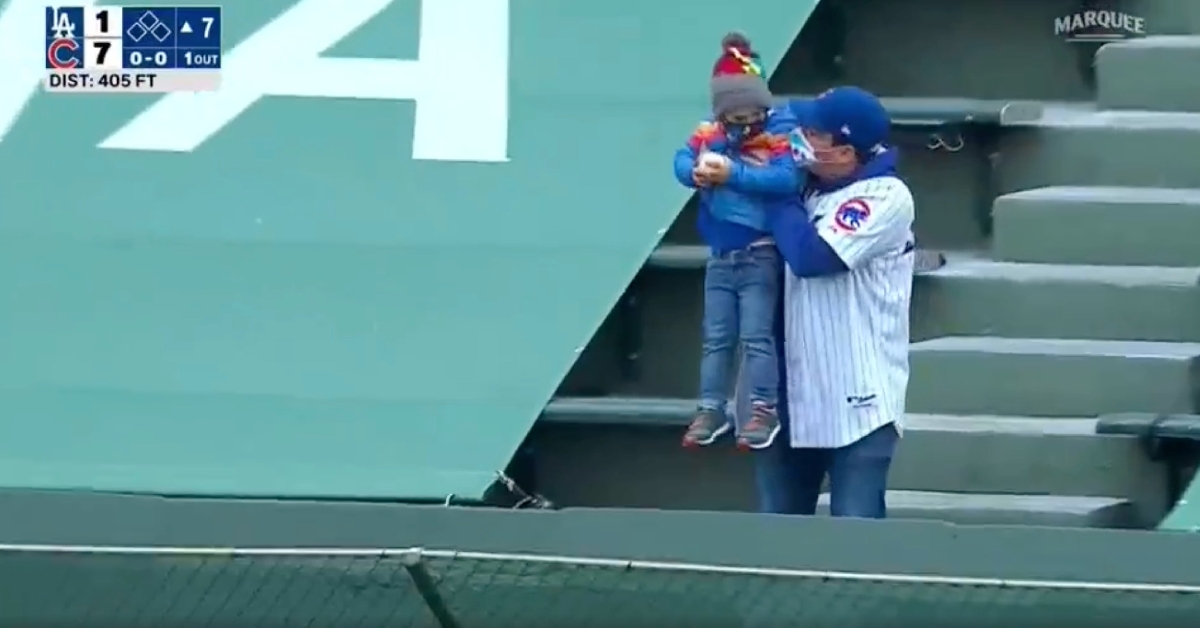 | | |
| --- | --- |
| WATCH: Young Cubs fan throws Dodgers home run ball back onto field | |
---
| | | |
| --- | --- | --- |
| Tuesday, May 4, 2021, 9:50 PM | | |
CHICAGO — A staple of being a true "Bleacher Bum" at Wrigley Field is, if given the chance, throwing a home run ball hit by a member of the visiting team back onto the field. True Cubs fans in the outfield bleachers at the Friendly Confines only hang onto baseballs hit by Cubs players, and, on Tuesday, one young Cubs fan established himself as a legitimate Bleacher Bum.
In the first installment of Tuesday's doubleheader at Wrigley Field, Los Angeles Dodgers catcher Keibert Ruiz pinch hit during the seventh and final inning and took starter Kyle Hendricks deep. The 405-foot solo homer came on the first pitch of Ruiz's first plate appearance of the season. Regardless of the statistical significance, the little kid who ended up with the home run ball in his possession had no interest in keeping it.
The long ball broke up Hendricks' bid for a scoreless outing in the top of the seventh in the shortened contest, resulting in the Cubs winning 7-1 instead of 7-0. Therefore, it was only fitting that the youthful Cubs supporter symbolically expressed the collective displeasure of all Cubs fans at the park by throwing the baseball over the partition and onto the outfield grass.
Carrying out his fatherly duty to perfection, the little boy's dad lifted his son up and carried him to the top of the right field wall, where the tyke discarded of his unwanted souvenir. Raucous cheering befitting of an ancient Roman gladiator fight at the Colosseum rained down on the kid from approving Cubs fans who witnessed the good deed, providing the youngster with a wonderful memory that he will assuredly treasure for the rest of his Cubs-loving life.
Absolutely amazing moment, when a dad taught his son what we do with HR balls from the other teams at Wrigley Field. #Cubs pic.twitter.com/tftgHTXWN7

— Michael Cerami (@Michael_Cerami) May 4, 2021
The unwritten rules of Wrigley Field. #CubTogether pic.twitter.com/D5IP82OvMf

— Chicago Cubs (@Cubs) May 4, 2021