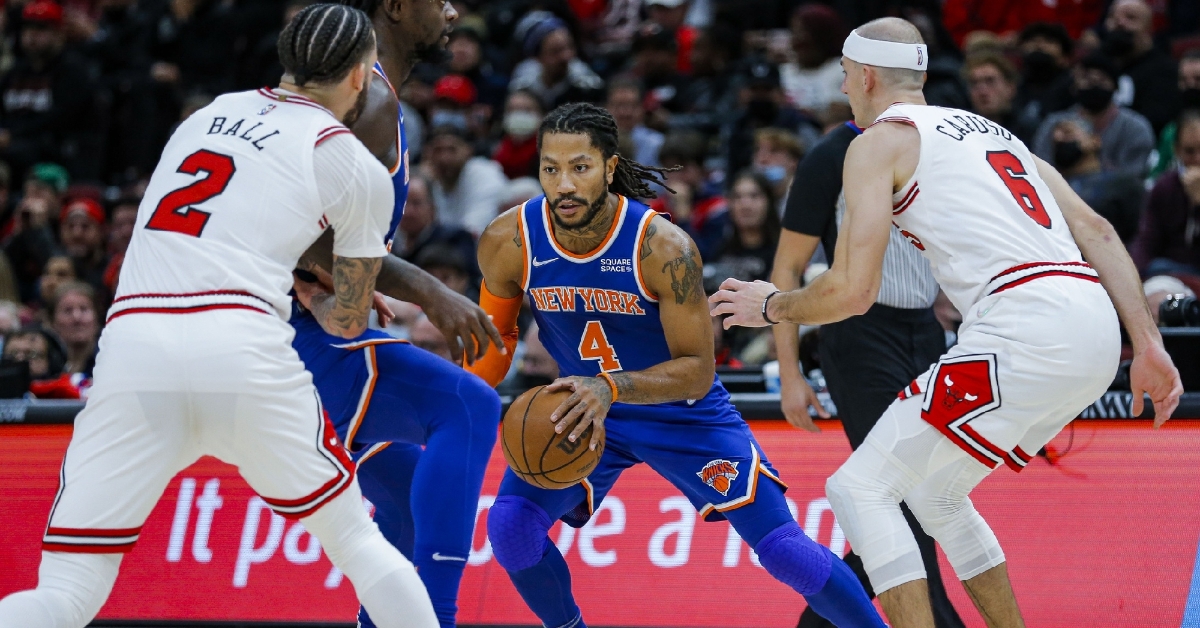 | | |
| --- | --- |
| Bulls get revenge on Knicks to move into first place | |
---
CHICAGO – Coming off a successful 3-2 road trip, the Chicago Bulls (12-5) returned home for a brief stint in front of the United Center fans. Looking to keep their strong run of play going, Chicago would have a tough test as the New York Knicks (9-8) came to town looking to top Chicago twice in two tries at the United Center.
The first times these two met earlier in the month, the three-point shot got the Knicks rolling as they built a 16-point at one point in the second half. Chicago did a great job battling back from that deficit to take the lead, but ultimately came short in the end. This time, things were different as it was the Bulls building a double-digit first-half lead only to see the Knicks rally during the second half.
Chicago continued to rely on DeMar DeRozan (31) and Zach Lavine (21), who will shoulder the load on most nights as the Bulls continue to get contributions across the board. The best part of this team is you never know where those contributions will come from, and Sunday, it was Coby White coming up huge off the bench. After struggling since returning to game action, White showed the Bulls what he can do when locked in, dropping 14 points to help that second unity thrive.
Lonzo Ball capped off the double-digit scorers for the Bulls with 11 points as nine players finished with at least four points in the 109-103 victory. Throughout this season, the three-point shot has been huge for the Knicks, but for the first time, it was their downfall. Not only do they shoot better than 40% from deep, but they lead the NBA with 43% of their points coming from beyond the arc.
Not only did they shoot just 28% from deep on Sunday, but they made just seven three-pointers as teams that live and die by the three are prone to off nights. One player who didn't have an off night was Julius Randle, as he continues to dominate. Randle led all scorers with 34 points in the game while adding 10 rebounds for an impressive double-double.
Unfortunately for the Knicks, he was the only starter in double figures as their bench was responsible for keeping them in the game. Alec Burks led the bench with 13 points, with Immanuel Quickley (12) and Obi Toppin (10) helping the Knicks claw back from a big early deficit and take the lead at one point in the second half. Fortunately, the Bulls recovered and pulled away down the stretch to post another impressive home win against a good Knicks team.
Coby White finding his shot
When White had offseason shoulder surgery on his non-shooting arm, it was a matter of how long he would be out. The team knew he would miss some time to begin the season, but he returned to the lineup about a month ahead of schedule. Credit White for the work ethic to get back to the court sooner, as his arrival on the bench gives the Bulls a massive scoring lift.
Throughout his first few games, White not only struggled to score but struggled to find his shot in sparing minutes. That shouldn't come as a surprise when you miss roughly five months due to surgery. However, like all shooters, you must shoot your way out of a slump, and that is exactly what White did last night.
Not only did he drop a season-high 14 points, but he made three triples and got back to looking like the spark plug he has been the last few seasons. Those are the types of games the Bulls have become accustomed to, and if that continues, Chicago will have a great scoring option off the bench.
Coby's found his groove ??

14 points | 5-11 FG | 3-6 3FG pic.twitter.com/TaK9Q4tKIZ

— Chicago Bulls (@chicagobulls) November 22, 2021
Bulls are not happy with the refs
The rule changes across the board have been made very clear throughout the first month of the season. Many plays that resulted in fouls for the longest time are no longer fouls, and teams are becoming visibly frustrated with that.
Chicago, in particular, was not happy with the officials last night, and it started to affect their play on the court. Yes, they had beef on a lot of plays, but for the most part, they were right, as more fouls should have been called on the Knicks. However, you can't let that get in your head, and you must finish the job.
Whatever changes the league wanted to make this season, the NBA officials are making sure to abide by those changes. However, in the process, it seems like they have lost track of what is a foul and what isn't. There needs to be a significant overhaul with referees this season, or they need to come to a consensus on what is and what isn't a foul and make sure the Players and coaches know why.
Sitting atop the East
We are nearly at the quarter mark of the season, and you are starting to see who the contenders and pretenders are. The Bulls are a contender, and they have proven it so far this season. Despite losing Patrick Williams for the season and missing Nikola Vucevic due to COVID, this team continues to find ways to win games going out west and taking three of five from some of the league's best.
They then turn around and beat a Knicks team that beat them earlier this season as they continue to prove they belong in the conversation of the Leagues best. At 12-5, they are not only seven games above .500, but they have moved into the top spot in the Eastern Conference. I get that there is a lot of season left to be played, but fans should get used to this.
This is an excellent Bulls team who will only get better once Vucevic returns in the coming days. I also look for them to make some trade before the season is over to address the Power Forward position, and Marvin Bagley seems like a logical fit. We saw what trading can do to this team's mojo last season as the Bulls fell out of playoff contention after acquiring Vucevic a season ago.
I don't see that happening this season, as this is a drastically different team. They are loaded with talent, loaded with veterans and players who know how to win. Even if new faces are brought into the mix, look for them to adjust to the plan as Basketball is fun again in Chicago.
Top of the morning ?? pic.twitter.com/fubQc5GQXJ

— Chicago Bulls (@chicagobulls) November 22, 2021