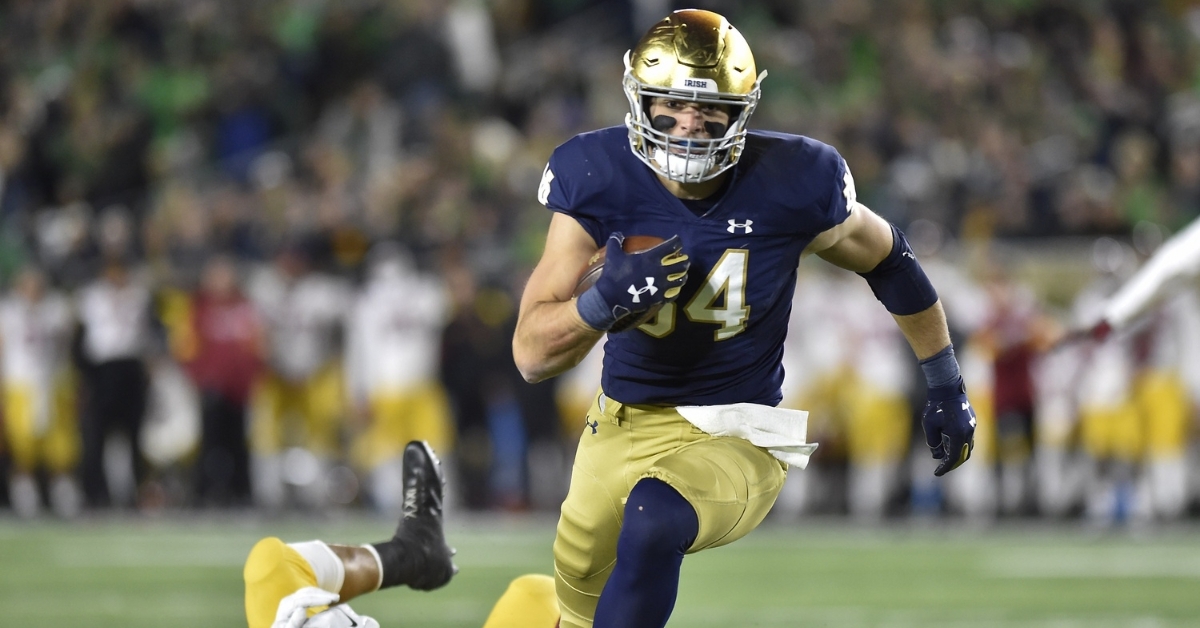 | | |
| --- | --- |
| 2020 NFL Draft projections for Bears | |
---
As the early free agency period has come and gone, we have seen the Bears reload in some areas, but have been depleted in others also. That is to be expected from teams this time of year that missed the playoffs last year after having their goals set on the postseason and beyond.
With the busiest phase of the free agency period now in the rearview mirror, the Bears are beginning to focus on the upcoming draft as they look to retool the remaining holes on their roster. While there are tons of suggestions and Mock drafts that are going to be done from now until then, I thought today would be a good day to look at the post-free agency Mock Draft now that Bears have added to other areas. This is what it looks like right now.
ROUND 2 Pick 43: After not having a first-round pick this season, Chicago must hit on their second-round selection. As of now, Notre Dame TE Cole Kmet looks to be where the attention is going at this point. Needing an upgrade at the TE position, the Bears did sign Jimmy Graham this past offseason to pair him with Trey Burton. However, with Burton on the potential trade block, the Bears need to get younger at this position so drafting a TE seems plausible, I just don't know if they should get one in the second round.
With Graham turning 34 this year and Burton's uncertain future, the Bears need to be prepared to draft their future, and Kmet could be that. At 6'6 262Lbs, Kmet is a massive target over the middle and already has an NFL body type to succeed. He uses his size and strength to his advantage and causes mismatches for both linebackers and safeties alike.
ROUND 2 Pick 50: Just seven picks after making their first selection the Bears will be on the clock as John Simpson OT from Clemson is a logical selection. We all know the Bears offensive line needs help, and Simpson certainly can help add to that.
This name shouldn't come as a surprise to anyone as his name has been swirling around Chicago ever since Kyle Long retired. At 6'4 321 lbs., Simpson is a load on the line as his strength off the snap creates large running lanes for his backs. His power is the first thing people notice about him, but he does a great job of pulling, getting to the second level and screen blocking all which the Bears to a lot of during the season.
ROUND 5 Pick 163: As of now, outside those two second-round picks, the Bears will have a very quiet draft until we get to the later rounds. That means they need to strike gold early. After sitting down and watching the next two rounds pending trades, the Bears look to add to their defense with Antoine Brooks JR. Safety out of Maryland.
With Ha-Ha Clinton Dix now in Dallas, Eddie Jackson will need a new running mate this season, but where will the Bears find that type of player. Are there some in the draft? Yes, but Brooks isn't one of them. Deon Bush and Jordan Lucas appear to be the favorites to start next to Jackson as of now, meaning Brooks would be given plenty of time to develop.
At 5'11 220 pounds, Brooks would give the Bears some added versatility as he played linebacker before switching to safety his sophomore season. When on the field, Brooks is all about energy and excitement as his hits have set the tone in many games.
ROUND 6 Pick 196: Continuing to add to the massive changeover on the defensive side of the ball, Luq Barcoo CB from UCLA would fit well in this spot. After releasing Prince Amukamara, the Bears elected to sign Artie Burns, but more work needs to be done in the secondary. By this point in the draft, it is more about adding depth over the long term future, which is some Barcoo would give you.
Ever since taking over as GM, Ryan Pace is enamored with potential draft sleepers, and some believe Barcoo could be one of those sleepers. He measures 6'1 175 Lbs. but is the type of ball-hawking corner the Bears love. In 2019, Barcoo had not only 16 pass breakups, but an NCAA best nine interceptions.
Hands have never been an issue for him as he was regarded as a top Wide receiver in his high school days, and that has helped him thrive as a corner. He knows what routes a receiver wants to run and can anticipate that to beat them to the ball. He would be an excellent addition to the defense and someone who could work his way into the starting lineup.
ROUND 6 Pick 200: The Bears will be extremely busy in the sixth round as Baylor RB Jamycal Hasty could be on their list here. Already with David Montgomery and Tarik Cohen as the team's top RB's, Hasty would be added as another depth piece who would see most of his time on special teams early.
While the Bears were happy with Montgomery last season, he did struggle at times to find holes, but that will get better with experience. However, he needs help, and with Mike Davis being cut last year, there is a spot to be had. While Cohen may be the backup on the depth chart, he is more of a special gadget type of player, which is why Hasty would be a good pick.
He is a not only a tough runner, but a dependable one none the less as he ran for 627 yards on 109 carries this past season with seven scores. Hasty can also be an asset in the passing game as the Bears tend to use their RB's a lot for screens. Hasty accumulated near 500 receiving yards in his Baylor career.
ROUND 7 Pick 226: As we reach the final round of the draft, it becomes more of the best available than team needs at this point and Edge rusher Trevon Hill from Miami (FL) could be had. The Bears already made their move by signing Robert Quinn and Barkevious Mingo, but they did lose Aaron Lynch, and Mingo saw action in fewer than 10% of snaps in 2019.
Hill would provide help at the Edge Rushing position, but certainly wouldn't be a starter. Hill has an extremely high motor that has him playing hard and getting after the QB frequently. He had 16 sacks and 29.5 tackles for a loss in his Hurricane career. Hill could push Mingo to become a better player if Mingo wants to see more snaps.
ROUND 7 Pick 233: The final pick for Bears 2020 NFL draft pending trades falls just seven spots later at 233. Look for DL Broderick Washington JR from Texas Tech to be an option if he is still around. One of the unsung heroes on the Bears defense last year was Eddie Goldman, but in his five seasons with Chicago, Goldman has missed 13 games, so he needs to stay healthy.
Perhaps giving him some help by drafting Washington is a good start in keeping him healthy. Washington is the type of player that could come in and give Goldman some snaps off early in the game, which would keep Goldman fresh for the later portion of the game and playoff run (hopefully). Not only does Washington play angry on the field, but he went on to start all 37 games since he arrived on campus, proving he is durable.
Although a little undersized for a lineman, he makes up for that in strength as his upper body strength helps him fend off blocks. Washington is also knowledgeable on the field as he understands what the opposing line wants to do and finds ways to counter it. He also always seems to know where the ball is on every play.

Tags: Cubs Football
,
Trey Burton
,
Kyle Long
,
Eddie Jackson
,
Deon Bush
,
Prince Amukamara
,
David Montgomery
,
Tarik Cohen
,
Mike Davis
,
Aaron Lynch
,
Eddie Goldman