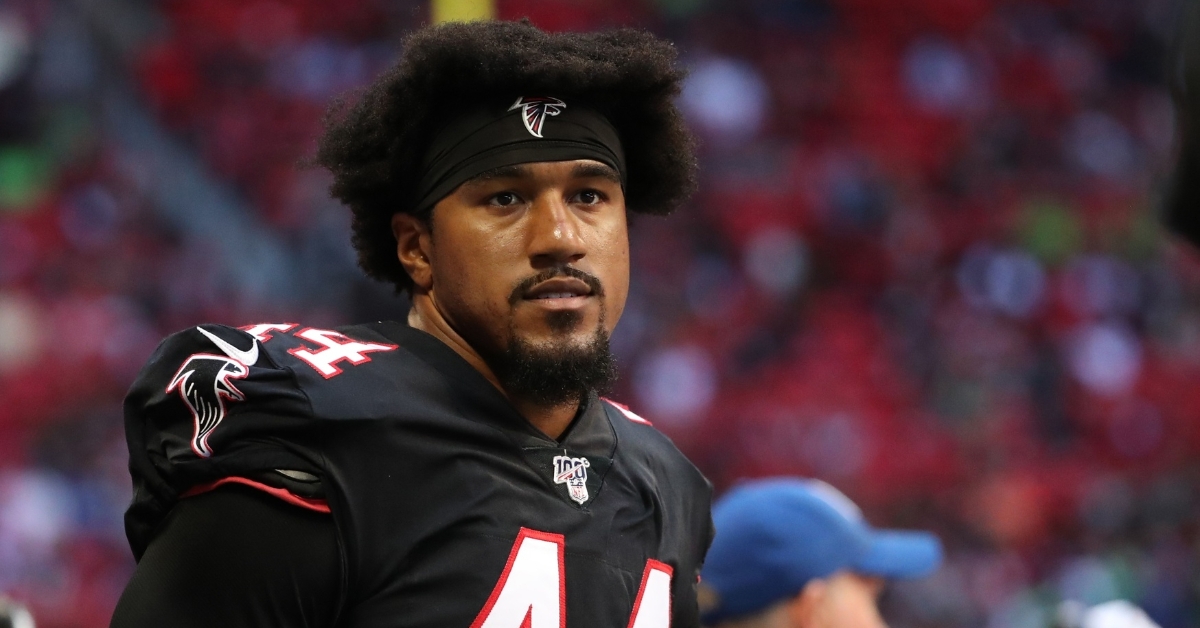 | | |
| --- | --- |
| Should the Bears target Vic Beasley in free agency? | |
---
Chicago missed the postseason this season due to a lot of factors, but one of them certainly wasn't on the defensive side of the ball. Even with their defense posting top 10 numbers once again, it was a far cry from 2017 as Chicago took some steps back on that side of the ball, forcing the offense to work that much harder.
A large part of their small decline on defense happed to be a steady onslaught of injuries as the Bears certainly had to put their depth to the test last season. Even while doing just that, Chicago proved they have as much depth as anyone on that side of the ball as their reserves started to play like starters much of the season.
With that being said, Chicago is thinking big picture as they look to improve on both sides of the ball, including the defensive side. One way they could do that is by adding another pass rusher to pair with Khalil Mack making them a dynamic duo that no one wants to mess with. That player happens to Vic Beasley, who is now on the open market for the taking.
At 27 years old, Beasley is hitting the market for the first time and will have his fair share of suitors. I'm sure the Bears will be one of those teams as he would be the perfect fit for the Chicago defense. What makes this signing very intriguing is that Atlanta selected Beasley eighth overall in the 2015 NFL draft one pick after the Bears who selected Kevin White. White's NFL career was over before it started, so adding Beasley would be a nice consolation prize for a draft pick that didn't pan out.
In five seasons with the Falcons, Beasley missed just two games while putting up huge numbers. He racked up 37.5 sacks, 36 tackles for a loss, and 46 quarterbacks hits in his five-year career thus far, all which rank near the top of the Falcons list defensively. His best season came in 2016 when Beasley put up an all-pro season collecting 15.5 sacks en route to his pro bowl selection. He also added 16 QB hits, 11 tackles for a loss, six forced fumbles, and a touchdown that season.
That is quite a stat line for any player, but for Beasley, he has not been able to reach those levels ever since. That doesn't mean he has been a bad player as he has proven to be a steady and consistent pass-rushing presence ever since he stepped foot on an NFL field. So why would you think Beasley would want to join the Bears?
Well, for starters, improving the pass rush should be one of the team's offseason priorities for Chicago, and Beasley would give the Bears a frightening second option across from Mack. That, in return, would also improve Mack's production as teams couldn't put all their attention on him anymore. With that being said, would Ryan Pace pay up for Beasley considering how he has said before that he is happy with Leonard Floyd?
However, the production of Floyd compared to Beasley is nowhere near the same as Floyd has logged just 18.5 sacks in 54 career games. Put that into contrast in what Beasley has done only in his last 54 games, and you will see him with 26 sacks, so adding Beasley as a pass-rushing option would be ideal for an already elite defense.
The biggest issue with Chicago bringing in Beasley is that they are tight against the Salary Cap, much like Atlanta, which is why the Falcons are not bringing him back. With under five million dollars in cap space remaining, it seems very difficult that the Bears would be able to offer Beasley anything, especially since picking up Floyd's fifth-year option.
Despite picking up Floyd's fifth-year option for 13.2 million, the Bears could resend that option without taking on any dead money. That clears 13 million in cap space, which would open enough cash for Beasley. Looking at the market, Beasley should be in line to make something around the deal Preston Smith signed last season, where he will be in the 14-16 million range.
The fit is there, and the money could be there as will should Chicago elect Beasley is indeed one of their targets this offseason. Chicago will still need to be creative this offseason to reposition themselves as contenders, but adding Beasley would undoubtedly help.
@AtlantaFalcons pic.twitter.com/0VSa9jh2FJ

— Vic Beasley (@VicBeasley3) February 3, 2020