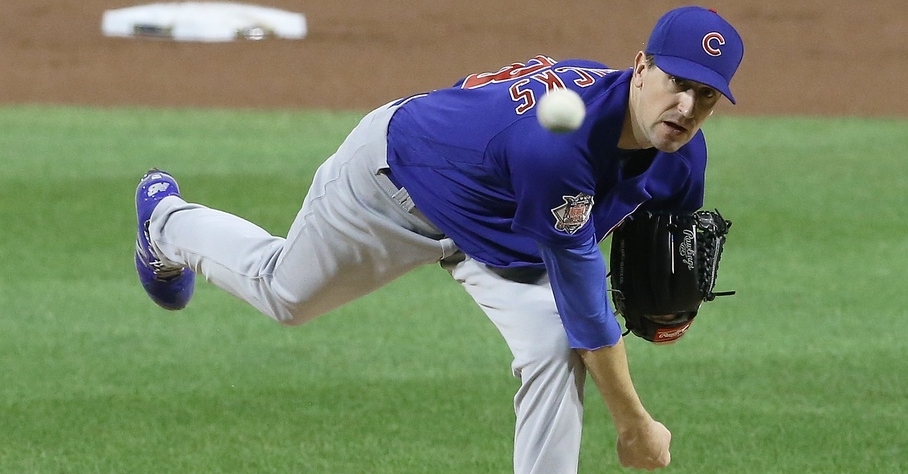 | | |
| --- | --- |
| 2021 Cubs Projections: Kyle Hendricks, Zach Davies, Jake Arrieta | |
---
| | | |
| --- | --- | --- |
| Sunday, March 14, 2021, 2:10 PM | | |
As we continue to roll along through the season projection series, we have come to the pitching side of things. Today will be the beginning of the starting pitcher's side of things, and it will be broken into three separate parts. The first part will be the front end of the rotation, followed by the back and fill-in starters.
When the Cubs lost four starters from last year's rotation, things looked bleak in terms of how this team was going to compete. Despite not adding any real studs or notable names, the Cubs did do an excellent job of adding solid pieces who have had success in the past. Hopefully, they can mesh and perform better than most expect them to.
If these guys can put together seasons close to or above their average trajectory, you are looking at a team capable of winning the NL Central once again. However, if things go south, look for this team to be in sell mode by July as they try to put the pieces back together for next season.
Kyle Hendricks: The unquestioned ace of the Cubs staff, Kyle Hendricks, has turned back the clock ever since arriving in 2014. In a league known for power and velocity, Hendricks goes back in time to draw comparisons to Greg Maddux and other pitchers in the 90's. Instead of power, Hendricks focuses on command and finesse as his average fastball is 87.4 MPH. Couple that with the rest of the staff, and you can see why they have the slowest average velocity in MLB at just 89.8 MPH.
What impresses me the most about Hendricks is that he continues to go about his daily business in a professional manner. Through seven professional seasons, Hendricks has gone 69-48 with an impressive 3.12 ERA. In other words, he averages to go 10-7 per season. Along with those successful numbers comes his command, where he has walked just 226 career hitters as opposes to nearly 900 strikeouts. He doesn't beat himself, and unless he is missing his spots, it is a long day for hitters.
Hendricks may not be your typical ace, but he is a durable pitcher who knows how to log innings. Take away the 2017 season in which he had an injured hand, and Hendricks made 30 plus starts in four of his six other seasons averaging 185 innings per season. That comes out to six innings per start. Hendricks keeps his pitch count low and has been ranked near the top in soft contact. He is the exact opposite of what this league has become, but it works for him.
Prediction: 32 starts, 13–8 record with a 2.97 ERA, 45 walks, 172 K's in 183 innings
Hendricks will be the ace of this staff and, despite the significant jump in games this season, will make 30 starts if healthy. For the most part, you know what to expect from him as he is a professional pitcher who knows how to pitch. However, there are times when he does miss his spots, and that is when he gets hurt. I expect great things from him again this season as he continues to fly under the radar once again.
Zach Davies: Coming off a CY Young runner-up finish, most people thought that Yu Darvish would enter 2021 as the Cubs ace. Instead, Darvish was dealt to San Diego in a surprise move in exchange for Zach Davies and four prospects. Davies is the key to this trade as the other four won't be ready for quite some time. A middle to back of the rotation arm for most of his career, Davies will have huge shoes to fill this season as he will take over the No.2 spot in the rotation for Darvish.
Like Hendricks in terms of pitching style, Davies is also not a hard thrower and uses finesse and a change of speeds to get guys out. His command has gotten better the past few seasons, but it still could be better. Across six seasons with both the Brewers and the Padres, Davies has pitched to a 50-36 mark with a 3.79 ERA.
That ERA is vastly inflated from his 4.77 ERA in 2017 as that was his only season over 4.00. Despite going 31-18 his first three seasons, Davies ERA hovered around 3.9 as he had trouble getting through the fifth inning. Take the last two seasons, and you have a guy who has now gone 17-11 while posting an ERA in the 3.43 range. That included a career-low 2.73 in 12 starts with the Padres last season.
Like Hendricks, Davies needs to hit his spots to be successful, but he has been able to get away with more mistakes recently than earlier in his career. If he continues to pitch as he has the past few seasons, you are looking at someone who could be a surprise this season.
Prediction: 29 starts, 12-10 record with 3.67 ERA, 57 Walks, 163 K's in 167 innings
Davies will make a ton of starts this season but asking him to get 30 will be tough. He has only passed that mark twice in his career, so I expect the Cubs to get as much as they can from him. Davies will be an above .500 pitcher from a record side of things, but not by much.
That doesn't mean he will have a bad season. Going from a pitcher's park in San Diego back to a hitter's park may take some adjustments. However, Davies has an excellent track record at Wrigley Field, so there is that. Either way, I look for him to have a decent enough season to earn an extension with this team possibly.
Jake Arrieta: Four years ago, Jake Arrieta was coming off the greatest run in Cubs history and one of the best runs in baseball. Across four years from 2014-2017, Arrieta went 64-29 with an ERA in the 2.68 range. That included a 22-7 1.77 ERA in 2015 en route to a Cy young Victory. That four-year run all happened with the Cubs as he has gone 110-79 in his career with a 3.79 ERA.
Upon leaving Chicago for Philadelphia in 2018, things haven't gone well for Arrieta as his command hasn't been as sharp, and injuries have begun to pile up. Take away his 10-11 season in 2018, where he posted a 3.96 ERA, and Arrieta went just 22-23 with a 4.62 ERA with the Phils. A far cry from what the Cubs saw.
When he was dominating hitters, Arrieta threw in the mid-'90s and used an assortment of sharp-breaking off-speed stuff to overpower hitters. Now, his velocity has dipped to 92, and the command of his secondary stuff isn't as sharp. Arrieta is an entirely different pitcher, and he hopes to rediscover some of the magic this season.
Prediction: 30 starts, 11-8 record with 3.58 ERA, 65 walks, 171 K's in 175 innings
No one asks Arrieta to do what he did in Chicago, and they shouldn't expect him to. He is a different pitcher this time around and is having to reinvent himself on the fly. Once a power arm looking to strike you out, Arrieta now resorts to a sinker hoping to get ground ball outs.
An intriguing signing, to say the least; Arrieta is also one of those guys who could surprise many people this season. I look for him to have a strong season and win some games and be durable. Arrieta could be in line for the comeback player of the year as he appears healthy and happy for the first time in years.