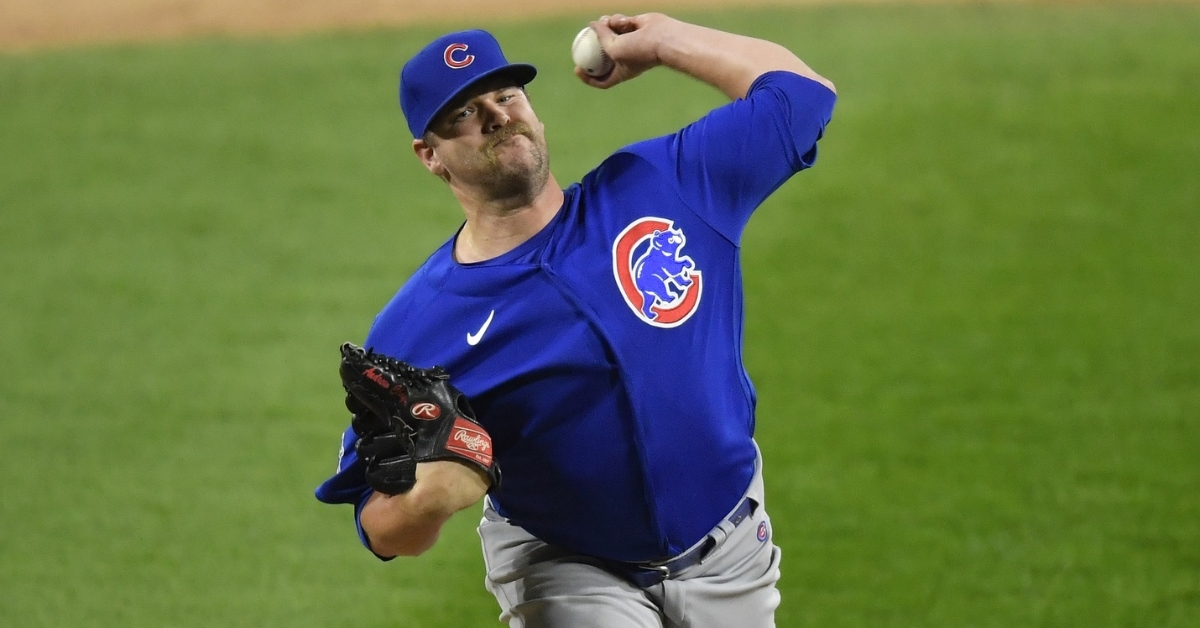 | | |
| --- | --- |
| 2021 Cubs Projections: Middle relief | |
---
| | | |
| --- | --- | --- |
| Wednesday, March 17, 2021, 9:12 AM | | |
While some of the bullpen pieces may be locks, the team's middle relief portion is far from a certainty. With several minor league signings, players without options, and injuries right now, the Cubs have many questions surrounding this area in the pen. This was one area that wasn't addressed this offseason, and now the Cubs need to figure out how to handle it come the regular season.
We know that both Andrew Chafin and Jason Adam appear to be on track to lock down two of the middle relief roles on this team. If there is one, the other spot is going to be the most significant question mark as Chicago has so many deserving arms based on spring performances. The problem will be picking the correct one with hopes of not losing anyone else in the process.
Andrew Chafin: Picked up as a trade deadline deal last season, Chafin was dealing with an injured finger at the time of the acquisition and didn't give the Cubs much in 2020. After a rough go of things in Arizona where he posted an 8.10 ERA in 11 games, Chafin made his Cubs debut in the final weeks of the season and showed them some promise. Over his four games, he posted a 3.00 ERA which is like his career mark.
Not only did the Cubs like what they saw in him, but they chose to bring him back on a one-year deal, signing him to a major league contract. Sure, his spring hasn't been impressive this year, but Chafin will be a massive piece in the Cubs pen. Unlike the other lefties Chicago has at their disposal, Chafin is strictly a lefty specialist, and that is what the Cubs will most likely use him for.
He is not someone who will give you multiple innings, but should a team have a run of lefthanded bats lined up late in the game, look for him to be deployed. If he can locate his fastball consistently, which he has had trouble doing this spring, it will set up his off-speed stuff. His breaking ball is his best pitch, which is why the lefties bat under 200 against him.
Prediction: 67 games, 3.56 ERA with 20 walks and 54 K
Chafin will be the most used arm in the pen this season, and there is a reason for that. He may not have the innings some people have, but you can see why he will be used so much when you look at the left-handed bats in the Cubs division. Chafin will have one primary job this season, and that will be to take care of lefties.
He will have to face some righties along the way, but if he neutralizes the lefties, he is being asked to face fans shouldn't expect too many long-term struggles. I am curious to see how things go this season now that he is healthy again after struggling the past two years. Hopefully, he can get back to his old self that attracted a lot of teams to him.
Jason Adam: Another one of those under the Cubs' radar signings last season was Jason Adam, who filled in nicely in the back of the pen last year. Coming off a 2019 season where he posted a 2.91 ERA with Toronto, the Cubs signed him to a one-year deal, hoping he could match that level of play. After dealing with a minor injury in camp and then bouncing between South Bend and Chicago the first few weeks of the season, Adam settled in and became a force in September.
Across his 13 games with Chicago, Adam posted a respectable 3.29 ERA, including a 2.25 in September. His eight walks to 21 punchouts were his best strikeout to walk ratio of his career as the command was impressive. Hoping for a longer run of success this season, the Cubs brought him back on a one-year deal, and right now, he appears to be one of the bullpen locks.
Armed with a 94 MPH heater, Adam is a unique pitcher using a high spin rate to get guys out. Yes, his fastball can be overpowering at times, but his curveball and changeup make the difference. With the high spin rate comes a late-breaking curveball that often freezes hitters. Pair that with a changeup that looks faster than it is, and he makes hitters look silly. Of all the arms in the pen this season, he could surprise the most.
Prediction: 54 games, 3.35 ERA with 6 holds, 3 saves, 27 walks, and 64K
Adam will be valuable to this team this season, especially in the later innings. I expect most of his work to come in the sixth or seventh inning but don't be shocked to see him get some opportunities in the eighth or ninth to give guys a day off.
His track record with Toronto wasn't excellent, but it was his 2019 that got everyone's attention. That is the guy the Cubs are paying for, and anything close to that will be a win for this team. Not only is Adam on a cheap deal, but he is young enough to be locked in a few more years if he continues to pitch well. Hopefully, he does just that this season.
Rex Brothers/Dan Winkler/Ryan Tepera/Dillon Maples/James Norwood: The final middle relief spot is up for grabs as five names stick out. Brothers Winkler, Tepera, Maples, and Norwood should all be in contention for that final spot once camp breaks. Tepera led the team in appearances last season but was a late minor league signing to camp and may not be ready in time.
Brothers and Norwood are signed to minor league deals, so sending them to AAA wouldn't be a surprise. Brothers may earn an early-season spot with Kyle Ryan still not healthy. He is a left-hander that the Cubs need more depth at.
Winkler is the only one in this group signed to a major league deal, so he may get the nod by default.
Maples is the biggest wild card in this group, given the situation he is in. Not only has he changed up his delivery to improve on command, but he is out of minor league options. That means unless the Cubs assign him to their roster on April 1, they are at risk of losing him for good. The potential for Maples has always been there, but the command is what holds him back. Expect these five to battle it out the rest of camp.