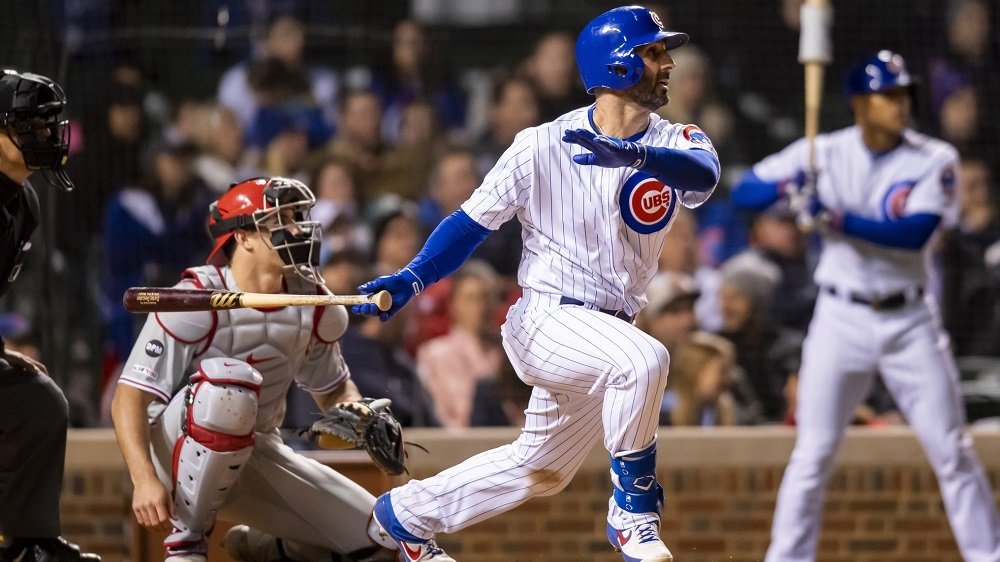 | | |
| --- | --- |
| Commentary: The 2.5 million dollar question | |
---
| | | |
| --- | --- | --- |
| Friday, November 1, 2019, 5:27 PM | | |
The headline is self-explanatory when it says the 2.5-million-dollar question. Some of you may know the question I am referring too. For those of you that don't, this question revolves around Cubs second basemen Daniel Descalso and whether he should be retained for the 2020 season.
Signed to a two year five million dollar deal last offseason, the 10-year veteran Descalso was expected to be the teams opening day second basemen with hopes of retaining that spot all year. Early on, it appeared like the right decision as Descalso came out guns-a-blazing with a .314 average the first two weeks of the season before finishing April with a .296 average two homers and 11 RBI's. The home runs and RBI's were not as surprising as his average as Descalso has been a career .237 hitter and more of a role player than anything.
Once the calendar flipped to May, something happened to Descalso both physically and mentally also. On the mental side of things, Descalso began to go into a month-long slump where his average plummeted to right around his career marks. That month-long slump turned into many months before it ended up being a season-ending slump in which his average fell all the way down to .173 to end the season with just two homers and 15 RBI's. If you do the math that is no homers and only four RBI's in the final five months of the season.
On the physical side of things, Descalso never seemed right after rolling his ankle in a May contest against the Brewers. After sitting out a few games hoping the pain would subside, he was never able to get back on track, eventually finding himself on the injured list for more than three months. Once Descalso began seeing time on the field once again, he spent two weeks with Iowa getting back into baseball shape before returning to the big-league club.
Once he returned to the lineup, Descalso never saw regular at-bats again, stepping to the plate less than 20 times for the remainder of the season. All in all, it is safe to say it was a lost season for Descalso in his first year with the Cubs. That brings the question up for this season, what do you do with him moving forward.
With him entering the second year of his two years five-million-dollar contract, Descalso is only making 2.5 million this season, which is not a massive dent in cap space. Around 1% to be exact, so keeping him on the roster wouldn't be an issue money-wise. Secondly, with the status of Ben Zobrist still up in the air regarding his future, the Cubs will be looking for at worst a backup second baseman who can fill in at other infield spots, and Descalso is also that guy.
He is a veteran and knows that at this stage in his career, he will not be a starter or star of any organization. He has embraced his role as a role player before and shouldn't have an issue doing that again should that be the direction the Cubs choose to go. The one value he brings to the table is his veteran leadership and presence in the clubhouse.
Not only was Descalso having the worst year of his career last season, but he never let it get to him. He remained a veteran leader in the clubhouse that the Cubs lacked for the past few seasons. With the Cubs looking for accountable and leadership moving forward, Descalso may hang around another season should the Cubs value his leadership over his overall production.
On the negative side of things, Descalso did have a horrendous season last year, and outside his first month, it was a waste even to have him in the lineup. His defense is below average, and his bat has never been consistent enough to make him an everyday starter. With that being the case and given that his contract is not that expensive, it wouldn't surprise me at all to see the Cubs release him before the 2020 season or sometime early on in 2020 should his bat not get back to a respectable level.
After all, the Cubs have Nico Hoerner waiting in the wings who is looking like a lock to open 2020 as the team's second baseman. The Cubs also have viable bench options in Ian Happ, David Bote, and potentially Robel Garcia, all of who can play second base and offer better defense and a better bat. However, the Cubs may take a similar approach to what they did with Russell and Baez in 2015, where Hoerner may start the season at AAA for three weeks or so before coming up. Should that be the direction the team goes, look for Descalso to be a viable option in April before the decision must be made.
At the time last season, I was neither for nor against the Descalso signing because I knew the type of player he was. I felt like it was more of a lateral move to get a lefty middle infield bat on the bench to replace what the Cubs were losing in Tommy La Stella. The only problem is, La Stella is a much better hitter and showed that with the Angles this season.
With changes bound to happen to this roster at every level, the offseason starts now for Chicago. Along with the Cubs' eight impending free agents and players with options contracts, expect to see Descalso's name brought up a lot in discussions this season as they will need to figure out what direction to go and if he fits in the 2020 season plans for the Cubs.

Upgrade Your Account
Unlock premium boards and exclusive features (e.g. ad-free) by upgrading your account today.
Upgrade Now