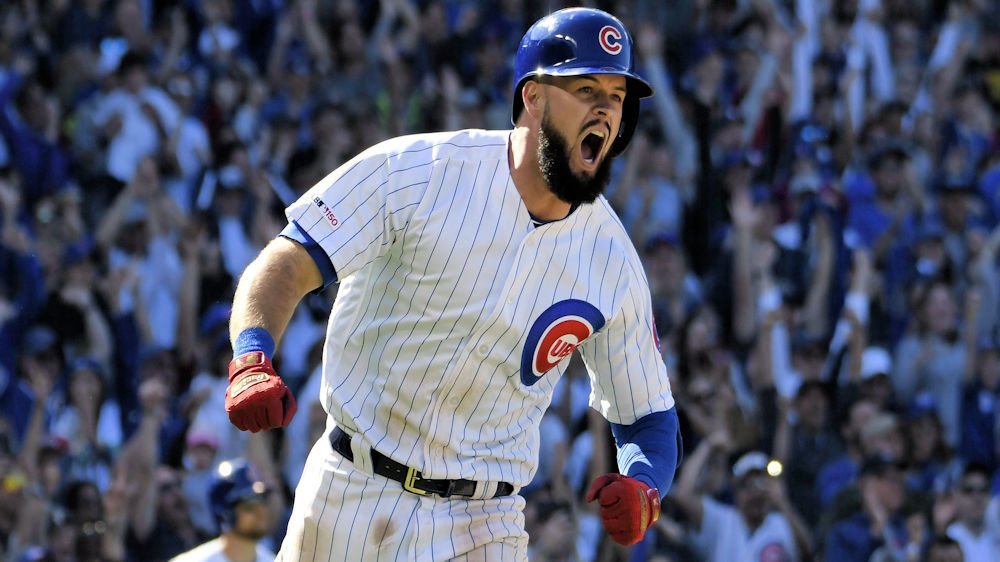 | | |
| --- | --- |
| 2020 Season Projections: Cubs second basemen | |
---
| | | |
| --- | --- | --- |
| Tuesday, March 24, 2020, 12:32 PM | | |
As we continue to travel across the infield for our season projections, we move to the most significant question mark in camp at the second base position. Right now, it looks like a two-person battle, but there are five players on this roster who I expect to see some time at second this season, especially early on. Two of those five may not be on the roster long term, but as it sits right now, this is how I look for the season projections to be.
David Bote: Quickly becoming a fan favorite, Bote has established himself as a very good utility man for the Cubs. However, he has primarily played second and third base in his first two seasons. He still has some flaws in his swing, especially with the high fastball. Still, given the way he has hit and played this spring, he is undoubtedly throwing his name in there as more than a utility man and potential opening day second baseman.
Bote is not a flashy player by any means, but he is what you call a grinder. He plays above-average defense, makes hard contact, and is a decent baserunner. He does all the little things you expect a veteran player to do, and he is not yet in his second full season.
Projection: 105 games .266 average, 13 homers, 48 RBIs.
If you have noticed a trend with Bote over his first two seasons, it has been that with more playing time, he will improve as a player. I look for that to continue as he will see even more playing time this season. With Nico Hoerner most likely heading to AAA to start the season, there is a good chance Bote is the opening day 2B for the Cubs. At the very worst, look for him to platoon at that position, starting mainly against lefties while giving Kris Bryant days off at third.
Daniel Descalso: Taken as a free agent last season, Descalso was the biggest disappointment on the team in what was his first of a two-year deal. Not only did he offer the Cubs nothing defensively, but outside of his first month of the season, Descalso hit a career-worst 192 and missed two months with an ankle injury. Fast forward to this spring, and nothing has changed as he continues to look lost and overmatched at the plate.
If Descalso weren't owed money this season, he would have been cut a long time ago, but the fact that the Cubs own him 2.5 million is the main reason why he is still on this team. However, there comes a time where you need to swallow your pride and eat a bad contract, which is what I expect the Cubs to do with him soon.
Projection: 41 games .230 average, two homers, 15 RBIs.
The numbers will be like last season, but the average will go up at least. I mean, how can it not given how poorly he hit a season ago. I look for him to be mainly a pinch hitter the first half of the season in which he may start a handful of times a month, depending on matchups. Come July; it wouldn't surprise me to see him off this roster entirely.
Robel Garcia: The Italian masher made quite an impression last season with his switch-hitting raw power that helped land him on the Major League roster. Even though his strikeout rate is higher than 50%, his 27-homer performance in the minors last season was something the Cubs couldn't pass up on, and he displayed that power by hitting five homers in 31 games with the Cubs last year.
So far this spring, Garcia hasn't played a ton, and he isn't hitting the way the Cubs expected him to hit. Coming into the season, Garcia knew his role on this team would most likely be as a utility player, but if he doesn't have a strong two weeks to close out the spring, he will end up in AAA to start the season.
Projection: 45 games .250 average, seven homers, 18 RBIs.
Much like Descalso, Garcia won't be on this roster all season as he will jump between AAA and the bigs depending on the situation. Still, with his power and switch-hitting ability, Garcia will get chances on the big-league roster as injuries will happen. Garcia plays multiple positions that could help him get into the lineup more by giving guys days off. If he can cut down on his strikeouts while still offering that power, then he may be a permanent fixture on this roster.
Jason Kipnis: Signed as one of their final minor league free agents, Kipnis was awarded an invite to Cubs camp with hopes of making the big-league roster out of camp. The local hometown kid was always known as a solid defender who put together some strong hitting seasons. Still, injuries have slowed him since the Indians' World Series run in 2016, especially the last two seasons.
If you look at his production this spring, you would say that he doesn't deserve a spot on the roster. What he has going for him is that he is a veteran, Descalso is playing much worse, Garcia hasn't done much, and Hoerner appears destined for AAA for at least one month. That means Kipnis could and should make this roster by default even if it is as the 26th man.
Let's say he does crack the opening day roster, and the question then comes into play what his role will be. Do I expect him to be the every day second baseman, no but look above at what I said about Bote. Kipnis and Bote will most likely platoon at second base the first month or so of the season with Kipnis starting against righties and Bote lefties. Given there are more righties than lefties Kipnis would be listed as the primary second baseman, but not full-time.
Projection: 98 games .262 average, seven homers, 37 RBIs.
As the season goes on, Kipnis will see less starts in the field, but will be counted on off the bench as a pinch hitter or defensive sub. That means he will need to be ready for whatever role he is given throughout the season. Once Hoerner gets the call, Kipnis will be the veteran presence that Zobrist was the past few years, which will be huge. I look for him to play with a chip on his shoulder early on this season, looking to prove he is healthy again.
Nico Hoerner: The million-dollar question surrounding spring camp is what to do with Hoerner. If you ask any Cubs fan, most of them will tell you to make him the opening day second baseman and let him run with the job. As much as I would agree with that, I am also on the side that says they should send him to AAA for a bit more seasoning even if it is just for a month.
Hoerner hasn't blown anyone this spring but is hitting much better as of late. In his brief stint in the bigs last season, Hoerner showed he could handle big-league pitching, but lacked the patience at the plate the Cubs were looking for. Listed as the top prospect in the system, Hoerner still has a lot to develop with his game, and I hope the Cubs make the right choice for him instead of rushing him up as they have done with past players.
Projection: 113 games .282 average, six homers, 39 RBIs, 13 steals.
There is no question that Hoerner will be in the bigs this season and will most likely take over as the teams every day second basemen, but that question remains to be seen when that happens. Keep in mind that Hoerner has only seen 72 games of minor league experience in two years and 21 games of MLB experience as injuries have cut his first two seasons short. That means he has less than 100 games of professional experience under his belt.
Teams are going to figure Hoerner out as they did after his first ten games last season. It is up to him to adjust quicker than he did last year. The big issue for him, once he was called up, was the patience he showed in the minors didn't translate over to the MLB roster. That is what he is hoping he can rediscover this season.
Ideally, he would be the best option out of spring to handle second base, but I just get the feeling that unless he rips the cover off the ball the last two weeks, he is destined for Iowa for at least the first month of the season. That could be a good thing for him as he could go down work on what he needs to work on and then get back to the MLB. Regardless of what happens, he is the long-term option at 2B, and the Cubs are set up for a while.