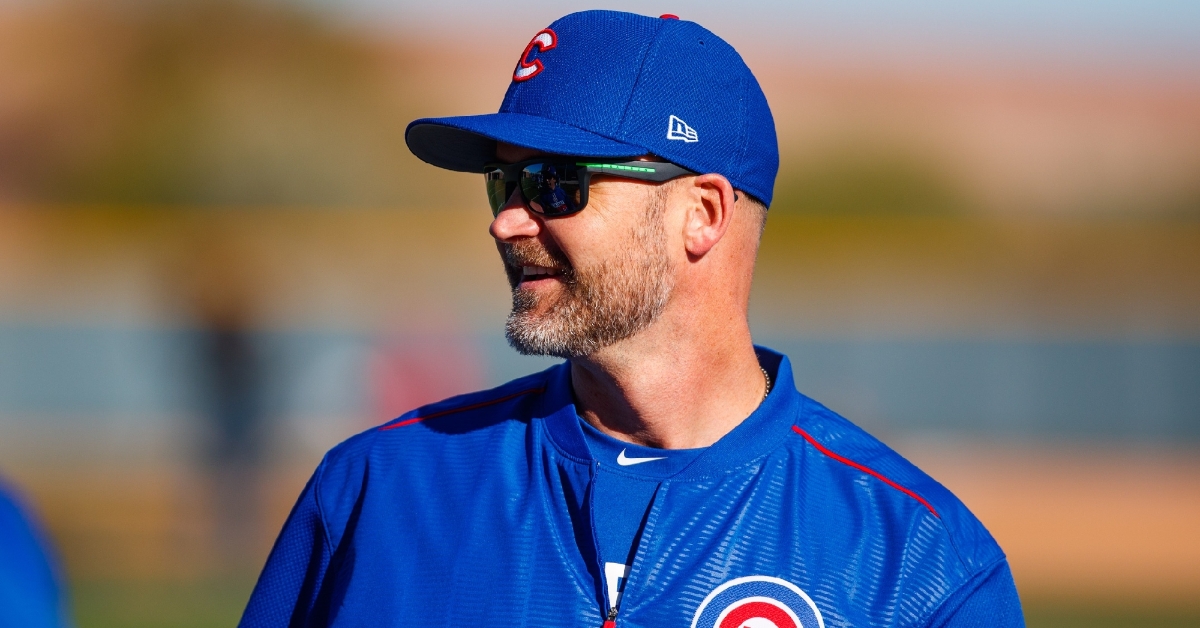 | | |
| --- | --- |
| Chicago Cubs Baseball is back! (Well Spring training) | |
---
| | | |
| --- | --- | --- |
| Tuesday, February 11, 2020, 11:02 AM | | |
As we sit and stare at the snow in Chicago, we have one thing to look forward to as the start of baseball begins on Tuesday. No, I don't mean the regular season, but we are officially at Springing Training as pitchers and catchers report.
That is the official first day of baseball in the minds of most as it symbolizes the end of an offseason with the work about to begin.
With David Ross now running the show, I expect things to be a lot different this Spring than what we have seen in the past. Under Joe Maddon, Spring was about having as much fun as possible while still getting the reps in needed to be ready for opening day. While having fun is essential, don't expect as much fun this time around with Ross.
Not only is he a hard-nosed personality type of person, but Ross has no trouble getting in your face and will keep it real with the team this season. His demand for accountability will come early in Spring this season, as he will expect 100% out of everyone from the first workout to the last day in Mesa. Yes, Ross knows how to have fun, but don't expect too much fun until the work is done.
Also, expect a more hands-on approach from Ross this season as he wants to be actively involved with every player this year. Being a player himself for 17 seasons, Ross has been around a long time and has had the privilege to play for many great managers. It was there where he learned many ways to go about doing things as each manager did things differently.
Ross then went to ESPN while holding an advisory role with the Cubs in the process for three seasons. It was during this time away from the game where Ross learned baseball from a different perspective and how to use numbers and technology to everyone's advantage. Look for him to use not only what he learned in the studio, but from his other coaches as well.
Ross wants everyone to be on the same page this season as they will be expected to play to a certain level. With that, comes the interaction that seemed to lack with Maddon as of late. Maddon was more of a laid-back manager that realistically counted on his players to adjust on their own. Ross is the complete opposite as I expect him to be around every position group this season, discussing one what he wants to be done and how to be successful.
Perhaps the most critical part of this first week of Spring will be working with the catchers themselves. Ross, a former catcher, was not only one of the best in terms of calling games but pitch framing as well. With the Cubs staff not only one of the oldest, but one of the slowest in terms of average velocity, calling a good game and being able to frame pitches will be emphasized much more this season than in the past.
For the most part, both Victor Caratini and Willson Contreras have done a great job calling games. The biggest issue they and in particular Contreras has had have been their ability to frame pitches. Not only does this take strikes away from their starters, but it also lengthens their starts putting them in more positions to allow a big inning. Look for Ross to work with both men early on in Spring as he will get them to be better framers this season.
Even though the offense isn't expected to arrive until late this week, look for a lot of them to show early this year just to be around Ross. The players loved him as a teammate, and from all indications, love him as a boss so far. It wouldn't shock me to see a bunch of this roster go to him and ask what they can be better at and work from there. That includes playing more small ball and being better with runners in scoring position.
Ross may not have been that good himself in those situations, but he does know the value of small ball and the importance to cash in with runners in scoring position. Ideally, that falls on the players, but Ross can inflict a ton of small ball into their heads, which could show on the field more frequently.
Going back to 2016, the two most irreplaceable pieces the Cubs had that season was Dexter Fowler and Ross himself. Fowler isn't coming back, so just having Ross again in an everyday role could be a huge key for this team. Not only did they respect him, but they saw him as a leader, and for some reason, the team was better when he was around. Let's see if that translates once again when he is calling the shots, this time as the manager.
Rizz?? pic.twitter.com/YOBMagJhdu

— Chicago Cubs (@Cubs) February 11, 2020
David Bote getting some early morning fielding practice in. #Cubs @DavidBote13 (Via @Cubs) pic.twitter.com/2Tc2rqoYd5

— Cubs Zone ™? (@CubsZone) February 11, 2020
In case you haven't checked in on @VictorCaratini... ?? (via @Cubs) pic.twitter.com/A0RqgP0nyO

— Cubs DNA (@CubsDna) February 10, 2020
Willson Contreras & Victor Caratini getting some work in the cages ???? (Via @Cubs) pic.twitter.com/D2TybHbft3

— Cubs Zone ™? (@CubsZone) February 10, 2020
Let's get to work. pic.twitter.com/cseDkRKJtz

— Chicago Cubs (@Cubs) February 10, 2020
J-Hey in the cages ???? (Via @Cubs) pic.twitter.com/1aYOqY3wfR

— Cubs Zone ™? (@CubsZone) February 11, 2020
As we wait for Ross, Epstein and Hoyer to hold court, here are a few shots from this morning's workout.

Alzolay, Chatwood, Kimbrel and Contreras. pic.twitter.com/hKnJyIAtkQ

— Jordan Bastian (@MLBastian) February 11, 2020
Ian Happ's impersonation of Kyle Schwarber when he takes the field is spot on! ????
??@Cubs Instagram pic.twitter.com/2hsvBG1FOj

— Crawly's Cubs Kingdom (@crawlyscubs) February 11, 2020
Pitchers and catchers report TODAY ???@Cubs // #WhereStoriesPlay pic.twitter.com/bCdwSmfJ2p

— Ryan Lane (@designs_rl) February 11, 2020