| | |
| --- | --- |
| Commentary: Can the Cubs trust Chatwood in the bullpen? | |
---
| | | |
| --- | --- | --- |
| Saturday, July 28, 2018, 2:35 PM | | |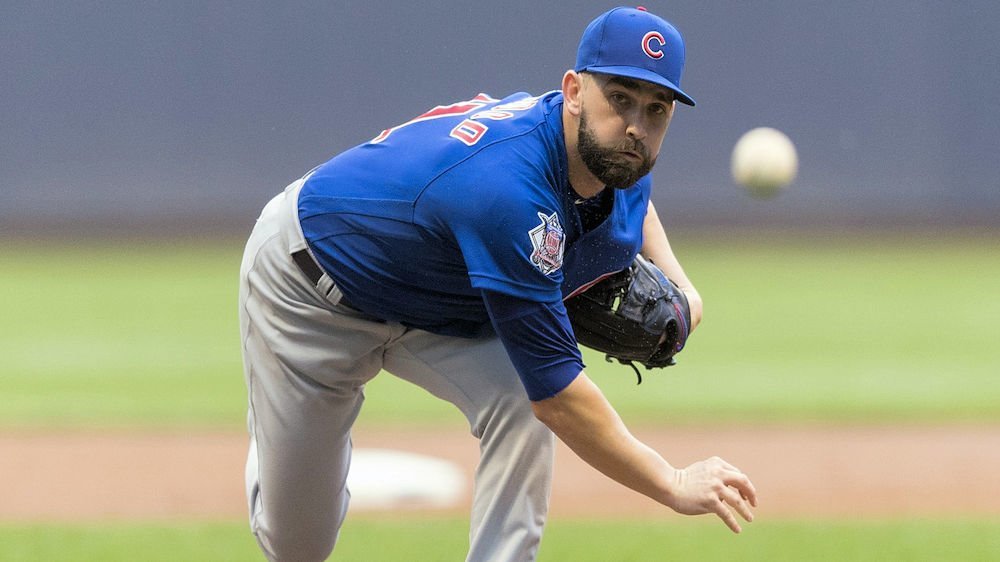 I recently speculated that with the less than expensive acquisitions of Jesse Chavez and Cole Hamels, that the Cubs may still be in the hunt for another arm, and those suspicions were confirmed this morning. When asked if Hamels was the last piece to the puzzle, Theo Epstein said: "Not necessarily" via Cubs.com.
"We're still out looking, and we'll be there until the last minute before the Deadline," he said. "There's only so many opportunities to get better, and it's harder after July 31."
In the meantime, another piece of the Cole Hamels puzzle has fallen into place. Joe Maddon announced today that Hamels will be replacing Tyler Chatwood in the rotation. Hamels is scheduled to make his Cubs debut Wednesday night in Pittsburgh. When asked about being removed from the rotation, Chatwood replied, "You never want that, but there's stuff I need to work out."
Back to the trades… I suppose a position player might be on the agenda with an injured Kris Bryant sitting out games on the DL, but I still can't help but think that the Cubs are gunning for another starter. There's no way to sugar-coat it, Mike Montgomery looked terrible against the Cards on Friday. In an almost Chatwood-like appearance, the Cardinals pummeled him inning after inning, on their way to a 5-2 victory. I didn't believe that Montgomery's start on Friday night would influence Maddon's decision though, as if it was based solely on merit, Montgomery still wins the starting role hands down.
Now that the Cubs' rotation is heavily left-handed, it only makes sense to seek another right-hander. I find it funny that just a month or so ago, many of you were telling me that I was unfair in my criticism of Chatwood and that he was only a couple of starts from improving. Well, here we are better than a month later, and all he's done is amassed more walks, hits, runs and wild pitches. Chatwood's ship has sailed, and you could see that in the body language of the position players as they watched helplessly while Chatwood loaded the bases.
So now Chatwood is in the bullpen. I'm not sure how to feel about this, as I don't see how he can be trusted in a tight spot when he couldn't be depended on a starter in a 0-0 ballgame. He struggled to get past three or four innings as a starter, so how is it expected that he'll be better in a couple of innings of relief? You certainly can't trust him in a bases loaded, one out situation, so short of a blowout, I'm not sure how he'll fit in or where he'll be used. Chatwood went on to say, "I'm not going to lie. I've been grinding all year. Hasn't been fun grinding that hard. ...Hopefully, it's quick. I feel like it's close. So we'll see how it goes."
Tyler also believes that he'll return to the rotation at some point: "I'm a confident guy. I feel I can help this team win [as a starter]."
As I previously wrote, the Cubs are (or at least were) looking at Baltimore right-hander, Kevin Gausman, but I've heard nothing more to indicate that any kind of an offer was being put together. Gausman has struggled this season (as has Hamels), but a change of scenery from the Orioles' stifling 30-74 record might do him, and the Cubs, well.
Then there's Zack Wheeler, the Mets' right-handed starter. Wheeler is reportedly being scouted by many teams, and at one point, the Cubs were one of those teams. With the dwindling hope that either Jacob deGrom or Noah Syndergaard will be dealt, Wheeler becomes the prized offering, should the Mets decide to sell off a pitcher. The problem is, Wheeler has started correcting the issues that once made him susceptible to being traded. He's somehow changed his mechanics and increased his fastball velocity from the low 90s to what's now the mid to upper 90 mph range.
Questions continue to swirl regarding Yu Darvish's return. Darvish threw 21 pitches in a bullpen session on Friday and is reportedly getting ready to try pitching a sim-game. Darvish reported tightness after throwing his 14th pitch Friday, but after making a mechanical change, he stated that pitches 15-21 were pain-free.
I find it ironic that Darvish felt better with the announcement of the Cole Hamels trade, and even more so that he started throwing bullpen sessions again with the arrival of Jesse Chavez. Darvish obviously might have some sort of sensitivity issues, as was indicated by his refusal to be in the dugout during the Cubs-Dodgers series last month, for fear that he'd be booed over his World Series loss last year. Look, if Hamels and Chavez can pick Darvish up mentally, that's great- the Cubs need him back in the rotation, but the Cubs can't be wheeling and dealing for players just so that Darvish can feel more comfortable.
It's no secret; I feel elated by the announcement of Cole Hamels preparing to don Cubbies blue. Chavez has been a blessing so far, and Chatwood is now out of the rotation. Time to get one more starter, return Montgomery to the pen, then watch the Cubs set sail for the playoffs.