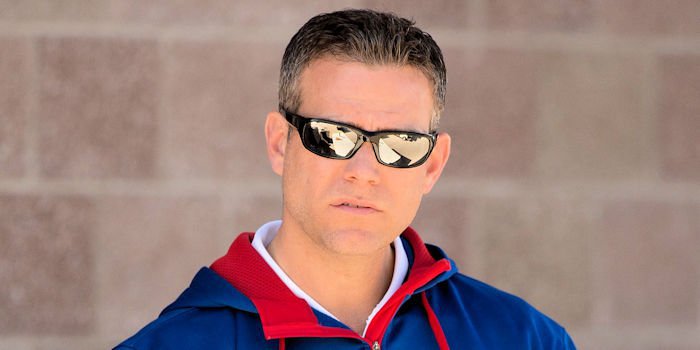 | | |
| --- | --- |
| Commentary: Grading the Cubs' Trade Season | |
---
| | | |
| --- | --- | --- |
| Thursday, August 1, 2019, 7:09 PM | | |
Few would disagree that Theo Epstein needed to swing for the fence, concerning trades, this time around. The Cubs have been some anomaly this season, hanging in or around first place for the first four months, yet having more holes than a slice of Swiss cheese.
The battle cry from the Cubs' front office, was that they needed to shore up the bullpen (specifically in the area of lefty-relievers, secure a second baseman with offensive power, and land a player who could serve as a solid leadoff man. For the most part, Epstein seems to have hit his marks.
The Cubs' trading season kicked off almost prematurely, as they managed to sign Craig Kimbrel to a 3-year/$43M deal (which includes a team option for 2022), back on June 7th. After an abbreviated spring training in Iowa, Kimbrel made his debut on June 27th (vs. Atlanta), earning his first save as a Cub, and breathing life into a bullpen scrambling for answers, as to just who needed to take the mound in the ninth.
Kimbrel's had a bit of a rocky start, partially due to limited preparation time in Iowa after an extended off-season, partly due to being used so infrequently. Dirty Craig's ERA is currently sitting at a monstrous 6.17 but expect that to come down as he gets back into top shape. His velocity is good (upper 90s) and his off-speed pitches still have a lot of movement- it's only a matter of time before he's back on top of his game.
The Cubs have recently expressed doubts about the return of Brandon Morrow, who after being signed to a 2-year/$21M deal, has made a total of only 35 appearances as a Cub, the last being on July 15, 2018. While there was some speculation that Morrow may return and find himself in a setup role for Kimbrel, it would appear as though his days as a Cub are over.
As for Brandon Morrow, GM Jed Hoyer summed up the Cubs' attitude as "fingers crossed" but not banking on his return to the bullpen.

— Patrick Mooney (@PJ_Mooney) July 31, 2019
On July 15th, the Cubs made their first official trade of 2019, sending Mike Montgomery to the Royals, in exchange for veteran catcher, Martin Maldonado. Montgomery had been subpar all season, with an ERA hovering around 5.70 and a rehab stint didn't help matters. Far beyond the failing fastball and the ineffective breaking balls, Montgomery had reportedly grown to be a bit of a cancer in the clubhouse, protesting his leadoff role and asking to be traded. As reported by several sources, the team became upset at his worsening attitude, causing Joe Maddon to send him home from the park one day.
While Maldonado probably wasn't the Cubs first choice of veteran backstops, the timing of the trade was perfect, as Willson Contreras was on the injured list due to a foot injury. While Maldonado's pitch framing is second to none, his age and weight have started to affect his ability to come out of his crouch, and his once strong arm has begun to fade. A slumping bat also hindered any value he had to Cubs, forcing Maddon to use him very sparingly until Contreras could return.
Expecting that new acquisitions were coming, Theo Epstein ordered Addison Russell to be demoted to Iowa on July 24th, and then on July 26th, the Cubs designated lefty, Tim Collins for assignment. Earlier that day, the Cubs had also bought veteran lefty-reliever, Derek Holland, from the Giants in a cash deal, constituting Theo's first shot at reinforcing the bullpen. Currently, on a 1-year/$7M deal, Holland is a rental, although the Cubs have a team option for 2020.
Maddon: "I think we did well. I think we did very well."

— Mark Gonzales (@MDGonzales) July 31, 2019
Holland's numbers haven't been fantastic this year- a 2-4 record, backed by a 5.79 ERA, but the Dutch Oven (as he likes to be called) has posted seven saves in his 33 appearances this season, and thus far, has been spotless as a Cub in two appearances (1.1 total innings pitched). Holland's worth in Chicago has yet to be determined, but he's undoubtedly an upgrade for a bullpen with such inconsistency.
Next, on July 30, Chicago acquired righty-reliever, David Phelps (and cash), from the Toronto Blue Jays, in exchange for right-handed prospect, Thomas Hatch.
Many feared that the Cubs would pillage their farm system during the trading, due in part to the diminished trade value of the current 25-man roster but dealing Hatch doesn't appear to be any significant loss. Now 4-10 on the season (Tennessee Smokies), Hatch has posted a 4-10 record in 21 starts, while pitching to an ERA of 4.59.
Phelps isn't without some baggage of his own, as he continues toward his comeback from Tommy John surgery, having missed all of 2018. Phelps made a total of 17 appearances for the Jays this year, posting a 3.63 ERA over 17.1 innings of work. Phelps' current deal is for 1-year/$2.5M, with the Cubs getting a $1M (graduated to as high as $7M) team option for him in 2020. Phelps has been more effective against lefties than righties this year, holding southpaws to a .217 average (.225 average against right-handers).
David Phelps on joining the Cubs pic.twitter.com/T1ylCMl0Gq

— Mark Gonzales (@MDGonzales) July 31, 2019
By noon on Wednesday- just four hours before the deadline, Theo managed to offload Maldonado to the Astros, taking Tony Kemp (recently DFA by Houston) in return. The move, (though loathed by several) appears to be decent, considering that the Cubs off-loaded Maldonado while gaining a utility man and saving about $600k in the process.
Maldonado to astros, tony kemp to cubs. Saves cubs $

— Jon Heyman (@JonHeyman) July 31, 2019
Kemp's offensive numbers aren't stellar- 227/.308/.417 (.725 OPS), in 186 plate appearances, but his playing time has been limited this year. Controllable through 2023, he's played 29 games at second base this year and 29 as a left-fielder, though he has experience throughout the entire outfield.
Kemp has a...

85.2 contact%
89.3 contact% in zone
6.7 swinging-strike%

The 2019 Cubs have a...

73.3 contact% (15th NL)
83 contact% in zone (14th)
12.4 swinging-strike% (15th)

— Jordan Bastian (@MLBastian) July 31, 2019
Maddon: "I think we did well. I think we did very well."

— Mark Gonzales (@MDGonzales) July 31, 2019
In a little bit of a surprise move, the Cubs sent righty, Carl Edwards and international pool money to San Diego, for a righty-reliever named Brad Wieck.
The #Cubs today acquired LHP Brad Wieck from the Padres for RHP Carl Edwards Jr. and international bonus money. pic.twitter.com/MB53s4Iltb

— Chicago Cubs (@Cubs) July 31, 2019
Not that Edwards hadn't been underperforming- in fact, so much so, that he was optioned to Iowa twice, but somehow, I thought he'd survive the trade gauntlet, as Chicago's management and ownership seemed to believe in him.
Wishing the best of luck to World Series Champion @CEdwardsSBS in San Diego.

Thank you for your contributions to the #Cubs organization. pic.twitter.com/iZVtlqTzZE

— Chicago Cubs (@Cubs) July 31, 2019
Cubs GM Jed Hoyer on trading Carl Edwards Jr: "There's no other way to say it — we felt like it was time for a change of scenery."

— Jordan Bastian (@MLBastian) July 31, 2019
With literally 40 seconds before the deadline, the Cubs announced that Theo finally made his most significant move of the trade season, when he obtained Tigers' slugger, Nick Castellanos (and cash considerations), in exchange for pitching prospects, Alex Lange and Paul Richan.
Castellanos deal finalized 40 seconds before 4pm Trade Deadline, according to Al Avila on @FOXSportsDet.

— Jason Beck (@beckjason) July 31, 2019
What the #Cubs are getting in Nicholas Castellanos: https://t.co/ErPzjas8XF pic.twitter.com/JJQxiz2Q8r

— Cubs Talk (@NBCSCubs) July 31, 2019
Source: Detroit kicked in roughly $500,000 to complete the Nick Castellanos deal, so the Cubs will take on about $2.5 million of his salary. With a chance for more October baseball at Wrigley Field, Tom Ricketts stretched the budget for baseball operations.

— Patrick Mooney (@PJ_Mooney) July 31, 2019
While many question Theo about dealing more from the farm-system (with the heavier emphasis on Lange), the benefits may outweigh the risks in this one.
A fair trade for a rental bat in Castellanos who helps fill a huge hole the Cubs have against LHP.

Richan and Lange are both BOR/swingman prospects.

Richan has good command of 2 solid, and 2 fringy pitches.

Lange has 2 solid secondaries, but FB life and command are concerns.

— Michael Ernst (@mj_ernst) July 31, 2019
While I believe that Castellanos will ultimately be called upon to fill the Cubs' leadoff needs, this isn't a job that he's ever done. Castellanos has a grand total of one at-bat as a leadoff man, but if it's any consolation, he did get a hit out of that plate appearance.
Where the Castellanos deal gets interesting, is that while his hitting is phenomenal, his fielding is below average, at best. The last I checked, the NL didn't employ designated hitters, so Castellanos is headed to right field.
Maddon: with Castellanos acquisition, Heyward likely to play more in CF

— Mark Gonzales (@MDGonzales) July 31, 2019
With the Cubs hurting offensively, Castellanos' bat is bound to see a ton of action, but this is bound to spell trouble for either Ian Happ, Albert Almora Jr. or both.
Happ hasn't exactly lit up the night with his offense, although he did tally the game-winning RBI on Wednesday. The "new and improved" version of Ian Happ's offense is what bought him a ride back to the Cubs, but in no way, shape or form will his offensive skills probably compete with those of Jason Heyward or Nick Castellanos.
Optioning Almora could be an option, but Almora has started hitting with more consistently lately, including a pinch-hit home run recently. Both he and Happ have the options remaining to spend time in Iowa, but I'm confident that only one will be leaving.
Happ may have been able to bump Robel Garcia back to Iowa, but with the Cubs wanting Kemp's speed, Happ's option to play second base may be limited, especially when you factor in playing time for David Bote, Tony Kemp, and Ben Zobrist if he returns.
Based on the overall gains, losses, and salary considerations, I think Theo did well this time around. While there may be some question marks surrounding Kemp's speed and the arms of Phelps and Wieck, I think at least some good is bound to come out of this. They stripped some dead weight from the 25 and 40-man rosters, gained some players with a level of controllability, and added a bonafide hitter. There are still some questions remaining as to how they create spots for these guys (and Cole Hamels, and Ben Zobrist, and…) but it won't be long until we have all the answers.
I'll have to give Theo a solid "B" on this set of deals. He didn't bankrupt the farm system, he signed a couple of quality guys, and he addressed the needs of the team (for the most part).
So in terms of holes to fill — whether you like the names or not — Cubs addressed all of them, RHP, LHP, bench bat and top of order bat as well. Now they just have to perform

— Jesse Rogers (@ESPNChiCubs) July 31, 2019

Tags: Cubs Baseball
,
Brandon Morrow
,
Mike Montgomery
,
Willson Contreras
,
Addison Russell
,
Thomas Hatch
,
Paul Richan
,
,
Albert Almora Jr
,
Jason Heyward
,
Robel Garcia
,
David Bote
,
Ben Zobrist
,
Cole Hamels
,
Joe Maddon
,
Theo Epstein