| | |
| --- | --- |
| Contreras crushing dingers, Bryant on extension with Cubs, Darvish healthy, and MLB notes | |
---
| | | |
| --- | --- | --- |
| Thursday, February 28, 2019, 8:52 AM | | |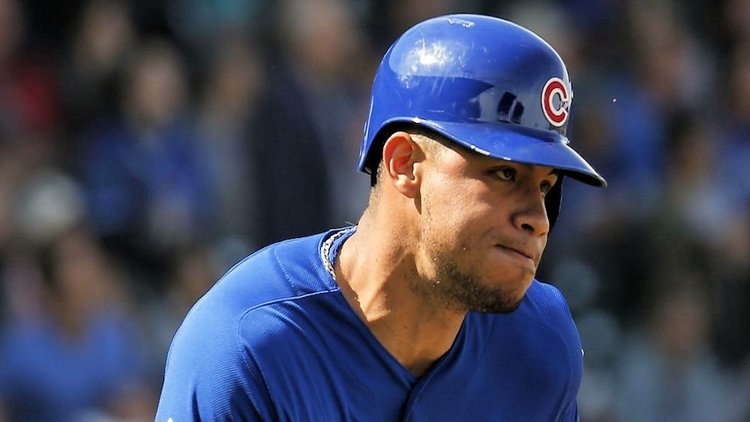 Cubs' Opening Day: 29 days. (March 28 @ Rangers)
Thursday: Athletics @ Cubs (3:05 PM EST)
Friday: Cubs @ D-Backs (3:05 PM EST)
Stranding runners: Although it's very early in the spring, the Cubs have already started to repeat a familiar trend; stranding baserunners. Through the Cubs first half-dozen games this spring, they've now missed out on a total of 78 opportunities to bring baserunners home.
Willson Contreras: For a guy who spent a ton of time hitting weak ground balls last year, Contreras is undoubtedly making a statement this spring. Today marked his second home run of the season, and this one was a mammoth that nearly exited the park.
.@WContreras40 launches his 2nd #SpringTraining home run. pic.twitter.com/P3nYdsDkxW

— Chicago Cubs (@Cubs) February 27, 2019
Kris Bryant: In the aftermath of Nolan Arenado's eight-year/$260M extension, KB says that he's open to a long-term contract extension with the Cubs, but the team has not yet approached the subject with him this year. Bryant told reporters, "Everybody has money. We're not stupid. We see the prices of the tickets, memorabilia, everything – TV deals. There's a lot of money in this game."
Yu Darvish: I must admit, I like what I see out of Yu Darvish so far. While he had some control issues yesterday, he got through his start without pain, and he was showing speeds in the 90s (high at 96). Even better, I see enormous changes in the way he carries himself, how he deals with the media, and in his overall demeanor. Dropping the interpreter was a courageous step for Darvish, and he's doing well, so far, with giving his interviews in English. Darvish even managed to sneak in a joke yesterday, when he quipped about losing his interpreter. "I think interpreter's expensive for the organization, right?"
Ian Happ: According to Cubs' Talk, Ian Happ says he believes a player should "earn his stripes," and that he came to camp on a mission. Happ's already been vocal this winter about the amount of playing time that he's received, and Joe Maddon has responded. Maddon says that Happ will play more this season, whether at second or via the outfield, but even the promise of more playing time hasn't helped Happ's offense. Happ has already fallen into a slump this spring, as he is now 0 for his first eight at-bats, and the only man from last year's 25-man roster (non-pitcher) without a hit this year.
Pssst: - Hey Brewers- I know it's spring, and I know it's early, but you're already 2.5 games behind the Cubs and the preseason isn't even a week old. Get used to it.
BOX SCORE: Tuesday- CUBS-9 TEX-5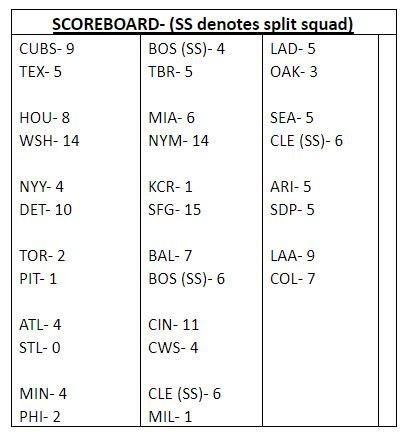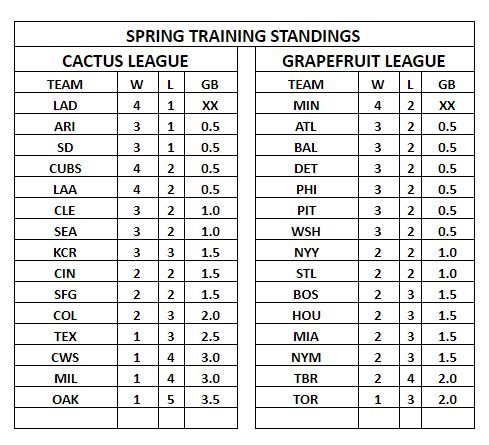 Thursday's Games (all times Eastern): 1:05 PM: WSH @ BOS, DET @ ATL, PIT @ NYY, MIA @ HOU, NYM @ STL, BAL @ PHI (SS). 1:07 PM: PHI (SS) @ TOR. 3:05 PM: OAK @ CUBS, MIL (SS) @ CIN, SDP @ KCR, COL @ LAD, SFG @ MIL (SS), TEX @ LAA, CWS @ SEA, CLE @ ARI, MIN @ TBR.
Friday's Games (all times Eastern): 105 PM: TBR @ BAL (SS), NYM @ DET, TOR (SS) @ ATL, BOS @ MIN, PIT (SS) @ PHI, WSH @ MIA, PIT (SS) @ TOR(SS), 3:05 PM: CUBS @ ARI, CWS @ TEX, COL @ OAK, KCR @ LAA, MIL @ SEA. 6: 05 PM: STL @ HOU. 6:35 PM: BAL (SS) @ NYY. 8:05 PM: LAD (SS) @ CLE, SDP @ LAD (SS). 9:05 PM: CIN @ SFG.
Latest news from around MLB:
Pitch Clock: According to Jeff Passan, "Major League Baseball has offered to eliminate the implementation of a pitch clock until at least 2022 as part of a wide-ranging proposal delivered today to the MLB Players Association."
Cards: The Cardinals have added free-agent backstop, Matt Wieters, on a minor league deal.
Red Sox: Sad news from the Red Sox camp today, as the team announced that the adopted brother of catcher, Blake Swihart, 23-year-old Romell Jordan, passed away suddenly today. We at CubsHQ would like to send our condolences to Mr. Swihart, his family, and friends.