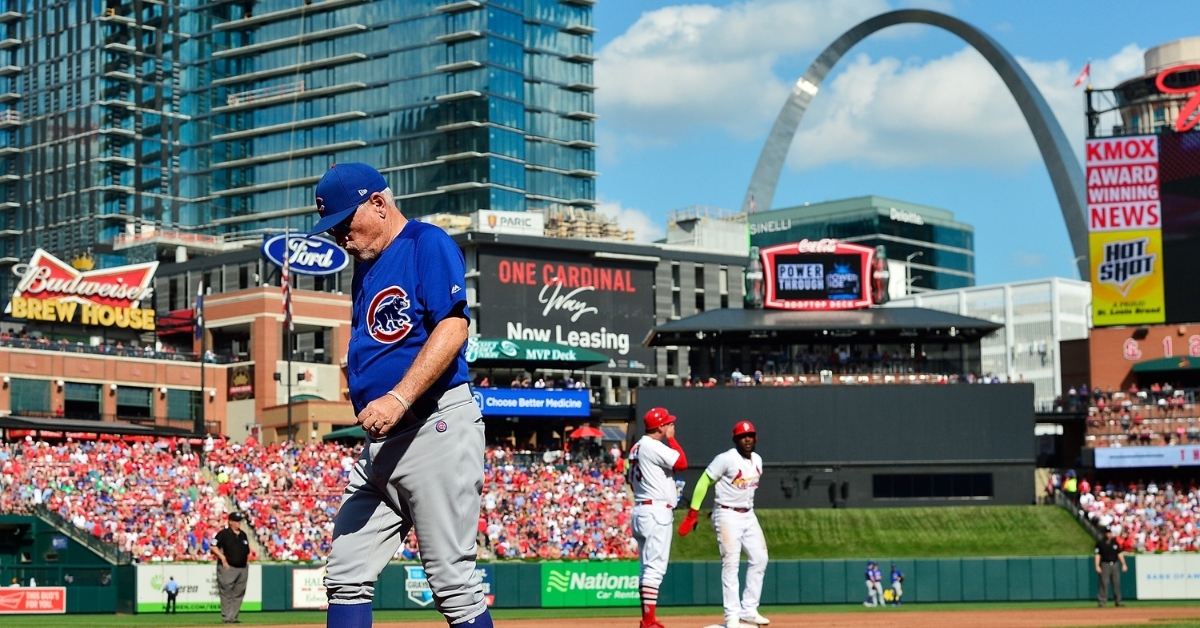 | | |
| --- | --- |
| Cubs News and Notes: The Maddon Era is over, Theo and players react, Cardinals win, more | |
---
| | | |
| --- | --- | --- |
| Sunday, September 29, 2019, 7:55 PM | | |
Next Game: Spring Training: February 22, 2020: Oakland vs Cubs (Sloan Park); Game time: 2:05 PM Central. REGULAR SEASON: Thursday, March 26, 2020: Cubs vs Brewers (Miller Park); Game time: 1:10 PM Central.
NOTE: Cubs News and Notes (with a large, side order of Hot Stove news) will continue throughout the off-season and winter, though the format and posting time will change, depending on content. Beginning tomorrow morning, check out my end of the year project entitled, Maybe Next Year, which will cover what went wrong for the Cubs in 2019, and how I envision them proceeding.
Lots of changes coming to the Cubs next year- some expected, some unexpected and some not so pleasant, but after spending nearly a quarter-billion this year, Tom Ricketts and Theo Epstein aren't settling for a third-place finish in 2020.
Sunday's Game Recap:
No matter what the results of the Cubs' final game, the biggest news of the day will be the official announcement that Joe Maddon will no longer serve as the Cubs' manager after today.
The Cubs will have a new manager in 2020 https://t.co/HdLgozNBn0 pic.twitter.com/rF0XML75AN

— NBC Sports Chicago (@NBCSChicago) September 29, 2019
The Cardinals, now in an all-out frenzy, hosted the Cubs this afternoon for what may or may not be their final regular-season game of 2019. The Cubs have stunned St. Louis, using a "B-Team" to take the first two games of the final three-game set (which may say a lot as to how Theo Epstein proceeds this winter), and if it hadn't been for the Rockies avalanching the Brewers hot streak, the Cards would already be on the outside, looking in as a wild card team.
If the Cubs were to win today and the Rockies lose to Milwaukee, the Cards and Brewers will be playing a Game-163 tomorrow. That speaks volumes for Craig Counsell and his club, who've fought like hell in September for the last two years. I think you'll ultimately see a Dodgers/Astros World Series, but for now, the NL Central needs to be decided.
Joe Maddon sent a surprise starter to the mound for the finale- left-hander, Derek Holland, while the Cardinals sent right-hander, Jack Flaherty. Holland has been a starter for his entire career, moving to the bullpen this year, when Bruce Bochy (Giants) wanted someone more effective, but Holland has pitched a complete game in 2019. Flaherty was supposed to be held in reserve for the first game of what the Cards thought would be the NLDS, but with the Cubs battling as hard as they have, Mike Shildt was left with little choice, but to use his ace.
The Cubs' dugout was an interesting scene. Maddon was managing, but Mark Loretta held the lineup card. Is this some sort of foreboding? Maybe, but I still somehow feel Rossy will be involved- either as the manager or as Loretta's bench coach.
This was a blowout from the get-go- a sad ending to Maddon's tenure with the Cubs. With one swing of the bat in the bottom of the second, Dexter Fowler would collect his 500th (and 501st) career RBIs with a two-run homer- and by the fourth, the Cards led 9-0.
The Cards would go on to win by a final of 9-0, becoming the 2019 NL Central Champs. Congrats to St. Louis- I may not like them, but I give credit where due. The Brewers will now play the Nats in a wild card game.
The highlight of the Cubs' afternoon was undoubtedly Ben Zobrist pitching the eighth- something he'd never done in all of his MLB seasons. Ben now owns a 0.00 ERA, while owning one strikeout against Yadier Molina. I think Yadi may have helped Ben out a little, as he flashed a wide smile after being rung up.
Zobrist K'ing Yadi. ?? pic.twitter.com/u3EeyjKZXK

— Rob Friedman (@PitchingNinja) September 29, 2019
The Maddon Era is over, but hey- we had a good run.
Cheers to a great five seasons ?? pic.twitter.com/L3HdUllhJj

— NBC Sports Chicago (@NBCSChicago) September 29, 2019
Milwaukee and Colorado were entering the bottom of the eleventh, tied 3-3, as of the time of this writing.
CUBS NEWS AND NOTES
Thank you for everything, Joe. pic.twitter.com/nl6av8Xkhi

— Chicago Cubs (@Cubs) September 29, 2019
The final meeting: At 11:25 AM (Central), Joe Maddon, Theo Epstein and Jed Hoyer all walked together into the Cubs' clubhouse, for what may be their final meeting.
Quick shot of the three walking in. pic.twitter.com/hJEDzZsmhx

— Steve Scheuer (@Scheuer_Thing) September 29, 2019
"It's a good moment for everybody." —Joe Maddon pic.twitter.com/bRAENyFJ89

— Jordan Bastian (@MLBastian) September 29, 2019
I'm honestly shocked at the number of people who believed- until the minute the announcement was made- that Joe Maddon would continue. I knew in my head this was for the best, but now that the verdict has been read, like many of you, I find myself a little saddened. Joe has done wonders for this team, and I don't need to review his resume- you all know what he did.
The Joe Maddon era is over in Chicago https://t.co/LBgao0jytr pic.twitter.com/5vDOLCvYt7

— Cubs Talk (@NBCSCubs) September 29, 2019
I want to think the conversation between Joe and Theo was civil, and went something like this: "Joe, you're the best. We'll be forever grateful, but we feel it's time to move in a different direction." Or- if it was Maddon's choice to leave- "Theo, it's been a fun ride, but my work here is done. Best of luck to you and a team that I love, but I'm out."
Theo and Joe chatted over wine last night. They both agreed that "change is good," as Maddon just said. The Cubs will have a new manager in 2020.

— Jordan Bastian (@MLBastian) September 29, 2019
Joe Maddon: "I'll be eternally attached." Theo: "We've been working toward this point for a while." Maddon: "There's no tear shed."
While it has long been expected that Joe Maddon would not return to the Cubs, it's still one of those moves that shows the frailty of this business, this job. He won a World Series with the Chicago Cubs. Again: He won a championship with the Cubs.

Three years later, he is out.

— Jeff Passan (@JeffPassan) September 29, 2019
More Maddon: "Anybody that wants to denigrate anything that we've done over the last five years, come see me at some point. There's nothing to denigrate. There's nothing to bemoan. There's nothing to lament. It's been fabulous. Anybody would take that five-year run."
Maddon to Cubs' fans: "I love 'em. Thanks for letting me in. I was an outsider walking in. You guys have been suffering for a long time. I don't feel the suffering man, you got one championship in five years, that's not so bad. When I meet them on the street, they've been awesome. I walk downtown a lot, and folks come up, and they'll just stop and have a conversation. They don't want autographs, and they don't want pictures, they just wanna talk. They shake your hand, say, "Thank you," and then they move on. That's the essence of the pure Cubs fan. That's who they are. They're aware of their history and tradition. And they're very complimentary and kind."
Willson & Joe have broken my heart. pic.twitter.com/Gd2P9FmKjf

— Cubs Zone ™? (@CubsZone) September 29, 2019
Theo on Joe: Here's Theo, following Joe's statement.
Theo on Maddon pic.twitter.com/uXnVbCJCm2

— Mark Gonzales (@MDGonzales) September 29, 2019
Javy Báez: Javier Báez also shared his feelings on Joe Maddon:
Because of Maddon, Javy was allowed to be Javy. pic.twitter.com/LKmE40bLir

— Jordan Bastian (@MLBastian) September 29, 2019
Báez added, "I grew up here, and hopefully, I stay here my whole career."
Zo on Joe: Here's Big-Ben's response to Joe being released:
Zobrist on Maddon's legacy pic.twitter.com/D7CFX7x35l

— Mark Gonzales (@MDGonzales) September 29, 2019
More Zo: "The process was the same; the results weren't there." Zo also says that he thought Maddon had "adjusted well" over the years and that the 15-minute meeting that Joe had with the Cubs was positive.
Rizzo said Maddon told Cubs players the other night to let them know this was coming.

— Tony Andracki (@TonyAndracki23) September 29, 2019
Anthony Rizzo: Rizzo's reaction to Joe's departure, "I love him like a dad."
"I love him like a dad." —Rizzo, on Maddon pic.twitter.com/u4B1TF2QO1

— Jordan Bastian (@MLBastian) September 29, 2019
Rizzo: "it's on all of us (players). We didn't get it done."

— Mark Gonzales (@MDGonzales) September 29, 2019
Rizzo on David Ross: "He's my biggest mentor in this game, outside of Joe and (Eric) Hinske."
Kintzler on his finger wag: Nothing is more condescending than when your opponent in baseball wags a finger at you, as if to say, "No, no, no." Javier Báez does it best, but Brandon Kintzler did a little finger-wagging of his own on Saturday night. When asked for an explanation, Salt said, "I just liked that they weren't gonna celebrate with us tonight, so they gotta wait another day. It's all in competitive nature, especially with benches clearing and all that stuff and the fact that Yadi is up. It just makes it a little more fun."
Lester quotes: "Maddon does things the right way. He makes it fun," "We didn't play well, and that's what it comes down to." "Whoever the new guy is, we'll learn his quirks." "Joe should be revered as a legend here."
Lester on Maddon pic.twitter.com/dVMLJzCFKd

— Mark Gonzales (@MDGonzales) September 29, 2019
Lester on Ross' candidacy: " I talk to him as my friend, not as my boss."

— Mark Gonzales (@MDGonzales) September 29, 2019
More firings ahead? Theo Epstein is due to meet with the Cubs' coaching staff on Tuesday. Presumably, this will be to discuss the end of Joe Maddon's service to the Cubs, but at the rate the Cubs have changed pitching, hitting and bench coaches, I certainly wouldn't feel comfortable at this point. Granted, the new manager should have a ton of say in the matter, but who knows when the new boss will be announced?
Castellanos on his future: Cubs' right fielder, Nicholas Castellanos, loves being a Cub and it certainly sounds as though he'd like to be back (spoiler alert: I think he'll be re-signed). "I'm going into it not really expecting anything," Castellanos said. "What I've learned is, when I go in expecting something or really wanting something, then there's room for disappointment or a letdown or whatever. So, I'm just going in with an open mind and seeing what comes my way."
When asked if he'd like to be back with Cubs, Nick Castellanos replied: "What do you think?"

Said the past two months with Chicago taught him a lot about himself. Raved about Cubs fans and the talent in the room. Felt the heightened pressure/expectations brought best out of him.

— Jordan Bastian (@MLBastian) September 28, 2019
Cole Hamels: "Trust me, I know I'm healthy. I feel amazing, but this is my first time going into free agency. I don't want to put that in the back of my teams' heads of how I finished. I think I'm capable of what I was able to do in the first half. That's who I am."
Kris Bryant: "It's emotional at the end of each year," Cubs' third baseman Kris Bryant said. "You know the team is never going to be the exact same the next year. Guys are going to go their own way. Guys are going to retire. And that sucks. You form bonds with these guys. Every single day of the year, you see them. Sometimes you don't want to see them.
After laughing at his last remark, KB went on to say, "You just remember all those good times, times that you're never going to get back. That's kind of how I'm looking at everything with Joe or Zo or guys that might be moving on. Yeah, it sucks to think about, but that's just the nature of this game."
Hurdle fired on last day of the season: Before yesterday's Pirates/Reds game, the Pirates fired manager, Clint hurdle, just two days after Hurdle said he'd be back next year. Hurdle was given the option but declined to manage the final game of the season.
Baseball Quotes: "Baseball players are smarter than football players. How often do you see a baseball team penalized for too many men on the field?" -Jim Bouton
I don't want to play golf. When I hit a ball, I want someone else to go chase it. -Rogers Hornsby pic.twitter.com/eDwfhmmVJe

— Baseball Quotes (@BaseballQuotes1) September 24, 2019
Cubs' Birthdays: Celebrating yesterday, were ex-Cubs Craig Lefferts (62) and posthumously, Bob Anderson (84) and Harry Steinfeldt (142).
THE FINAL DAY:
(Wins in green, losses in red)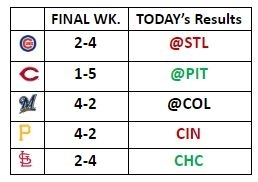 Tags: Cubs Baseball
,
Ben Zobrist
,
Dexter Fowler
,
Anthony Rizzo
,
David Ross
,
Brandon Kintzler
,
Cole Hamels
,
,
Joe Maddon
,
Theo Epstein
,
Mark Loretta