| | |
| --- | --- |
| Cubs Odds and Ends: Adbert Alzolay thoughts, Is this it for the Cubs in 2019? | |
---
| | | |
| --- | --- | --- |
| Monday, September 2, 2019, 8:12 PM | | |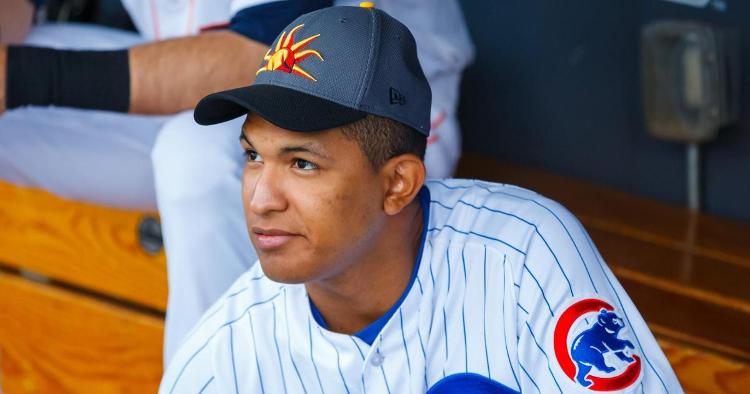 Earlier today, the Cubs recalled right-hander Adbert Alzolay from Iowa; this brings the Cubs' roster to 34. At this point, no corresponding move has been made by Chicago, and with the roster expansions, I wouldn't think that a demotion for anyone is likely.
The choice to promote Alzolay- at least in my opinion- is questionable. Alzolay's had just three appearances, but while the sample size is small- only 11 innings total- his 7.15 ERA may not bode well for the Cubs who continue to struggle with scoring runs. At this time of the year, hopeful minor-leaguers will always find opportunities to hurl a few pitches at the major league level, but Maddon needs to be focusing on guys with at least somewhat established track records.
Beyond the high ERA, the choice to promote Alzolay is somewhat concerning on other levels. First, if the Cubs wanted an extra righty- they should have recalled Dillon Maples or Dakota Mekkes. In 11 appearances with Chicago this season (9.1 innings pitched), Maples ERA is high (6.75), but those runs have all come in his last three outings (two vs Cincinnati, one vs the Pirates). Prior to that, Maples last eight appearances (6.2 innings pitched) netted zero earned runs with 11 strikeouts.
While not quite as glamorous and certainly inexperienced, Mekkes has pitched to a 5.29 ERA this season with Iowa, but this kid's breaking stuff is insane. As I watched him through spring training this year, I had little doubt that he'd get a call-up, but he's been passed over time and time again.
Pushing the elevated ERA away for just a minute, the bigger issue for me, regarding Alzolay's call-up, relates more to concerns that I have about Yu Darvish and his forearm tightness. I found the timing odd concerning Alzolay's recall, as he was passed over on September first, but got promoted with 24 hours of the time that Darvish became a scratch on Sunday. I can't help but wonder if the Cubs are outwardly downplaying Darvish's injury, while quietly grabbing themselves a backup starter from Iowa in the process.
Let's hope Darvish isn't derailed for the season, but even if he is, I still would have handed Tyler Chatwood the ball for any and all of Darvish's starts. Chatwood gets himself in and out of jams faster than anyone I can name, but he does make it exciting (little sarcasm there). Chatwood is not only exponentially better than what he was last year (stats be damned), but he's experienced- and there's no substitute for that.
Why Maddon hasn't used Chatwood more throughout the season (only five starts and 28 relief appearances this year, for 67.1 innings of work) boggles my mind. Then, to make matters worse, Maddon uses him in relief, then taps him for a spot-start, knowing that his potential is going to be limited.
Is this it for the Cubs in 2019?
I woke up this morning to start my column and realized the Cubs only have a total of eight (regular season) series left to play this year- including these two games with the Mariners.
Something's sort of different about this season, though. Unlike in recent years past, when September marked the final push and preparation for the playoffs, this year feels like the Cubs are outsiders, looking in. After a disastrous pair of homestands (Washington and Milwaukee), the Cubs now find themselves 3.0 games back, trying to chase a St. Louis team who's every bit as hot as what the Cubs should have been.
"Easy second-half schedule for Chicago," they said, having no clue, that at this point, the Cubs would be 26-20 (.565) since the break, with a second-half road record of 10-12 (.455). The Cubs, despite a terrible start in 2019, have amassed (to date) a second half winning percentage that's 43 points better than the first half (.565 vs .522), but they seem to be fading again. Furthermore, while the Cubs were 26-25 in one run games last year, they're now 19-20 in those games, Joe Maddon is no stranger to this phenomenon of needing late season surges.
"I've been here before. I understand the situation. You're not going to hear me cry about it. We just have to come back and take care of our own business starting again (Monday) and moving it forward. We can win four in a row just as quickly as they can lose four in a row. I've been there, done that. Right now, they're enjoying this moment, and we're not. But moments change and the power of 24 hours is incredibly good sometimes." -Joe Maddon
Maddon brought the Rays back from a 2-½ game deficit in early September of 2010 and ended up winning the division. On September 6, 2011, Maddon's Rays eight games back, and appeared to be missing their shot at a playoff bid, yet they still made it in. Then, in 2017, Maddon and the Cubs found new life, making it to the NLCS.
Despite Maddon's past accomplishments, I'll continue to beat my fists on my desk, proclaiming once again, that this year is different.
It's never easy to repeat a World Series win, especially when you've just won your first one since Theodore Roosevelt was president, but the Cubs have (like It or not), been on the decline since 2016. They dropped the NLCS in '17, dropped out of the playoff scene in '18, and now find themselves competing for dear life, in hopes that they can at least secure a wildcard spot, if not the division.
I realize that Joe Maddon is now forced to put lineups together based on injuries to Anthony Rizzo, Willson Contreras and others, but lately, some of these lineup cards look like Hail-Marys, and for the most part, they haven't worked. Something is radically wrong when you have to use pinch-hitting for your #5 and #6 men (I'm referring to Albert Almora Jr. and Jonathan Lucroy on Sunday's lineup card), and it's even worse when you're forced to rely on a slumping Jason Heyward for the pinch-hitter role.
"Our offense broke somewhere along the lines." -Theo Epstein (from his 2018 exit press-conference)
There was a lot of (empty) rhetoric surrounding that quote, as Theo vowed to fix the broken bats, but little was done, unless you count optioning Ian Happ to Iowa in March, then optioning David Bote and Almora to Iowa in late-August. Of course, I won't forget Nicholas Castellanos, or what he's done for the Cubs in a month's time, but that was the sort of (perfect) move that was made about five months too late.
It's not just about the offense, though the last two losses have fallen squarely on their shoulders. This is about a team with the talent and capacity to be leading this division by several games, yet they're in second place and losing ground. It's about a failing, dysfunctional bullpen which shows only intermittent signs of life, while an aging rotation has become reliant on the number four and five starters. This isn't right.
While I admire those of you who have steadfastly denied that this is, indeed, the last hurrah for Joe Maddon and the Cubs, I think it's time to realize that the ride might be coming to an end.
"Let's just win the World Series and see how that all plays out." -Joe Maddon (discussing his contract status during the winter meetings)
The Cubs will undoubtedly do their best to make a last-minute surge, but with just 26 games remaining, it may all be a little too little, a little too late. A wildcard spot isn't out of the question, as right now, the Cubs have that locked up with a 2.5 game lead over Philly, followed by Milwaukee, who's behind 3.0 games.
So, what do the Cubs have left in 2019?
(The records following each series indicate the Cubs 2019 record against that team.)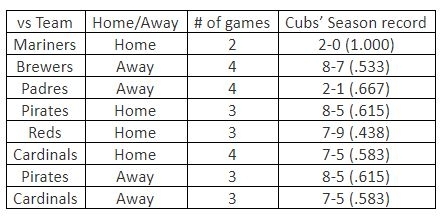 This final push will see 14 of the 26 games played on the road, with the remaining eight at home. If you want to use the home-away winning percentages, the Cubs should win eight of their twelve home games and six of their 14 road games, leaving them at 87-75 for the season. If you break down the games by using the Cubs 2019 winning percentage against each team, Chicago figures to go 16-10, which would make them 89-73 on the year.
I don't want to dash anyone's hopes, but at this point, the odds of Chicago winning the 2019 World Series are… well, let me put it this way; I'd sooner bet on a three-legged horse to win the Kentucky Derby. Do you really want the odds? As of Monday, the Cubs had a 69.6% chance of making the playoffs and just a 2.8% chance of winning the World Series. I hate myself for saying this, but "Maybe next year."

Tags: Cubs Baseball
,
Adbert Alzolay
,
Dillon Maples
,
Dakota Mekkes
,
Yu Darvish
,
Tyler Chatwood
,
Anthony Rizzo
,
Willson Contreras
,
Albert Almora Jr
,
Jason Heyward
,
,
David Bote
,
Joe Maddon
,
Theo Epstein