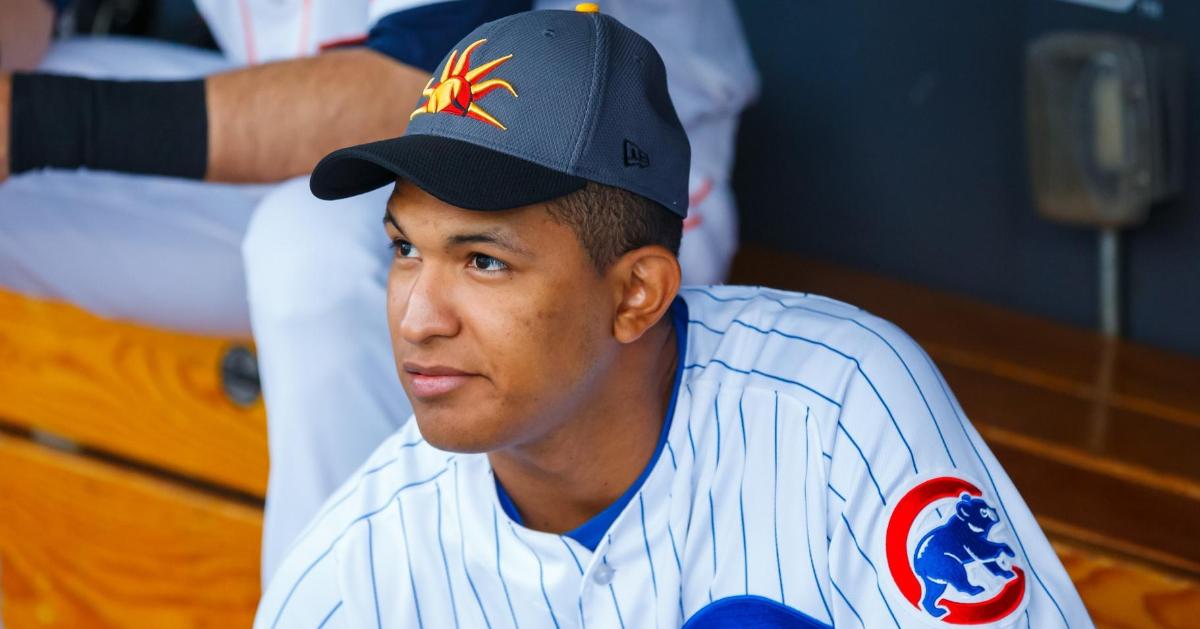 | | |
| --- | --- |
| Cubs Odds and Ends: Alzolay livin' the dream, the Multi-national Rays, Cubs have issues | |
---
| | | |
| --- | --- | --- |
| Sunday, June 23, 2019, 8:01 PM | | |
Will Adbert Alzolay remain in Chicago this year?
After his MLB debut on Thursday night (vs. the Mets), Alzolay said, "Oh, my gosh, everything is coming true right now." After several years in the minors, the Cubs' righty made quite the splash that night, and it was refreshing to see such an impressive and reliable performance from the Cubs' bullpen.
The following morning was all about Cubs' righty, Adbert Alzolay, who'd made his first (eye-opening) MLB appearance on that Thursday night. Social media was abuzz with speculation that maybe this trip to Chicago from Iowa could be the only one Alzolay ever makes, but I think many are jumping the gun on this one. The kid was great in a Chicago uniform on Thursday and has proven himself in Iowa, but the sample size in the majors is still minimal and attempting to make a permanent decision of any sort at this time would be a little premature. If he stays, Alzolay would be the only pitcher on the Cubs' 25-man roster who was "born and raised" in the Cub' farm system.
"He was the happiest pitcher on the face of the Earth."

We're still applauding @adbert29 after his #Cubs debut last night. ?????? pic.twitter.com/jlj5MhlfGw

— Cubs Talk (@NBCSCubs) June 21, 2019
There's a ton of room for improvement in the Cubs' pen this year and scrapping either Brad Brach or Kyle would open the necessary room on the roster for Alzolay to stay. Someone needs to go when Craig Kimbrel arrives in the next week or so, and lest we forget about Carl Edwards Jr. needing a roster spot, to avoid a demotion to Iowa. Edwards is the only guy in the bullpen who has no recourse If the Cubs demote him to make room on the roster, as he's the only one with minor league options left.
The Cubs do face the possibility of losing both Cole Hamels and Jose Quintana to free-agency next year, and the duo of Tyler Chatwood and Alzolay could prove to be their replacements. The paradigm would shift profoundly to a right-handed rotation, as Kyle Hendricks and Yu Darvish would make it four out of five, leaving Lester as the only southpaw. Not that Quintana's team option wouldn't be affordable ($10.5M), especially if Hamels were to leave, but Q is going to have to get back on track, to prove his worth to ownership. Alzolay's labor comes both cheap and controllable, while Chatty has one year remaining on his three-year/$38M contract.
In the meantime, Alzolay may not stay in the Windy City for good, but he will get a start this week against the Braves, as the Cubs move to a six-man rotation for a variety of reasons.
The Tampa/Montreal Rays?
There's plenty of teams associated with two towns, but they're generally in the same geographical vicinity. The Twins (hence the name) represent the Minneapolis/St. Paul area, the Rangers Dallas/Ft. Worth, and so on. The Tampa Rays aren't just happy with just Tampa/St. Pete, instead, they're looking at not only a third city-affiliation but a second country as well: Tampa/St. Pete AND Montreal.
There's been an ongoing battle between the Rays and the city of St. Pete (where Tropicana Field is located), that started long before I ever moved out of Florida in 2017. The Rays want a new stadium located more toward the Tampa side of the area, as Tropicana Field just isn't drawing crowds. Tampa would like to have them, but due to some of the financing used to build the Trop (bonds and tax revenue), the city politicians of St. Petersburg have some say as to when, where or even if the Rays can move.
The new stadium would be on the Rays' tab, but with budget constraints and politics involved, the Rays now feel that they could split home games between Tampa and Montreal, mostly playing in Montreal during the hottest months in Florida (which, if you ask me, would include anything from May to October). According to the team, using dual locations would save them somewhere between $300M to $400M (estimated cost for a new dome-style stadium in Florida would be $900M to $1B). The plan is to build an open stadium in St. Pete, then play the other games in Montreal, presumably in the Expos' old stadium.
The Rays believe they could build a cheaper, roofless stadium in St. Pete if they can spend the hottest Florida months in Montreal instead. Cost could drop to $600 million, rather than $900mil to $1 billion. More at @TheAthleticTB: https://t.co/nHYmI2fHJJ

— Evan Drellich (@EvanDrellich) June 21, 2019
In addition to the dual stadium costs, the Rays and MLB also realize that additional costs would be incurred due to additional housing allowances for players and possibly extra pay. According to Ken Rosenthal, the Player's Association wouldn't comment but isn't likely to be enthused by the two-city plan.
The Cubs have some serious issues
I'm all about supporting the team through good times and bad, but if you don't think for a minute that the Cubs are in serious trouble in several areas, you need to remove your blinders. This has been fairly obvious to me for most of this season, but after Saturday's humiliating loss to the Mets, my cork finally blew.
If Jose Quintana's start wasn't bad enough (( hits, 9 runs in 4.1 innings), he saw his ERA rise from 3.87 to 4.50, as he had to stand out there being pummeled for three additional innings, because the Cubs can't seem to find eight bullpen arms capable of rescuing a starter. Tyler Chatwood and Adbert Alzolay were unavailable due to recent appearances and upcoming starts, but you'd think Maddon would have some additional help that he could rely on to cover six or seven innings. Yesterday wasn't an isolated incident either, as Q took a similar beat-down in Milwaukee back in April, when the Cubs pen was, you know… "really" bad.
Not that Chicago had many baserunners Saturday, after all, they only had six hits and four walks, but going 0 for 10 with runners in scoring position certainly didn't help matters any. For those still oblivious, this isn't a new problem. Thus far, for June, the Cubs have gone an impressive 34 for 141 (.241) with RISP, and this is not going to win many games.
The concept of situational hitting (or "opportunity hitting") with this team fails to exist. Now, either that falls on the new hitting coach, Anthony Iapoce, or it falls on the players who want to rack up the big homer and RBI stats. Len Kasper commented on Saturday's game, "No team wants to be last in home runs." OK, and? Somebody has to be first, and somebody has to be last- I know, that probably comes as a shock to some, but that's just how life works. For the record, I'd think being last in home runs and first in the standings may be a worthwhile tradeoff, but hey, that's just me.
Do you want to know why the Cubs were in first place on the morning of June 23rd, following their loss to the Mets? It was because the Cincinnati Reds took two of their first three games in Milwaukee, which held the Brewers in check. Not that the Reds are a terrible team as I think they're a third place team this year, but when the Cubs become dependent on other teams to remain in first place, something needs to change.