| | |
| --- | --- |
| Cubs destroy Reds, Schwarber's patience, Lester to start opener, latest MLB notes | |
---
| | | |
| --- | --- | --- |
| Tuesday, March 5, 2019, 7:47 AM | | |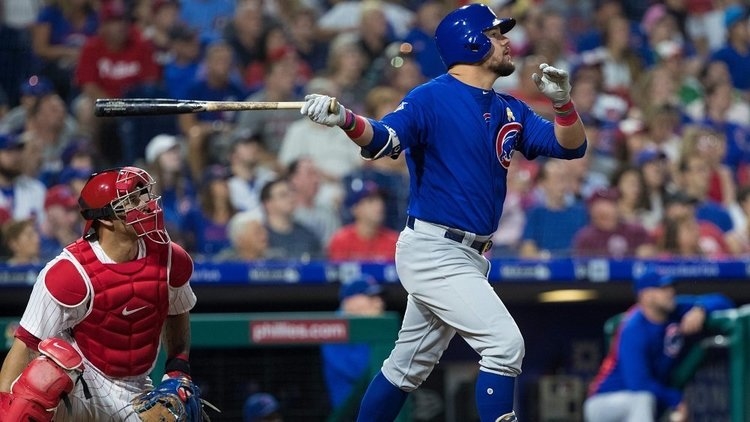 Upcoming games: March 5, 3:10 PM: Cubs @ Angels (Hendricks vs. Skaggs); March 6, 3:05 PM Royals at Cubs (Pitchers TBD).
Cubs' Opening Day: 23 days. (March 28 @ Rangers)
Monday's Game Recap: Despite a split squad today, the Reds trotted out some of their bigger names (Puig, Winker, Gennett, Suarez, Peraza, Schebler, and Barnhart) to face a Cubs' lineup comprised mostly of minor leaguers. With Cole Hamels left behind to pitch a sim-game at Sloan Park, Alec Mills would earn a start, facing off against the righty, Tony Santillan. After a leadoff home run by Amora to start the game, it would be a pitching and defensive duel until the seventh, when the Cubs broke it wide open on their way to a 9-1 win.

Albert Almora Jr. had himself a game both offensively and defensively on Monday ?? pic.twitter.com/tboeIWiN3x

— Cubs Talk (@NBCSCubs) March 5, 2019
Jon Lester: Per an announcement yesterday by Joe Maddon, Jon Lester will be the Cubs' Opening Day starter against the Rangers, and he'll make history in the process. With the 2019 start, Big John will have four Opening day starts as a Cub (eight total) to his credit, surpassing Hippo Vaughn for the most by a lefty in franchise history.
Cole Hamels: Oops. During the three-inning sim game on Monday, Hamels managed to plunk Rizzo with a pitch (shoulder). Rizzo, always a clown, decided to take a step toward the mound. No fight, and they both laughed hysterically about it. Hamels says, "I'm sure he's going to remind me daily, as that bruise gets bigger."
Hamels focused on his off-speed pitches, throwing a total of 45 pitches with two strikeouts (one swinging, one looking), a couple of groundouts and no hits.
Hamels and Rizzo laugh it off after the lefty hit the Cubs first baseman with a pitch in Monday morning's sim game.

Hamels: "I'm sure he's going to remind me daily as that bruise gets bigger." pic.twitter.com/zvyudZrohe

— Jordan Bastian (@MLBastian) March 4, 2019
Mike Montgomery: Also pitching in a sim game this morning was Mike Montgomery, who went three innings, facing Heyward, Rizzo, and Happ. His goal was just to come away feeling healthy and strong, which he did. Reliever Brandon Kintzler worked one 15-pitch inning in the same sim game.
Brad Brach: Following Brad Brach's medical reviews, the Cubs and Brach restructured his contract. Brach blames it on "a little bit of a viral infection."
The original deal was for $4.35M, guaranteeing Brach $3M for 2019, with club and player options worth $1.35M for 2020. Under the new agreement, Brach is only guaranteed $1.65M for 2019, with an additional $850k available in incentives, based on days spent on the active roster. He'll earn $365k if he can spend just one day on the active roster. After the season, the Cubs will decide between a $5MM option and a $100K buyout. If declined, Brach can exercise a player option at $1.35M.
Brandon Morrow: The Cubs' closer has built his way up to playing long toss from 120 feet. Over the next two weeks, long toss will increase to 135 and then again to 150 feet. If all goes well, the Cubs expect him to throw his first bullpen session around March 25th.
Walk this way: As I reported on Sunday, Kyle Schwarber has now drawn eight walks in 16 plate appearances (50% walk rate), and has only struck out twice, earning him an OBP of .750, but he's not the only one practicing patience. So far this spring (through 3/3/19), members of the 40-man have drawn a total of 23 walks (14% walk rate), while the non-roster invitees have gathered 20 more, giving them a 9.7% walk rate. All told, the entire spring training roster has drawn 43 walks, good enough for an 11.62% walk-rate overall. (More stats in a commentary coming soon)
Happy Birthday Kyle Schwarber#EverybodyIn pic.twitter.com/qD7kMNYuqg

— CubsHQ (@ChicagoCubsHQ) March 5, 2019
Injury Update: Former Cubs' right-hander, Luke Farrell, is expected to undergo a procedure later in the week to address his broken jaw, but he and the Texas Rangers aren't sure what will be done because there is still too much swelling.
Ben Zobrist: "Congratulations to my wife, Julianna, on being a finalist at the Audie Awards tonight in NYC for her book 'Pull It Off.'"
Monday's Scoreboard: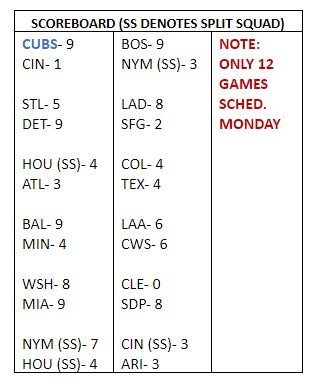 Tuesday's games (EST): 1:05 PM: BOS @ WSH, PIT @ BAL, TOR @ DET, TBR (SS) @ MIN, ATL @ NYY, STL @ PHI, NYM @ MIA. 3:05 PM: CWS (SS) @ CLE, TEX @ OAK, SDP (SS) @ CWS (SS). 3:10- PM: CUBS @ LAA, MIL @ COL, SEA @ SDP (SS). 6:05 PM: USF BULLS @ TBR. 8:05 PM: ARI @ KCR.
Wednesday's games (EST): 1:05 PM: PIT @ BOS, BAL @ TBR, STL @ NYY, ATL (SS) @ MIA (SS), MIA (SS) @ HOU, DET @ ATL (SS), PHI @ TOR. 3:05 PM: KCR @ CUBS, SFG @ TEX (SS), ARI @ MIL, LAA @ COL, SDP @ CIN, OAK @ SEA, CLE @ LAD.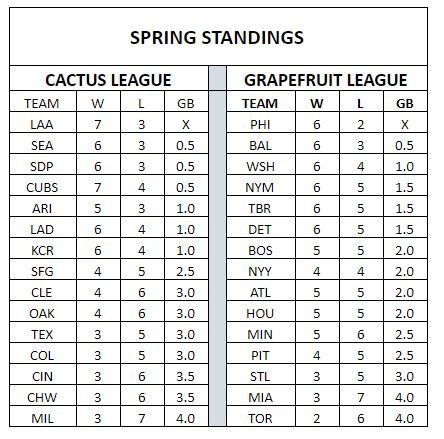 Other news from around MLB:
Tigers: Detroit has granted RHP Chris Smith an unconditional release. Smith was in MLB camp, trying to earn a roster spot before learning last month that he required Tommy John surgery.
Giants: SF President and CEO, Larry Baer, will take a leave of absence, following a domestic violence incident with his wife over the weekend. The team issued the following statement:
Official statement from the Board of Directors. #SFGiants pic.twitter.com/07IL5jDL9W

— San Francisco Giants (@SFGiants) March 4, 2019
Mets: NY announced Monday that former MLB pitcher, Al Leiter, had been hired to serve as their Baseball Operations Advisor.