| | |
| --- | --- |
| Cubs vs. Phillies Series Preview: TV times, Starting pitchers, Predictions, more | |
---
| | | |
| --- | --- | --- |
| Monday, May 20, 2019, 9:52 PM | | |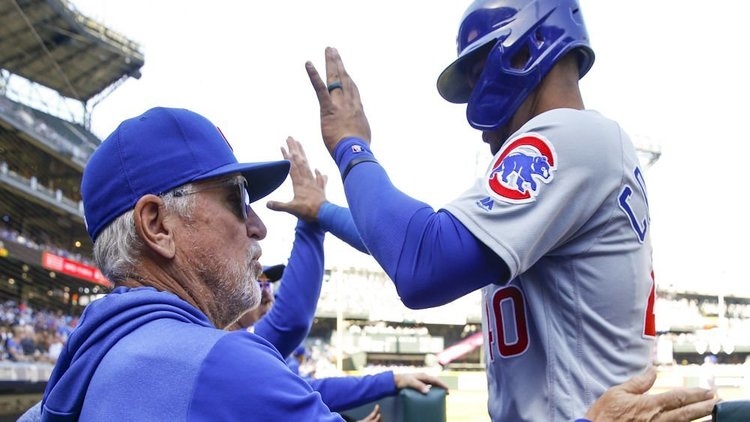 Sit back and enjoy this four-game series, as you'll be hard pressed to find two teams who are more evenly matched, than the Cubs (27-17) and Phillies (27-19). They each lead their division, their records are almost identical, and they've each scored about the same number of runs (Cubs-238, PHI- 229). Their pitching staffs are ranked 3rd (Cubs) and 4th (Philly) in the NL league, their offenses post an almost identical slash line and just about the only thing that separates them is a +29 run differential, again, in favor of Chicago.
The Pitching
Don't think of the recent starts by Jon Lester, Jose Quintana, and Cole Hamels as a sign of trouble, instead, view them as more of a correction. Pitchers will have good days and bad days, ups and downs, but within a few games, they will usually return to somewhere around their norm- and the standard for these three is still more than most teams have.
The bullpen has also had a few ugly and somewhat unpredictable outings these last two weeks, seeing quality guys like Brandon Kintzler and Brad Brach getting knocked around some, but they're holding their own. The closing role remains vacant in Chicago, and Maddon seems happy to fill it by committee, leaving a bit of a question mark surrounding who should be up in the pen with a game on the line. Despite ups and downs in both areas of the Cubs' pitching staff, Chicago still boasts a team ERA of 3.56, good enough for third in the National League.
Right behind the Cubs in terms of team ERA (3.92) stands the Philadelphia Phillies who rank fourth in the NL. They'll be trotting out Jake Arrieta, Zach Eflin, Aaron Nola and a newcomer by the name of Cole Irvin for this series, each of whom can be dangerous. This quartet of Phils combines for a 3.54 ERA (total of 177.3 IP), but that number is higher than what it should be, given Eflin and Nola's past.
Their bullpen is another story. Although Neris (1.86 ERA) and Morgan (2.30 ERA) have done well, the rest of that pen has ERAs above 3.00vranging anywhere from 3.60 to 9.00.
The Offense
The Phillies offense is more than capable of scoring runs, and they hit well as a team (.251/.337/.443), but unfortunately for them, so does Chicago (.254/.344/.451). Philly made a gallant effort at buying a championship team this winter, but despite securing some of the biggest names in the business, including a guy named Bryce Harper, their purchases haven't completely panned out. Harper is hitting just.230, McCutchen is batting .236 and Realmuto's only batting .268. Granted, they lead the NL East, but other than Atlanta, who else could even really pose a threat or carry the division?
Meanwhile, the Cubs hunkered down, added just one new bat to the lineup this year- Daniel Descalso, signed him until the end of 2020, and paid all of $5M for him. While Descalso is admittedly slumping as of late (batting .223), he didn't cost the team near the amount of cash that the Phillies have spent for almost identical results. Heyward has improved, Schwarber has improved, Contreras has improved, and Kris Bryant is on absolute fire. The Cubs have slowed down a little in terms of run production, but they can generally roust up enough to win, as indicated by their record and run differential.
Mound Matchups
Monday: RHP Yu Darvish (2-3, 5.14 ERA) vs RHP Jake Arrieta (4-4, 4.02 ERA). Game time 7:05 PM CDT; Televised on NBC Sports Chicago, MLBN (out of market only) and MLB TV.
This is the matchup that most have been waiting for, although I think people are making a bigger deal out of it than what it really is. Darvish happened to be the guy that the Cubs signed after Arrieta chose free-agency- he wasn't pre-selected as a replacement, but people still view this matchup as "who they lost vs. who they gained."
Darvish continues to want to pitch for strikeouts rather than for contact, which was a somewhat successful strategy with Davis behind the plate. The problem is, Davis is now back in Iowa, and Victor Caratini is likely to be catching Darvish, so it remains to be seen how Caratini will handle things. There's no doubt that Darvish has been racking up the Ks- he has 55 of them now, but it continues to come at the expense of outings which last, on average, 4.2 innings.
Darvish has only faced the Phillies twice in his career, with both outings occurring in 2017. Players come and go, but one principle remains the same: if you hang enough pitches over the plate or too close to the strike zone, guys are going to clobber you (or "Yu," as the case may be). Bryce Harper sits on pitches like that, and when he connects the ball flies a long, long way. Darvish has the power to overcome a good majority of the league, but for some reason, he just doesn't like to challenge.
Jake Arrieta has never faced the Cubs. Obviously, the Cubs know his pitches and his style, but the only two who have ever faced him are Daniel Descalso (0 for 8) and Jason Heyward, who's managed a .333 average in 15 at-bats.
This game may turn into a slugfest, as Darvish is on pace for a career-high ERA, and Arrieta's current 4.02 ERA is about 40 points higher than his average.
Tuesday: LHP Jose Quintana (4-3, 3.68 ERA) vs RHP Zach Eflin (5-4, 2.89 ERA). Game time 6:05 PM CDT; Televised on WGN, SAP WGN, ESPN and MLB TV.
The Phillies are another team who's enjoyed some success against Jose Quintana. McCutchen, Rodriguez, Herrera, and Hernandez are all batting better than .385 against him, and in a total of 34 at-bats, they've combined for a .415 batting average. Q has been able to completely shut down Segura and Kingery (0 for eight combined at-bats), and he's held the combination of Franco and Hoskins to a combined total of 1 for 10.
Q's had a couple of rough starts recently, giving up six earned runs on ten hits (2 homers) and issuing four walks, while only fanning 10 (total) in his last two outings. He hasn't been able to complete the sixth inning in any of his previous four starts, and in his most recent start (vs. CIN) start he only lasted five frames.
When it comes to facing Zach Eflin, the Cubs have been fortunate. Kris Bryant bats .600 against him (10 at-bats) and Willson Contreras, Addison Russell and Kyle Schwarber have combined to go .467 (9 at-bats) against Eflin. Albert Almora Jr. struggles against him (.167 in 6 at-bats), Javier Baez, Heyward, and Anthony Rizzo have all batted .250 or better against him in anywhere from 4 to 11 at bats.
Things may not be so easy this time around, as Eflin's been a beast this year. He's already pitched two complete games in his last three outings, although the Brewers got to him last Thursday, scoring four runs in five innings. In his past four outings, Eflin has posted a 1.80 ERA.
Wednesday: LHP Cole Hamels (4-0, 3.13 ERA) vs LHP Cole Irvin (2-0, 2.77 ERA). Game time 7:05 PM CDT; Televised on NBC Sports Chicago, MLB Network (out of market) and MLB TV.
Cole Hamels has had a bit of experience with facing the Phillies, but Philadelphia knows him well. McCutchen (.375 in 8 at-bats), Realmuto (.375 in 8 at-bats) and Segura (.333 in 15 at-bats) have been problematic, but he's been able to completely dumbfound Gosselin, Harper, and Rodriguez, who between them, are batting a combined .037 in 23 at bats.
Cole Irvin, on the other hand, has no experience in the majors (2 games total), much less any experience with the Cubs. Thus far, he's managed to have two quality starts, posting a 2.77 ERA over 13.0 IP. He's stingy with walks (just two total), but he has allowed ten hits, including one home run, in his two outings. He's not offered up a wild-pitch, nor has he plunked any of the 52 men that he's faced. Irvin pitches for contact, as he's only fanned 7, meaning that 43 of 52 batters have put the ball in play against him.
Thursday: LHP Jon Lester (3-2, 2.09 ERA) vs RHP Aaron Nola (4-0, 4.47 ERA). Game time 1:20 PM CDT; Televised on ABC-7 and MLB TV.
Despite a bad outing in his last appearance, Jon Lester is still the heart and soul of Chicago's rotation. How many guys can give up ten hits and five earned runs in a single outing, and still walk out with a 2.09 ERA? I rest my case.
Lester has faced every guy on Philly's roster, except Andrew Knapp, holding the team to a .263 batting average in a combined 131 at-bats. Don't let that number scare you. McCutchen and Rodriguez have faced Big-Jon the most (30 and 31 AB respectively), but they've been held to batting averages of just .233 and .226. Harper and Gosselin have each gone 3 for ten against him. Hoskins and Kingery bat .333 against Lester (which sounds pretty wicked), but when you consider each is only 1 for 3, things don't seem nearly as bad.
Aaron Nola hasn't had nearly as many experiences with the Cubs offense, but he's figured things out. Caratini and Mark Zagunis have never faced Nola, but the remainder of Chicago's squad bats only .190 against him. Almora, Bote, Descalso and Heyward have been skunked in a combined ten at-bats (again, small sample size), while KB, Rizz, and Russell have teamed-up for an average of .317 in a combined 16 at-bats.
Series Prediction:
This series is a little hard to predict for a few reasons. First, there's limited experience with Darvish facing the Phils, Arrieta facing the Cubs, and Irvin facing anyone. Arrieta and Nola have been off their game as of late, but so have Lester, Hamels, and Quintana, not to mention that you never know what to expect from Darvish.
If the Cubs' offense comes out booming and Chicago's starters can hold their ground, I'd venture to bet that the Cubs win the series 3-1, but if the bats stall, look out. Eflin's start (Tuesday) is the one that worries me most, but Big-Jake and Aaron Nola are no one to toy with either.
Next up: Cincinnati at Wrigley.

Tags: Cubs Baseball
,
,
Jose Quintana
,
Cole Hamels
,
Brandon Kintzler
,
Jake Arrieta
,
Daniel Descalso
,
,
Yu Darvish
,
Victor Caratini
,
Jason Heyward
,
Willson Contreras
,
Addison Russell
,
Kyle Schwarber
,
Albert Almora Jr
,
,
Anthony Rizzo
,
Mark Zagunis