| | |
| --- | --- |
| Cubs vs. Rockies Series Preview: TV times, Starting pitchers, Predictions, more | |
---
| | | |
| --- | --- | --- |
| Tuesday, June 4, 2019, 5:08 PM | | |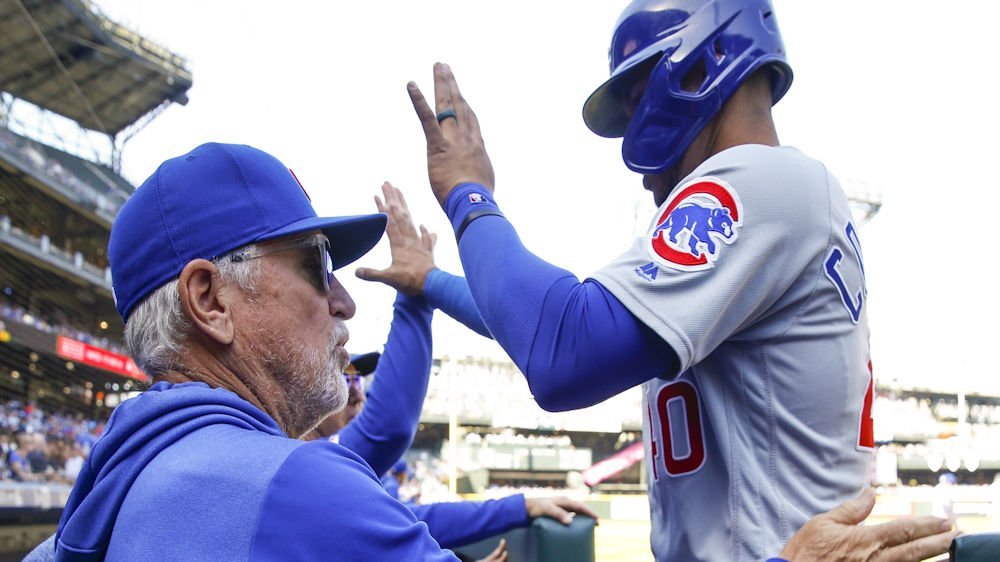 Throughout May, the Cubs (32-26) went from flaming hot to ice cold, while the Rockies (31-27) did just the opposite. Despite the Cubs rout of the Angels yesterday, they've still posted only a 3-7 record over their last ten games, while Colorado went 9-1 over the same period.
Yesterday was different in Chicago though, a turning point maybe. Newcomer Carlos Gonzalez didn't go for 4 for 5 with a homer or 4 RBI. Instead, he went 1 for 3 with a walk, but something seemed to click between him and his teammates. The Cubs started hitting- and not just home runs, but rather constant, solid contact, and as a result, runners were not only advancing, but they were scoring. Few and far between (lately), are the days when the Cubs win, despite Anthony Rizzo, Kris Bryant and Javier Baez combining to go 3 for 8.
Injury Report:
The Rockies are missing a few key players for this series due to injury. (1) OF Charlie Blackmon (.300/.356/.565, ten homers, 31 RBI) is on the 10-Day IL due to a knee injury. (2) Reliever/closer (RHP) Wade Davis (1-1, seven saves, 2.45 ERA, 18 K). Davis recently went on the 10-Day IL for an oblique strain. (3) Reliever (LHP) Harrison Musgrave (3.60 ERA, 12 Ks in 10.0 IP) is also on the 10-Day IL with a left elbow flexor strain.
For the Cubs, there are no new injuries or absences, although Allen Webster (arm issue) and Ben Zobrist who remains on the restricted list. The good news is that Pedro Strop (hamstring) has been activated (Cubs optioned Dillon Maples back to Iowa).
The Pitching
What had been terrible pitching by Chicago, especially in the area of the starting rotation, has suddenly, once again, started looking strong. There's not a pitcher in the Cubs' front five who had a lousy start over the last five games, and the two who've struggled the most- Jon Lester and Cole Hamels- were each brilliant over the past two days.
This series will see Kyle Hendricks, Yu Darvish, and Jose Quintana get the starts for Chicago. The trio has combined for an 11-9 record with a 3.96 ERA (weighed down slightly by Darvish's 5.02 ERA), but together, they are a strikeout producing machine, combining for 196 Ks (844 batters faced, 23.2% K rate) in 197.2 innings of work. Quintana and Hendricks lead the team in hits given up (68 and 65, respectively) and Darvish leads the team in walks allowed (41), but that doesn't reflect in the scoring, as the three have only allowed a total of 97 runs (86 earned) out of the combined 269 men they've put on base (including HBP), meaning that just over 1 in 3 of those men ever cross the plate.
The Rockies will trot out Jeff Hoffman, German Marquez and Jon Gray for this set, the three of whom have combined for a 12-7 record with a 4.93 ERA, but this number may be misleading, as Hoffman is a reliever/backup starter (1-1, 7.20 ERA). NOTE: Lefty, Kyle Freeland, was initially scheduled to start on tonight, but was demoted to Triple-A Albuquerque on May 31.
The Offense
Much like Jon Lester, the Cubs' bats also came to life yesterday, producing 11 hits, eight runs and a pair of homers (Javier Baez/ Jason Heyward); more importantly, though, the Cubs went 4 for 8 with runners in scoring position. Before yesterday's win against the Halos, dating back to May 7th, the Cubs had gone just 28 for 173 (.162 avg.) with RISP, which is not conducive to winning.
Despite the rough last month, the Cubs continue to slash .263/.354/.474 as a team (excluding pitchers), and those numbers tell a story. While .263 is a respectable team batting average, the .354 OBP is representative of a team who only reaches base a little over one out every three at-bats, which doesn't bode well for runs. Slugging .474 is excellent, but that number- when compared with the OBP- is indicative of a team who either goes long or does next to nothing to score runs. The Cubs lead the NL in drawing walks (249), but those walks become stranded runners when hitting for contact ceases to exist.
Situational hitting (aka "opportunity hitting" in the Cubs' camp) had fallen by the wayside during May and into June, and the results showed. From May 1st through June 2nd, Chicago scored a total of 145 runs in 30 games (4.83 runs/game), far below their March/April average of 5.66 runs per game. Furthermore, it's hard to believe that the Cubs have only produced a total of 30 sacrifices (hits and flies) throughout 58 games, yet they rank third in the NL with 18 sac-flies.
There's no way around it; the Rockies offense has been brutal. With 317 runs, Colorado ranks 2nd in the NL, along with their 539 hits (3rd in the NL), their 129 doubles (2nd in the NL) and 21 triples (1st in the NL). About the only two things that the Rox can't seem to do with success are hit homers (77 total, 8th in the NL) and draw walks 183 total, which ranks 9th in the NL.
Mound Matchups
Tuesday: RHP Kyle Hendricks (5-4, 3.09 ERA) vs RHP Jeff Hoffman (1-1, 7.20 ERA). Game time 7:05 PM CDT; Televised NBC Sports Chicago and MLB TV.
Hoffman has been sporadic when dealing with the Cubs and has never faced Baez, Bote, Victor Caratini or Gonzalez. He's managed to silence Daniel Descalso, Addison Russell and Kyle Schwarber (collectively 0 for 12), but the remainder of the Cubs have gone 8 for 20 (.400) against him.
Hoffman has only made three starts this year, and he's most vulnerable on his first pitch to each man (opponents batting .667). This plays right into the hands of several Cubs, as they tend to swing early.
The Professor, despite a mini-slump of his own, was phenomenal in May. Hendricks went 4-0 with a 1.81 ERA last month and lasted eight innings or better in four of his six starts (48.2 total innings).
Kyle Hendricks has also had mixed results with the Rockies but has never faced Hampson, Rodgers or Tapia. The four who've hit Hendricks have hit him hard (Arenado, Dahl, Daniel Murphy, and Reynolds), combining for a .466 average in 51 at-bats. Reynolds is the real problem-child for Hendricks, as he's managed to bat .714 (5 for 7).
Wednesday: RHP Yu Darvish (2-3, 5.02 ERA) vs RHP German Marquez (6-2, 3.48 ERA). Game time 7:05 PM CDT; Televised on WGN, SAP WGN, and MLB TV.
Marquez isn't a patient man, as he pitches his best when on only four day's rest, which is the case this time. Descalso is the only Cub to post substantial numbers against Marquez, putting up a .316 batting average in 19 at-bats (6 for 19). Neither Gonzalez nor Russell have ever faced him, and he's been able to hold Baez to a .125 average (1 for 8), while silencing Willson Contreras, Almora and Bote (combined 0 for 8). The remainder of the Cubs have hit him hard, although the sample size is small; Kris Bryant, Victor Caratini, Heyward, Rizzo, and Almora have a combined 15 at-bats against him and have pelted Marquez for a .563 average
Thursday: LHP Jose Quintana (4-4, 3.78 ERA) vs RHP Jon Gray (5-4, 4.11 ERA). Game time 1:20 PM CDT; Televised on NBC Sports Chicago and MLB TV.
Gray has reportedly been dealing with a sore spot on his right middle finger for the past couple of starts, but that didn't stop him from pitching 6.2 innings on Saturday night against the Blue Jays.
The Cubs' offense hasn't had a ton of exposure to Gray (a combined total of 47 at-bats, to be exact), and there have been some mixed results. Javy is 3 for three against him, Almora 2 for 3 and Schwarber 2 for 5, but beyond that, not much success. KB and J-Hey have each gone just 1 for five against Gray, and he's shut down Caratini and Contreras while holding Rizzo and Russell to a combined 2 for 12. Neither David Bote nor Carlos Gonzalez has ever faced him. Gray does have a couple of weakness, though. He tends to give up the long ball, watching 11 of his pitches sail out of the yard this year and when he's pitching on the road, his hits allowed go up 20%, while his walk rate increases by 25%.
Jose Quintana has been able to tame the Rockies offense, save for Trevor Story (3 for 5) and Ian Desmond (2 for 4), who've combined to go 5 for 9 (.556) against Q in their careers. The remainder of the team has only managed to post a combined average of .082, though Q has never faced Daniel Murphy, Hampson or Rodgers.
Series Prediction:
If you'd asked me 36 hours ago about this series, I would have said "The Rockies win it, and I wouldn't be shocked they swept;" but I'm not so sure about that now. After seeing the Cubs rip apart the Angels yesterday, I think they've now got some momentum to build upon. This is going to be a tough series, especially with the Rox being so hot, but I think Gonzalez has added a little fuel to the Cubs' furnace. With Gonzalez able to effectively play all three outfield positions, Kyle Schwarber, Jason Heyward and Albert Almora Jr. are going to motivated to step it up, so as not to face bench time.
I now think that the Cubs will take this series 2-1 and, with a little help from Atlanta (playing the Brewers), will recapture first place by the end of the day on Friday. Bring on the Cardinals.

Tags: Cubs Baseball
,
Anthony Rizzo
,
,
,
,
Cole Hamels
,
Kyle Hendricks
,
Yu Darvish
,
Jose Quintana
,
Wade Davis
,
Pedro Strop
,
Ben Zobrist
,
Jason Heyward
,
Victor Caratini
,
Daniel Descalso
,
Addison Russell
,
Kyle Schwarber
,
Willson Contreras
,
David Bote
,
Albert Almora Jr