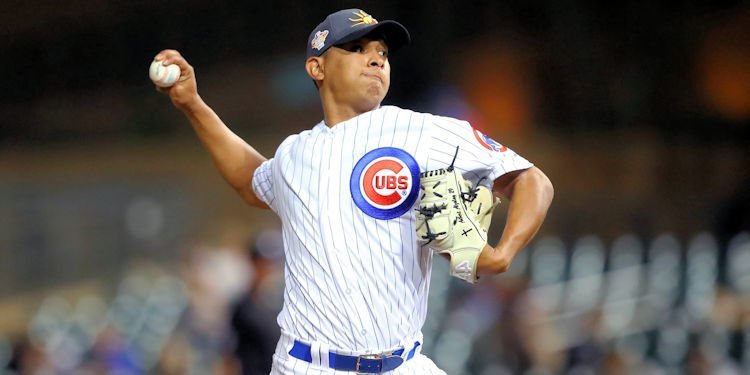 | | |
| --- | --- |
| Down on the Cubs Farm: 2-1 record, Adbert Alzolay shines, highlights, more | |
---
| | | |
| --- | --- | --- |
| Tuesday, May 28, 2019, 12:02 PM | | |
Talk about a turn of events in 24 hours. One day after the farm system exploded offensively, Monday was all about pitching as the Cubs were held to just four runs in three minor league games. Usually, that would spell trouble, but with strong pitching throughout all levels in action, the Cubs yielded only three total runs en route to a 2-1 record for the day.
IOWA CUBS 2 – New Orleans Baby Cakes 1 (10 innings): One day after the offense erupted for 14 runs, the Cubs needed to rely on their pitching as the offense was held in check much of the game. Fortunately, Adbert Alzolay was more than up for the task as he delivered his second straight strong start since his promotion to Iowa. Alzolay was in complete control tossing six innings of 1ER, 2H ball. He walked 1BB to go with 9K in a no-decision effort.
It was the Cubs managing to strike first needing just their first plate appearances to do so. The Ian Happ single followed a leadoff Jacob Hannemann walk as the Cubs had runners on the corners with no outs. After Hannemann was cut down at home plate on a fielder's choice, Phillip Evans gave the Cubs a 1-0 lead with his ninth double of the season. That would be all the Iowa offense for quite some time as both teams delivered strong pitching performances.
With Iowa still clinging to the 1-0 heading to the bottom of the fifth, New Orleans was finally able to get to Alzolay as they put an end to the shutout bid. Lewis Brinson continued to crush Iowa pitching leading things off with a single. Devan Marrero kept the line moving with a double, but a throwing error from Trent Giambrone on the play allowed Brinson to score tying the game 1-1. Those were the only two hits Alzolay allowed as New Orleans was held to just three hits total.
Recently promoted Michael Rucker took over on the mound in the seventh inning and pitched flawlessly in relief. Rucker made his AAA debut by tossing two scoreless innings allowing a hit while walking two men and striking out one. James Norwood would then enter in the ninth inning and helped send the game to extras where Iowa looked to finish things off.
Taylor Davis got the rally started by taking one for the team to put a runner on base with one out. After a wild pitch moved Davis to second and Evans to third (started at second with extra-inning rules), Donnie Dewees was intentionally walked to load the bases in hopes for a double play. However, it was Francisco Arcia coming through with the game-winning sacrifice fly before Norwood finished things off in the bottom of the 10th for the 2-1 Iowa win.
The Cubs are 31-21 on the season as they continue to play solid baseball. Iowa was held to just six hits in the game, but Evans picked up a pair of those. Happ was 1-4 with 1K for the contest, while Davis was 1-3 with 2K in the win.
10 innings later, Iowa wins it! ?? pic.twitter.com/5o9lAokuTH

— IowaCubsGameDay (@IowaCubsGameDay) May 27, 2019
Have a day, ?@adbert29? ?? pic.twitter.com/2dXVoj8s2r

— Iowa Cubs (@IowaCubs) May 27, 2019
TENNESSEE SMOKIES: Off
Today the Smokies remember and say thank you to all those who have bravely served our great country. pic.twitter.com/JvyB9NHS5B

— Tennessee Smokies (@smokiesbaseball) May 27, 2019
MYRTLE BEACH PELICANS 0 – Wilmington Blue Rocks: The Pelicans are stuck in another rough skid much like the one they had to finish out the month of April. The difference this time around, is that Myrtle Beach has been a much more competitive team as they can't seem to come up with enough clutch hits to win. Monday was another example of that as the Pelicans saw a great outing from Javier Assad go to waste falling 1-0 to the Blue Rocks.
Coming off his worst start of the month, Assad was back on track as he had the Blue Rocks guessing. Assad tossed six innings of 1ER 4H ball, walking three batters to go with seven punchouts in the loss. He lowered his ERA to 2.96 on the season despite a 2-5 record on the hill.
The lone blemish on his line came in the first inning where Wilmington not only struck first but got the only run they needed to pick up the win. With one out, Blake Perkins was able to work a walk giving the Blue Rocks a baserunner. Perkins would then steal second which proved to be extremely costly as Nick Pratto reached on an error scoring Perkins on the same play to give Wilmington the 1-0 lead without the benefit of a hit. That would be all the Blue Rocks needed as they were held to just five hits and scoreless the rest of the game.
Things were not going well offensively for the Pelicans as they were held to just five hits themselves in the game. The best scoring chance Myrtle Beach had, came in the seventh inning as they looked to draw even. With one out, it was Carlos Sepulveda showing patience at the plate to take a walk putting the tying run on base. Two batters later, it was a Luke Reynolds single putting runners on the corners with two gone, but nothing came of that as the Pelicans were still scoreless.
Hoping for some ninth-inning magic, the Pelicans managed to put the tying run on base with a two-out Sepulveda single, but that was all they could do falling to Wilmington 1-0. With the loss, Myrtle Beach is 18-34 which is close to a franchise-worst start through this point in the season.
Sepulveda did his best to lead the offense as he went 2-3 with a walk. Reynolds, Tyler Payne, and D.J. Wilson all had one hit in the game as the Pelicans only had five hits with all of them being singles. Ben Hecht was solid in his two scoreless innings of relief, allowing just 1H to go with 4K as his ERA falls to 3.42.
Ballgame.

Birds fall 1-0 in Wilmington. Following a day off on Tuesday, Myrtle Beach returns home on Wednesday against Potomac to start a seven-game home stand!!

— Myrtle Beach Pelicans (@Pelicanbaseball) May 27, 2019
SOUTH BEND CUBS 1 – West Michigan White Caps 0: It was a historic day at Third Winds field Monday as South Bend manager Buddy Bailey moved into ninth place on the all-time wins list following a 1-0 pitchers' dual shutout.
On the mound for the Cubs was Cam Sanders who continued to impress on the hill. In his five innings of work, not only did Sanders not allow a run, but he only allowed two hits and a walk to go with seven strikeouts as he improved to (3-2) on the season. His ERA is 2.09 for the season as the Cubs gave him just enough support for the win.
One day after the offense carried the team putting up double-digit runs; South Bend was only able to manage seven hits as they struggled to mount any offense. Fortunately for them, they were able to get one run in the second which proved to be just enough to pull out the win. Christopher Morel led the inning off with a double setting himself up in scoring position with no outs. With Gustavo Polanco getting hit by a pitch shortly after, the Cubs had a pair of runners on base with a chance at a big inning.
With one down, Morel took it upon himself to make something happen as he stole third for his fourth steal of the season. That was the biggest play of the inning as Refelin Lorenzo lofted a sacrifice fly to right a few pitches later to give the Cubs a 1-0 lead. The Cubs had a chance to extend the lead in the third after a leadoff Delvin Zinn single and another hit by a pitch, but a Jonathan Sierra double play killed that rally keeping things 1-0.
The Cubs continued to keep the pressure on in the fourth as a pair of two-out singles from Brennan Davis, and Lorenzo put a pair of runners on base again, but once again no runs would score. With Sanders out after five innings, it was up to the bullpen to preserve the win as the Cubs managed just two hits after the fifth inning keeping things 1-0.
First, it was Jose Albertos pitching a pair of scoreless innings allowing 1H, 1BB and striking out 1 in his outing. He then turned things over to Jack Patterson in the eighth who continued the strong pitching from the pen. In his two innings, Patterson duplicated what Albertos did allowing 1H, 1BB, and 1K to earn his first save of the year and give South Bend the 1-0 win.
South Bend is now a season-high seven games above .500 as they improve to 28-21 for the year. Seven different players had one hit each in the game as it was a collective effort for the win.
SWEEP!

Congratulations to Buddy Bailey, who just passed Lefty O'Doul on the all-time @MiLB Manager wins list with 2,095. #EverybodyIn pic.twitter.com/f4YkW8PeYx

— South Bend Cubs (@SBCubs) May 27, 2019

Tags: Cubs Baseball
,
Adbert Alzolay
,
,
Jacob Hannemann
,
Phillip Evans
,
Trent Giambrone
,
Michael Rucker
,
James Norwood
,
Taylor Davis
,
Francisco Arcia
,
Javier Assad
,
Carlos Sepulveda
,
Luke Reynolds
,
Ben Hecht
,
Cam Sanders
,
Christopher Morel
,
Gustavo Polanco
,
Delvin Zinn
,
Jonathan Sierra
,
Jose Albertos