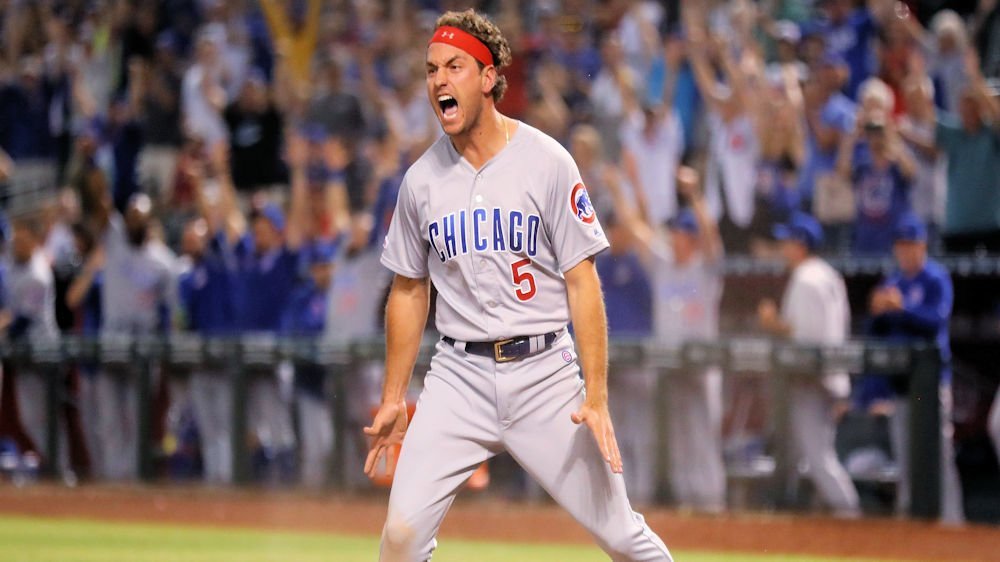 | | |
| --- | --- |
| Chicago Cubs: Fly the 15-inning W, Montgomery rehab, Epstein on Addy's return, standings, more | |
---
| | | |
| --- | --- | --- |
| Monday, April 29, 2019, 8:06 AM | | |
Next Game: The Cubs are off today, but, then on Tuesday night: 9:10 PM CDT, (probable for the Cubs) LHP Cole Hamels (3-0, 3.16 ERA) vs RHP Felix Hernandez (1-2, 3.91 ERA)
CUBS NEWS AND NOTES:
Sunday's Game Recap: Looking for their fifth straight series win, the Cubs set out to face the D-backs in the rubber game of this three-game set. The Cubs sent Jose Quintana (3-1, 3.21 ERA), who's been unbelievably strong this season, to the mound to face the Snakes and their righty, Luke Weaver (2-1, 3.33 ERA).
Through the first six innings, all six runs (both teams) were scored via homers- Kris Bryant (2 run homer) and Willson Contreras (solo-shot) for the Cubs; Eduardo Escobar twice (solo, 2-run) for the Snakes. That was it for scoring during regulation play, as this game would turn into the Cubs' first extra-inning game of the season, taking a total of innings to settle.
The Cubs threatened in the 12th, 13th and 14th, getting a runner as far as third each time, but couldn't close the deal. After getting through the bottom of the 14th, Tyler Chatwood came to bat with one out in the 15th and smashed a double to right-center, appearing to injure himself while running to first. Chatty would stay in long enough to score with Almora on Ben Zobrist's triple; then Zo scored on Jason Heyward's fly out to the left. With Kyle Ryan on the mound, the D-backs would attack in their half of the 15th, with a two-out rally that produced a pair of runs. Allen Webster would replace Ryan, producing the final out on a fly ball that nearly left the park. Cubs win 6-5.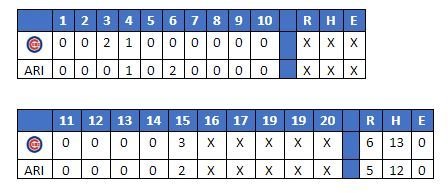 Cubs/Mariners Probable Pitchers: Wednesday: LHP Jon Lester (1-1, 2.47 ERA) vs LHP Marco Gonzales (5-0, 2.80 ERA).
David Bote: With Maddon's pre-set series lineups, players know in advance when they'll play. Bote wasn't on the lineup card today, but after his two homers last night, Maddon made a change. Although the Cubs couldn't cash in, Bote singled hard to center in the second. He demonstrated a little defensive prowess in the fifth, saving Q a baserunner and a hit, by snagging a line drive to third.
Mike Montgomery: Monty got his third rehab start in Iowa this afternoon, in the first game of a double-header. While his pitching line wasn't terrible, he did, unfortunately, ended up taking the loss — final line: 4.0 IP, 2 ER, 2 H, 2 W, 5 K.
Rehabbing Mike Montgomery and the I-Cubs sporting Boy Scouts jerseys for Game 1 against Nashville today. pic.twitter.com/vu3BioxUiw

— Iowa Cubs (@IowaCubs) April 28, 2019
Addison Russell: While Russell is due to be reinstated from his suspension on Friday, sliding back into the shortstop position may not be a given. Theo Epstein says, "Javy is right at the center of every good thing that we do. Risking interrupting that would be a questionable move. That is not the only factor." Russell has been playing second-base in Iowa, a position that he's not played in the majors since 2015. Many suggest that Baez will remain at short, while Russell, Daniel Descalso, Ben Zobrist and David Bote will vie for playing time at second.
Yu Darvish: When asked to summarize his first month of the season, Darvish laughed nervously and replied, "Not great. But really not bad." Many don't see it (or, refuse to it, in some cases), but Darvish has made adjustments with every start. Yes, the number of walks and hits that he allows remains insane, but few of the base-runners ever score. Although Darvish's WHIP is through the ceiling (1.570), his ERA continues to fall (it's now 5.02).
Thanks, D-backs: Anthony Rizzo's Hope 44 Foundation held a fundraiser in Arizona, and the Diamondbacks pitched in to help, allowing Rizzo and his guests to hold a pre-game ceremony at Chase Field, before Saturday's game.
Proud to support @PhxChildrens & the work they are doing to help families battling cancer. These dollars will support programs like the Hope 44 Fund which provide direct monetary asst. to families so no parent ever has to choose b/t paying a bill & being by their child's side. pic.twitter.com/zmYaT9SPVj

— A. Rizzo Foundation (@RizzoFoundation) April 28, 2019
Iowa Cubs: Hats off to the Cubs' Triple-A affiliate. Setting a new Pacific Coast League record, the I-Cubs scored 15 runs in the first inning of yesterday's game against Nashville.
Final score I-Cubs-19; Nashville-5.
Yesterday's Cub Birthdays: Happy birthday to ex-Cubs John Gaub (34), Luis Quiñones (57), and posthumously, Walt Woods (144).
NL CENTRAL SCHEDULE (April 28 – May 4, 2019)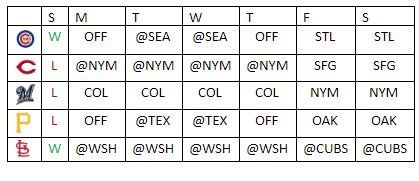 YESTERDAY'S NL CENTRAL SCOREBOARD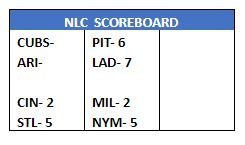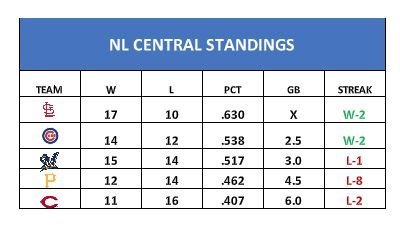 Tags: Cubs Baseball
,
Cole Hamels
,
Jose Quintana
,
,
Willson Contreras
,
Tyler Chatwood
,
Ben Zobrist
,
Jason Heyward
,
Kyle Ryan
,
,
David Bote
,
Mike Montgomery
,
Addison Russell
,
Daniel Descalso
,
Yu Darvish
,
Anthony Rizzo
,
Theo Epstein