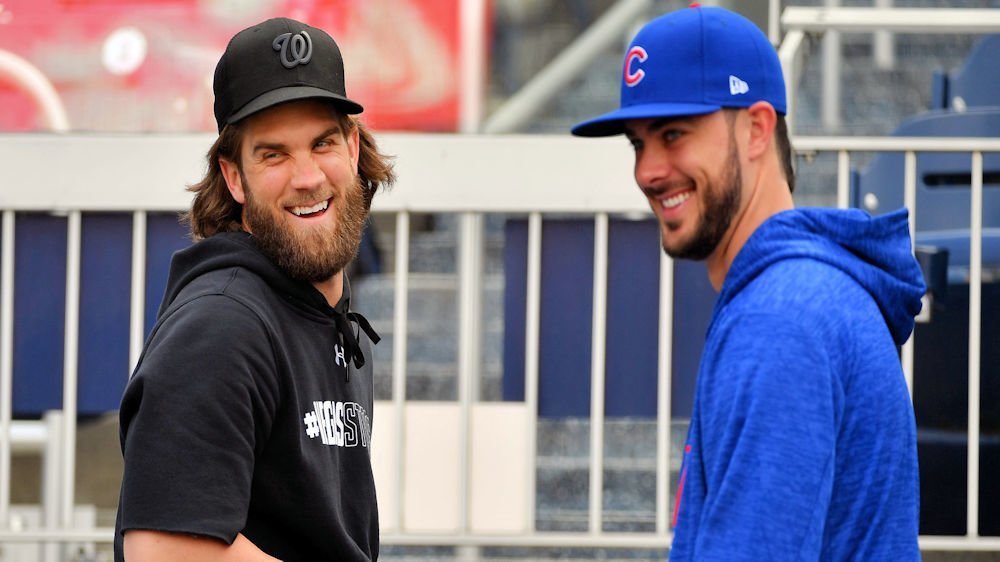 | | |
| --- | --- |
| Latest news and rumors: CubsCon notes, KB on Harper/Machado, Cubs sign reliever, more | |
---
| | | |
| --- | --- | --- |
| Saturday, January 19, 2019, 9:50 AM | | |
Cubs' news and notes:
Cubs' Opening Day: 69 days. (March 28 vs Rangers)
Pitchers/Catchers Report: 26 Days.
First Spring Training game: 37 Days. (Saturday, February 23, Brewers vs. Cubs at Sloan Park)
Rob Scahill: The Cubs announced today that they have signed former Brewers' southpaw, Rob Scahill to a minor league deal. Unknown if this includes an invite to spring training.
CubsCon notes & quotes
Kris Bryant: OK, now it should be final… according to KB, Harper is NOT signing with the Cubs. Bryant also says he and Chili Davis "did not match up philosophically."
KB on Harper/Machado: "It's weird. It's really weird. Two of the best players in the game and they have very little interest in them, from just what I hear. It's not good. It's something that will have to change. I know a lot of the other players are upset about it."
If Bryce Harper isn't joining the Cubs, Kris Bryant wants to smash him every time they play! pic.twitter.com/T0dE72J9Em

— NBC Sports Chicago (@NBCSChicago) January 18, 2019
Joe Maddon: (on Bryce Harper) "Don't bemoan who you don't have, glorify who you do."
Javy Baez on 2018 MVP: "It was an honor being one of the final three. I will try my best to have another great year and help my team win."
Javy Báez addressed the media for the 1st time since the final game of the season last year. So what's in store for El Mago's second act? pic.twitter.com/vqqN0UwfkX

— Cubs Talk (@NBCSCubs) January 19, 2019
Yu Darvish: Yu Darvish is set to begin long toss in a couple of days and is about a week out from his first planned bullpen session of the spring. He says Opening Day is a realistic goal for him based on his progress. "If I'm healthy, I can do my job. I can bring something for the team. The focus is on the health."
Theo Epstein: "We have fans who waited the better part of a century to be on top and love the way it feels up there and don't want to leave. We have that in common. I understand the way things sometimes look from the outside in, especially in the winter. We can't go out and win games in the winter. We can't go out and play hard in the winter. All we can do for our fans in the winter in terms of being public facing is adding players, and we haven't added as many players as we normally have. But behind the scenes, there's an awful lot we do. I promise you and I promise our fans, this is as hard as I've ever worked in an offseason."
Epstein on Russell: "If he's booed, I think people have the right to boo." He doesn't deserve to be welcomed back unconditionally or with open arms. He does not get paid — nor does he deserve to get paid while he's serving the suspension nor will he get paid if he's not with the organization." "We're probably in the top of the second inning with this story," Epstein said. "He's got a ton of work ahead of him and it may not work. And if it doesn't, we will move on instantaneously."
David Bote: David Bote moved to Az for the offseason. Says he's working on everything, including hitting (or laying off) high fastballs.
Willson Contreras: "Sometimes I put too much on myself. But that's who I am. If I have to change that to get better, I will. I learned from the past year. I'm looking forward to 2019."
Stay tuned, more from CubsCon later, today...
Latest news and rumors from around the league
Angels: Los Angeles has signed free-agent reliever, Cody Allen. Reported to be one-year, $8.5M, with an additional $2.5M available in incentives.
Nationals: Washington has signed former Rays' southpaw, Vidal Nuno, to a MiLB deal with an invite to spring training. MLB salary is $1.3M.
Mets: NY has signed former White Sox righty, Hector Noesi to a MiLB deal with an invite to spring training. MLB salary is $800k with additional incentives.
Reds: Cincinnati is reportedly closing in a deal to land Sonny Gray.
Rays: Tampa has signed OF Avisail Garcia to a one-year deal and in turn, have designated RHP Oliver Drake for assignment.