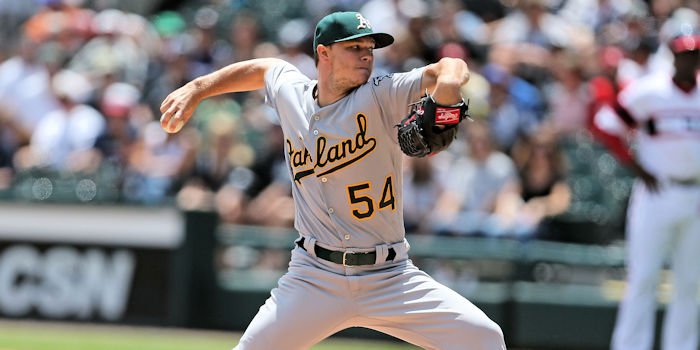 | | |
| --- | --- |
| Ramifications of a Sonny Gray deal to Cubs | |
---
CHICAGO -- News is circulating that the Cubs may not be done after dealing for cost-controlled Jose Quintana, setting sights on yet another young--and cost-controlled starting pitcher Sonny Gray.
Gray, 27— heading into his age 28 season—was the A's 1st round pick in 2011 out of Vanderbilt and quickly climbed the ranks as an advanced arm heading into that year's draft, with concerns being size and durability being of potential issue, but for his first two seasons in the year he looked to be one of the brightest rising young starters in the AL—and Major League Baseball as a whole.
His 2014 and '15 seasons were fantastic—both seeing him pitch to of 14 wins each year—going 14-10 in 33 GS over 219 IP, with an 7.52 K/9 ratio, 3.08 ERA and 1.19 WHIP; only to follow that year up with an equally—if not more impressive 14-7 record in 31 GS over 208 IP, with an 7.31 K/9 ratio that while slightly lower, came with about ½ less walks per IP as well, alongside a beautiful and shiny 2.73 ERA and 1.08 WHIP (while also being a finalist, and coming in third place overall in Cy Young voting as well that season). Then 2016 came, and with it came regression. His velocity didn't drop much, as he averaged in the high 93mph range (not far off from where he sits, right around 94mph— 93.9 at the moment, to be exact) and battled injury woes off and on for most of the year. He would finish the 2016 campaign at a forgettable 5-11 over just 117 IP due to injury and inconsistencies, and his name has been on and off the trade block with the price fluctuating seemingly ever since.
This year, however, Gray is pitching much better overall, even if it isn't necessarily with the consistency he showed in 2014 and 2015, his first two full seasons in the big leagues). Currently, he sits at an underwhelming 4-4, but started the season late and has only made 13 total starts on the season in which he has an encouraging K/9 of 8.47—by far his best since his rookie season which only saw him make 10 starts—over his first 78.2 IP, in addition to lowering his walk rate from 2016's dreadful 3.23 BB/9 to 2.86. His LOB% is as high as it was in 2016 still, but he has managed to work around it better than he did last year, and he is giving up less long balls. Moving to the National League Central and not having to face the Rangers and Astros lineup could do wonders for a lot of his numbers—including home runs allowed as much as anything else. His .287 BABIP is a bit unlucky and should drop as well, and a move to the NL Central and team whose defense should arguably perform much better than it has (on paper, they have one of the better defenses in the National League and hopefully the second-half starts to reflect this). BAVG against would also improve.
A big question mark on Gray has been durability and health, as he is a bit diminutive in size, but what he lacks there he has more than made up for in his time rising through the prospect ranks as well as with Oakland. The A's are likely to move Gray, and other contenders such as Milwaukee, Pittsburgh, and even the Houston Astros are potential suitors. The Cubs could jump in front of both Milwaukee and Pittsburgh—again—in acquiring a cost-controlled arm (entering year one this season of arbitration, and making 3.7 million approx. with two years left of arbitration/team control and leverage). Arrieta and Lackey are both highly likely candidates to walk, and if Theo is looking at this deadline as a potential time to make moves for a repeat performance to last year's dramatics instead of going after another arm in the off-season, they do have talented players to get the deal done. But what will it require? What could Oakland covet?
Addison Russell is one name the A's would likely love to have back in tow. A's fans, and even executives alike have scorned the deal with the Cubs that brought Russell to the Northside years back, as he burst onto the scene at a young age with defensive prowess and a bat that never quit with runners in scoring position. This season, however, has been a struggle both offensively and defensively for Russell, to go along with off-the-field issues that came up. To say he has the same season he had last year wouldn't be fair. A sell-low isn't ideal for a guy like Russell—or even Javier Baez, who was likely expected to do more this year and take that next step to stardom as well—but those are just two names who could be (potentially) available in discussions with the A's.
Of course, they will ask about Schwarber at some point in the discussion. One can wonder if Theo would be open-minded to imploring discussions including Schwarber when you consider the rumors with Detroit prior to the deal for Quintana. Another A's pitcher, lefty relief ace Sean Doolittle, is also on the block and could help further improve a Cubs pen and balance out a deal if they were to include a 25-man contributor such as Kyle. The Cubs are becoming more and more certain Ian Happ may be the future in center field for the long-term, Albert Almora could be a possibility in any deal as well. What the A's want isn't exactly known at the moment.
It will be interesting to see if this is smoke and mirrors, or if Epstein is truly dedicated to capitalizing on a small market for pitching this off-season, while keeping other contenders from replying to the deal for Quintana in due time with what many consider the next-best option, and also solidifying the two rotation spots set to open up (Arrieta and Lackey) for 2017, and beyond. An extension for Gray, if he performs, could be implored in the off-season, and if they wanted to wait, he still is arbitration eligible for the next two years. Coming off an injury-riddled season as well as some inconsistencies (still) in 2017, he has yet to prove he is 100% back to where he was at in 2014-15 but has shown excellent signs and underlying numbers would say he should have a strong second-half as long as he's healthy. I don't have to say again that a move to a weaker NL Central would only help those chances.
It is debatable as to what the A's would want in return. The Cubs do have prospects left over after Thursday morning's mega-deal that saw their top two heading to the Southside, and prospects that a team like the A's may want—but they may need to part with a player on the 25-man if they are serious about bringing Gray aboard, and the top three names at stake are likely Addison Russell, Kyle Schwarber, and perhaps even Javy Baez. If Theo could manage to pull a deal without including any more of the 25-man roster as it stands, it would show the initiative and just how much the Cubs want to make a statement that this is a team here to win for the next five years. It should be interesting to see where talks go.
With adding talent, you have to sacrifice talent, which we all know about after the Quintana deal (and many others team Theo/Hoyer/McCloud have helped bring to fruition while running the Cubs) and there will no doubt be rumors about who is the odd-man out (or men). Cubs fans, if up to you, do you go after Sonny Gray and try to further solidify this rotation for this year and beyond even if it costs you one of those three players on their 25-man? Do you think it's possible the Cubs can get a deal done without any of the possible big-three names?