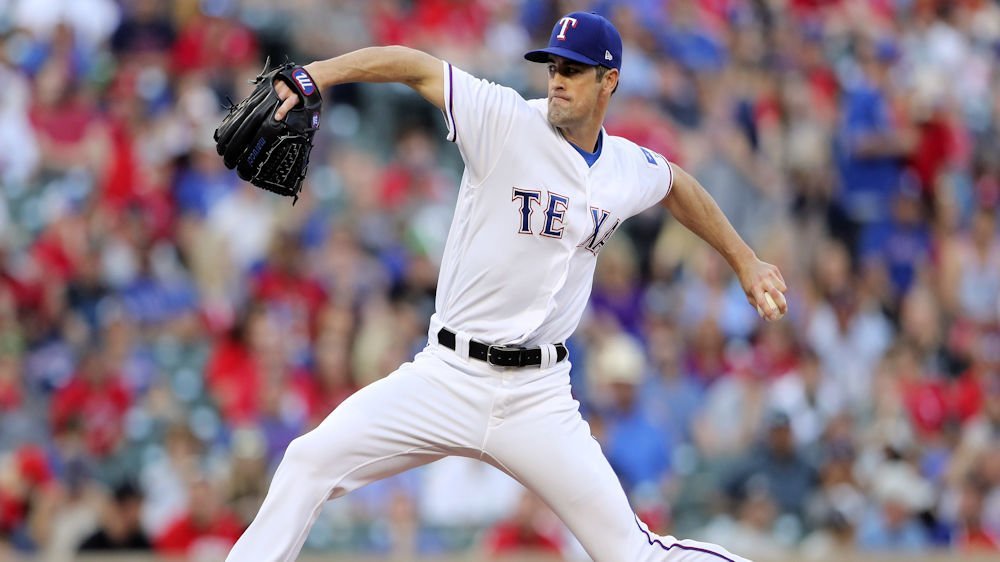 | | |
| --- | --- |
| What now with addition of Hamels? More moves for Cubs? | |
---
| | | |
| --- | --- | --- |
| Saturday, July 28, 2018, 8:40 AM | | |
I am getting really sick and tired of being told, "…but Ken, Chatwood is the number-five starter, so you can't expect that much from him." NONSENSE. Tyler Chatwood, or any number-five for that matter, are still major-league starting pitchers and are expected to perform like one. I'm not suggesting that Chatwood should be expected to win 20 games and carry a 2.35 ERA (although that would be nice), but geez, I would expect that his strikeout to walk ratio would be better than 1:1.
I see all kinds of comments on social media lately, pointing out that the Cubs are 8-2 in Chatwood's last 10 starts. Yes, that is, in fact, the case, however, what's not being reported by those same folks, is that in those 10 games, Chatwood has given up 33 of the opposition's 48 total runs. The truth is, the Cubs offense and bullpen are what's winning those games, and not Chatwood's pitching.
Let's assume that Cubs manager Joe Maddon yanks Chatwood for newcomer Cole Hamels as the number-five man in the rotation; are you telling me that if Hamels posts Chatwood-like numbers, that all of you will be accepting of him and those performances? If you tell me yes, I'm going to call you a fibber. The Cubs didn't go out searching for another starter so that they could have two Chatwoods in the rotation.
The consensus seems to be that Joe Maddon will probably let Chatwood continue to pitch in the rotation and that Mike Montgomery will be moved back to the bullpen once Cole Hamels is suited up. I don't like that any more than most of you do, but the truth is, Monty is a bullpen guy. He's done a wonderful job filling in for Yu Darvish, but I think his starter days are just about over. Montgomery would undoubtedly strengthen a bullpen that has been weakened by poor starting efforts, and hey, if we ever need a fill-in, we know who our man is. Furthermore, with Hamels being a left-hander, it would only make sense for him to replace Montgomery, as replacing Chatwood would cause the Cubs to have a rotation that was 80% southpaw.
With three days left until the non-waiver trade deadline, the Cubs may still make another move. Several of the names that are still available have been linked to the Cubs, and I've heard no indication from the team that they've stopped looking since adding Hamels. A lot of the hype surrounding pitchers like Jacob deGrom and Noah Syndergaard has settled down, but there's still some quality starters out there. The Cubs have gotten off cheap with the Jesse Chavez and Cole Hamels acquisitions, and that may just give them a green-light to be able to continue in the hunt.
While Hamels may cause the end of Montgomery's days as a starter, acquiring another right-hander almost certainly dooms Chatwood's days in the Cubs rotation. The Cubs have expressed interest in Kevin Gausman, the 27-year-old, right-hander, who currently belongs to Baltimore. In his sixth year as a major-leaguer, Gausman has been a .500 starter at best (2014), and hovers at .427 for his career. Much like Hamels and Chatwood, he is struggling badly this year, posting a 4-8 (.333) record with a 4.54 ERA in 20 starts, but after all (heavy sarcasm), he would be just a number-five starter- the scary part is, he's the number-three man for Baltimore.
I think the Cubs did well with Jesse Chavez. He was cheap and he's done one hell of a job so far for the Cubs. In five innings, he's allowed one hit, no runs, no walks and he's struck out seven of the sixteen men he's faced. Time will tell, but one could only hope that Cole Hamels reacts similarly to the opportunity to pitch for a first-place team.