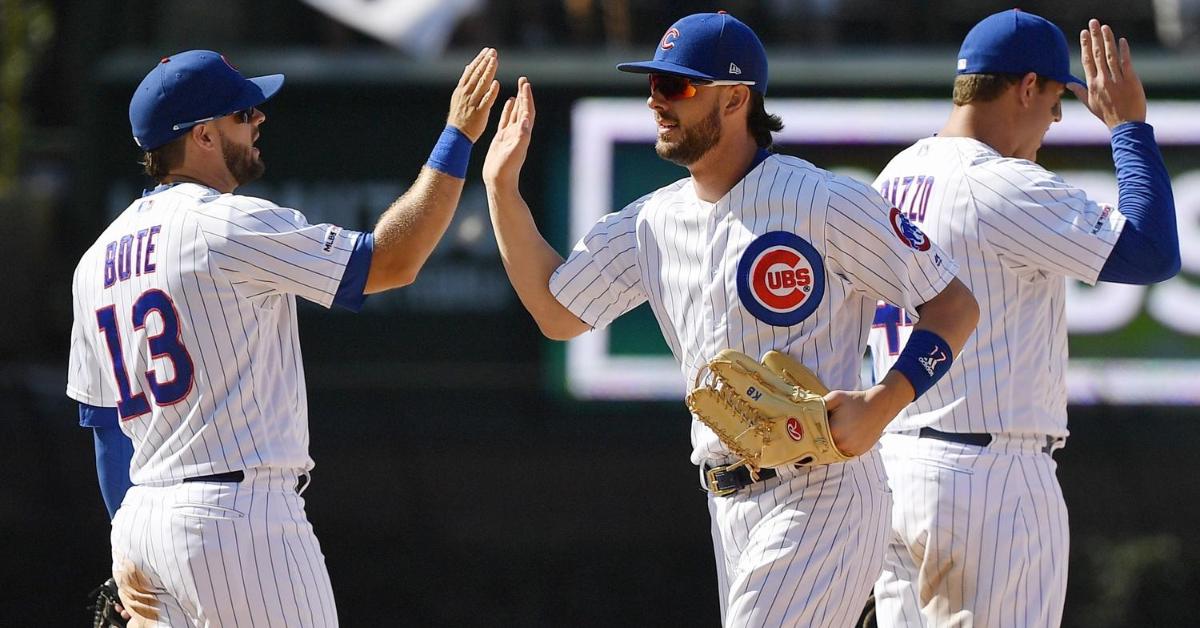 | | |
| --- | --- |
| What's next for the Chicago Cubs and Kris Bryant? | |
---
| | | |
| --- | --- | --- |
| Thursday, January 30, 2020, 12:12 PM | | |
The arbitrator in Kris Bryant's grievance has rendered a decision. Bryant does not win free agency after this year. According to Jeff Passan, "Chicago Cubs third baseman Kris Bryant has lost his grievance against the team seeking an extra year of service, sources familiar with the ruling tell ESPN."
Bryant can't be surprised, as this was unwinnable from the get-go. Did the Cubs most likely mess with his service time to hold him back from free agency an extra year? Absolutely. BUT- Right or wrong (ethically speaking), they were within the confines of the rules that were agreed to by the MLB Players Association. Kris Bryant really has no one to blame but the CBA.
No surprise #Cubs prevailed over Bryant in service-time grievance, as first reported by @JeffPassan. Decision, however, is still quite meaningful, setting the stage for the service-time question to be a point of contention in next CBA negotiations.

— Ken Rosenthal (@Ken_Rosenthal) January 29, 2020
The Cubs can (and should) now focus on trading KB. He's going to be upset over the decision, and the Cubs can ill-afford morale problems. Hs trade value just shot way up, as teams know he's controllable for two years now. Look for Atlanta, Washington, Dodgers, and Texas to all be players in trade talks.
Yes...Cubs 3B Kris Bryant lost his grievance. Two years to go before he can be a free agent....yes, the Rangers are still looking for another big bat....yes, Todd Frazier said he us willing to play first base if needed....yes, Jon Daniels is pursuing all trade options...

— TR Sullivan (@Sullivan_Ranger) January 29, 2020
Shortly after the decision, Brad Robinson tweeted that the timing of the decision was "Incredible." I replied.
Ya think? He waited to render a decision until after the last top-50 FA was signed. Blew Cubs chances at Castellanos & may have cost them Kintzler. I truly believe this was a case of retribution. He couldn't rule in favor, so did the next best thing to hurt the cubs, He waited.

— Ken Allison (@KenAllison18) January 29, 2020
There's absolutely NO reason that a decision should have taken this long unless the arbitrator wanted it to be that way. Just speculating here, but if the arbitrator was unhappy about the service time manipulation, it didn't matter; the Cubs violated no rules. He couldn't rule in Bryant's favor, but waiting until the day after Castellanos – the last remaining top-50 free agent - signed with the Reds? This reeks of foul play.
I'm worried about the implications that this decision may bring, should Bryant remain a Cub. Now knowing that the Cubs "got the best of him," will Bryant become disgruntled? He says he won't. If so, what's that going to do to team morale? For his part, Bryant says that he holds no ill-will, but then again, I'm sure he's obligated to say that. He certainly – and understandably – had ill-will when he filed the grievance. If he was that mad then, how could he not be mad now, knowing that the Cubs – based on the premise of his grievance – got away with tampering with his livelihood?
Will Cubs trade him now? What took so long? What Kris Bryant losing grievance means https://t.co/UwZ7oGHLem

— Jesse Rogers (@ESPNChiCubs) January 29, 2020
I think the Cubs are going to push to trade him immediately. And it would look like a potential mega-swap between them and Colorado could be in the works. Yesterday, Jeff Passan was on ESPN 1000 and stated Passan was on ESPN 1000 and said that not only did Arenado have interest in playing for Chicago, but that the teams have talked.
"Nolan Arenado would love to come play for the Chicago Cubs," Passan said.
ESPN's Jesse Rogers adds that the Rockies would be willing to pick up some of Bryant's salary.
This could be huge for both teams, as after the decision, each may want a fresh start. Getting Arenado is a far cry better than trading Bryant for prospects, and even better, Arenado is locked under contract for the next six years, as he enters the second year of a seven-year deal.
According to USA Today's Bob Nightengale, Bryant's camp (aka Scott Boras) was not happy with the decision, adding that KB felt "unwanted, underappreciated, and believes the organization openly lied during arbitration. As I said earlier, Bryant claims to hold no hard feelings, but if Nightengale's report is accurate, they can't trade him soon enough. Whether or not Bryant carries himself like a professional during his remaining time in Chicago remains to be seen, but even if he does, that mindset is going to affect both him and the team. The last thing David Ross needs is to have to regain control of morale issues in a disgruntled clubhouse.
If this deal does go through, I'd say the Cubs are getting the better end. Unless they pony up Arenado like figures, Bryant is likely done there after 2021, whereas Arenado is locked in. Even without the atmosphere at Coors Field, Arenado has the power to lift the ball, which is going to account for home runs. Arenado has managed a slash line of .247/.287/.495 with five bombs at Wrigley, and although Bryant hits .289/.413/.500 at Coors Field, he's netted only two homers.
Stay tuned, Chicago, the Cubs may have a productive offseason yet.